Traveling Allamakee County Through The Eyes Of A Local
Allamakee County, Iowa, is a haven for outdoor activities, unusual shopping experiences, and culinary pleasures. As you travel through Allamakee County, you will experience an array of activities. Historical stories and Native American culture come to life in the driftless region of Iowa. The windy roads, parks, and diverse wildlife will add adventure as you drive the scenic byways throughout the area. Allamakee County, in Northeast Iowa, is where the driftless region comes alive. Thank you to guest writer & photo contributor Charlene Corson Selbee of Just Around The Bend Travel.
Small Town Experiences
Are you looking for a small-town living experience? Allamakee County has a population of 14,330 and is 659 square miles: a density of 22 people per square mile. The communities of Dorchester, Harpers Ferry, Lansing, New Albin, Postville, Waterville, and Waukon are unique. A family, friendly meat market awaits you in several of these communities, so travel hungry.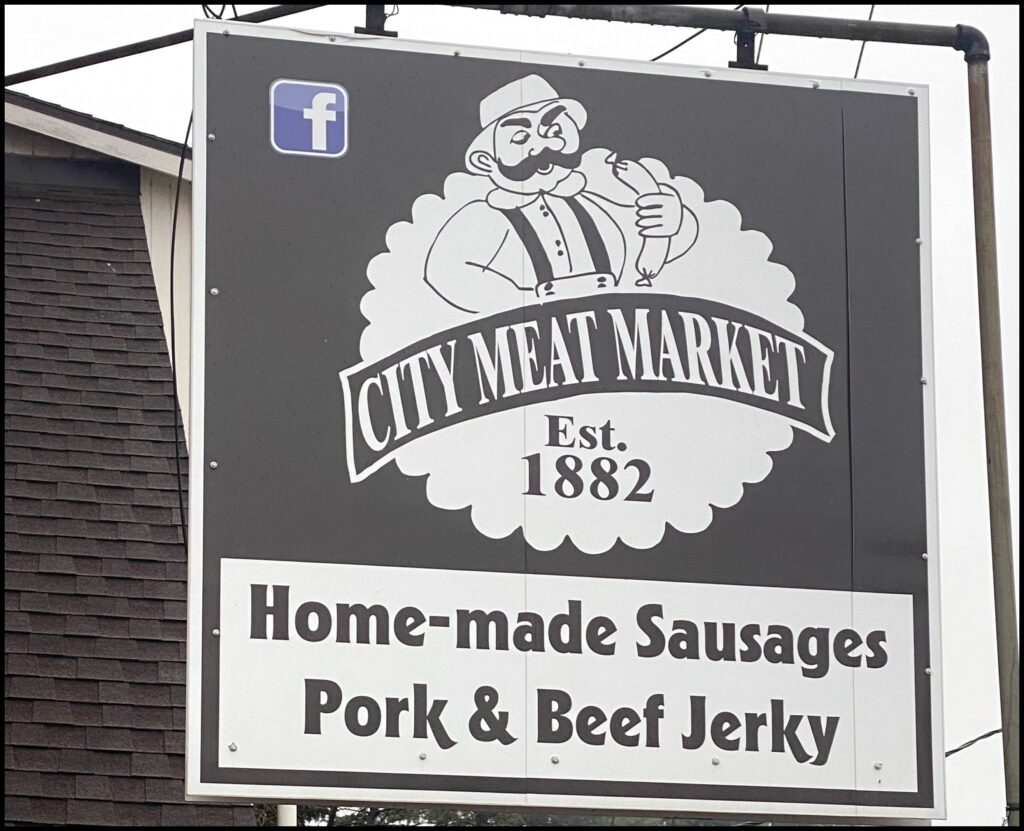 Each of these communities should be included in any itinerary. If you have started to plan your visit to Allamakee County, take it from a local, there's a long list of things to see and do.
The 8th Wonder Of The World
Effigy Mounds is sometimes referred to as the 8th Wonder of the World" according to Robbie, at the One-Stop Convenience Store and Gas Station, in Harpers Ferry. Effigy Mounds National Monument includes a visitor center and museum, walking trails, and the Mississippi River overlook. This center is where you can learn about the Effigy Mound builders. There are over 200 animal-shaped mounds identified and preserved at the Monument. Take a hike and stroll through the forest with tremendous views. There is ample RV parking on site.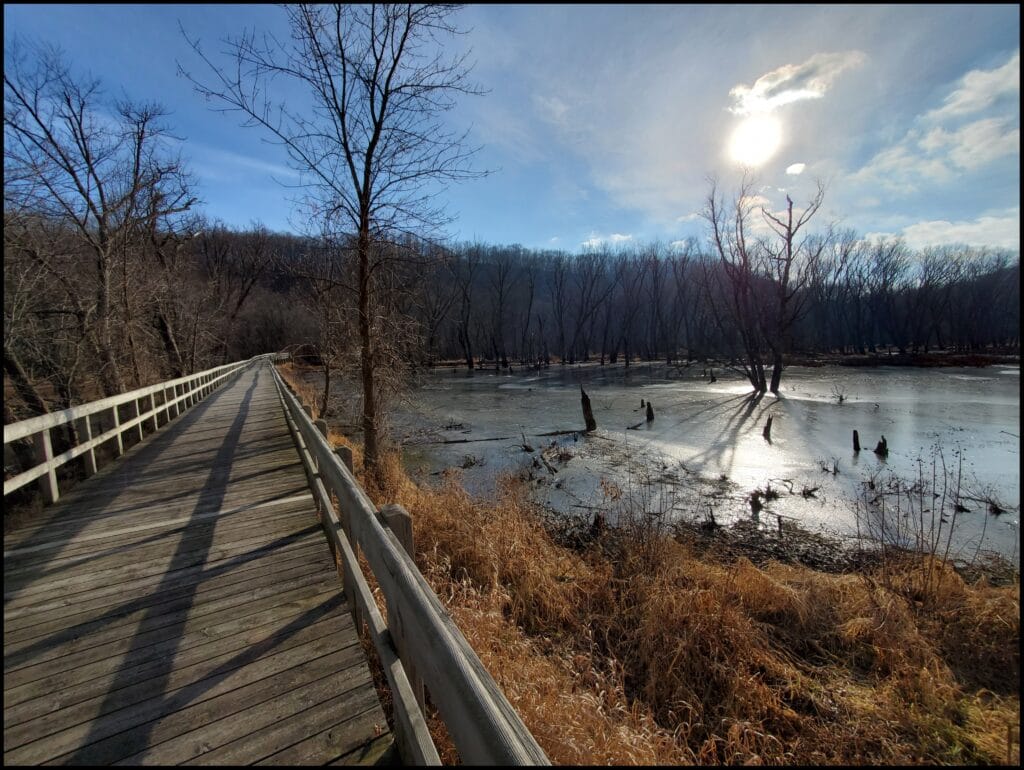 Yellow River State Forest
The Yellow River State Forest is a popular outdoor area in Allamakee County.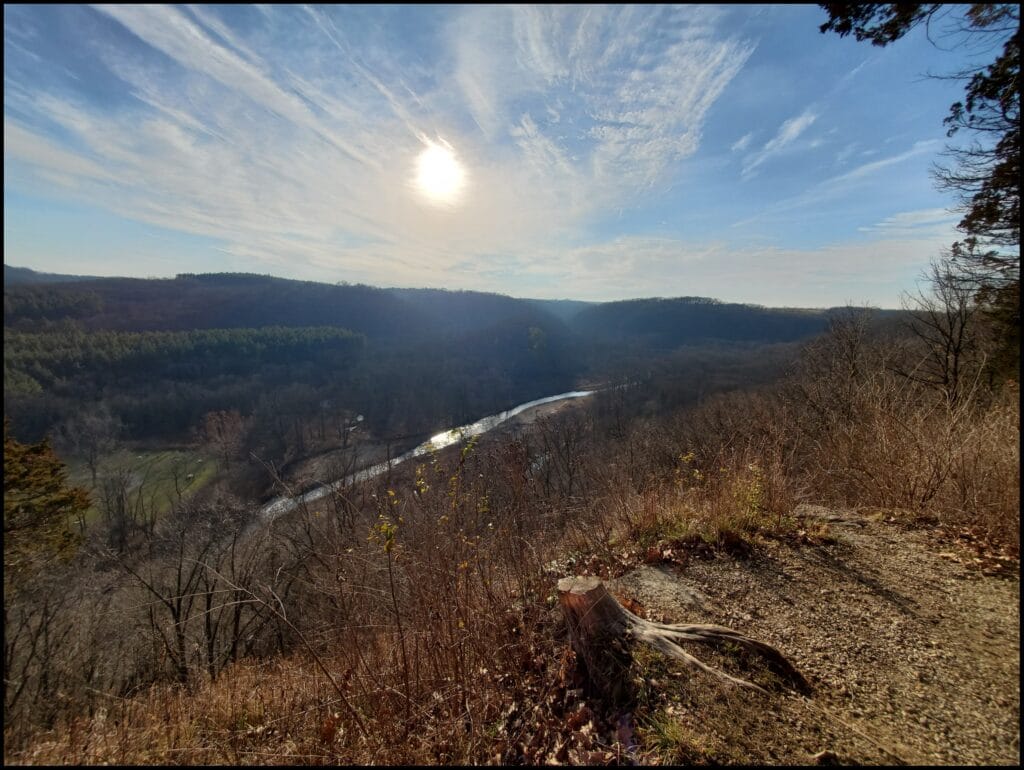 This state forest includes one camping cabin, tent camping, and RV camping, for camping enthusiasts. In addition to general campsites, there are 34 campsites that can accommodate equestrian riders. Snowmobiling and snowshoeing are popular winter activities in the Yellow River State Forest. Fun Fact: Hike to the only fire tower in Iowa in the Yellow River State Forest.
Driftless Area Scenic Byway
Driftless Area Scenic Byway – a 100-mile route known for its natural and scenic attractions. The byway curves, twists, and meanders through the most Northeast corner of Iowa. The heart of this region is known as the Driftless Region.
Great River Road National Scenic Byway
One of Iowa's most recognized byways, The Iowa Great River Road National Scenic Byway, is in Allamakee County. As you drive the byway, look for barges transporting grain up and down the river. You can drive this scenic drive from Lake Itasca in Minnesota to the Gulf of Mexico. One of North America's great migration routes for birds and fishes lies along this scenic byway, the Mississippi River. A favorite activity is to head to the river and watch Bald Eagles soaring overhead and landing in the river. I am in awe of their massive nests, large enough for a 6′ man to lay in.
Agriculture Experiences Include A Winery & Cheese Curds
Farming is an important economic development driver for the County. You can enjoy Empty Nest Winery, located minutes out of Waukon. This winery specializes in small-batch winemaking with incredible views all around. Up the road from the Winery is Peake's Apple Orchard. This family favorite orchard is open from late summer to early fall. Be sure to view the animals and take a hayride out into the beautiful orchards. As you drive the byways, traveling through Allamakee County, keep an eye open for colorfully painted barn quilts. Road trippers can see many painted quilts on the sides of barns, and some quilts are installed on garages.
When in Waukon, stop at WW Homestead Dairy. Enjoy their fresh squeaky cheese curds, ice cream, and cottage cheese made from the milk produced by the family's cows.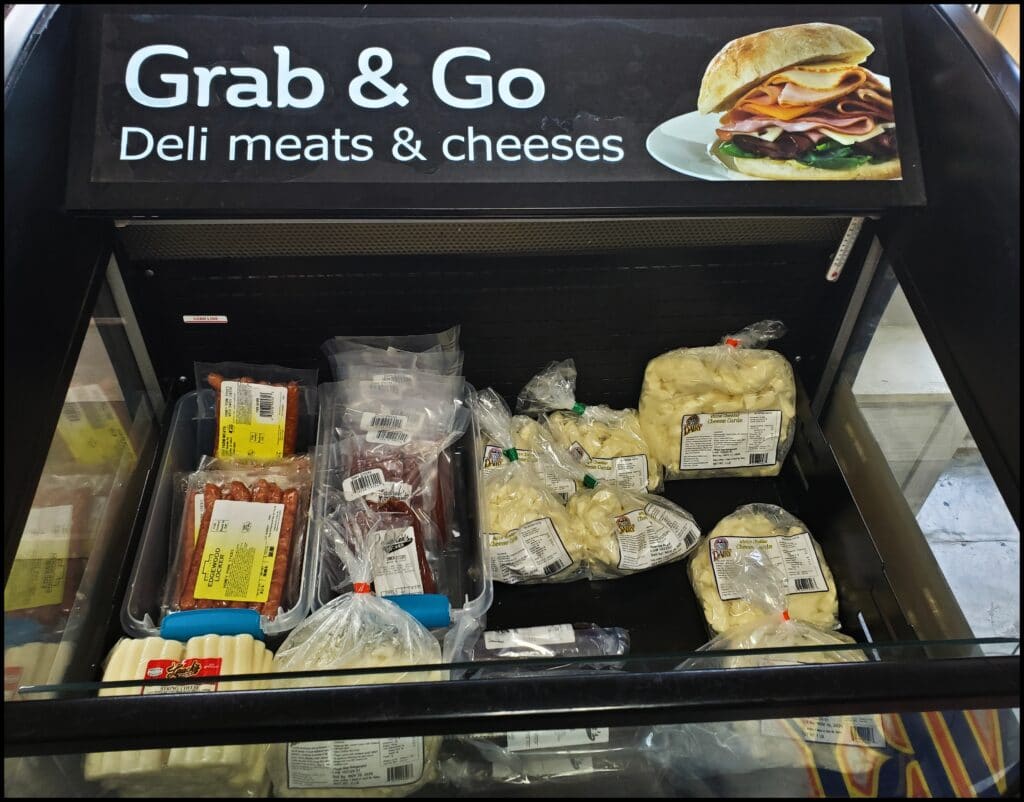 This may sound strange, but I love visiting Feed and Farm Stores. It may seem because of all the memories a visit to a feed store conjures up, or it may be the fresh salty popcorn. I also love all the cool boots – farm animal rain boots, cowboy boots, and decorated mug boots.
Learn More About Iowa: 9 Places To Visit In Iowa
Events & Fairs
Everyone loves a Farmer's Market. They are held throughout the summer and fall. Hours are in the evening during the week and Saturday mornings in Harpers Ferry, Lansing, New Albin, and Waukon. Each April, the NE Iowa Tourism Organization host the annual NE Iowa Greenhouse Tour featuring 40 greenhouses. In September, the group hosts the Northeast Iowa Farm Crawl. A stable of the agriculture industry is county fairs. Allamakee County boasts the Big 4 Fair June in Postville and Allamakee County Fair in July. Other ag events include Dairy Days in June, Lansing Fish Days in August, and Waukon Corn Days in August. I would share my favorite, but I do not know which one after listing all of them. You cannot go wrong with any of them.
Notes of Interest
Allamakee County offers river cruises, snowmobiling, motorcycles, ATVs and Four Wheelers, mountain biking, and biking.
Food and Beverage – Skinny Dip in Lansing for ice cream, WW Homestead Dairy in Waukon for cheese curds, ice cream, cottage cheese, and coffee. Take some home with you if it does not get eaten before you get home.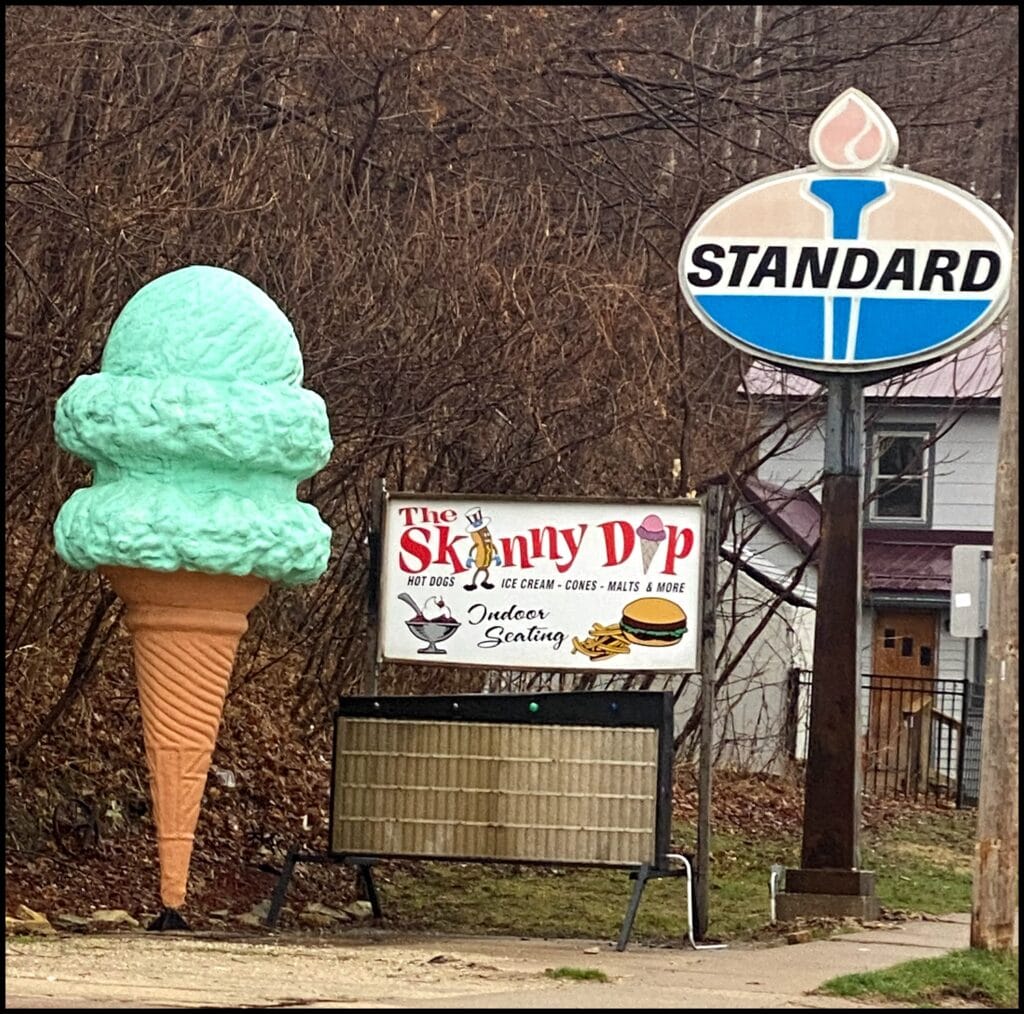 Lodging available in Allamakee County are cabins, B&B, Airbnb, and hotels.
History is experienced by visiting museums including #######.
Art – Steel Cow in Lansing, mural, out in the County outside of Harper's Ferry by Mary Willie. This work of art received a 2010 Pulitzer Prize for a photographer while employed at the Des Moines Register and the northeast Iowa Artist's Studio Tour – October 8-10, 2021.
A visit to Horsfall's Variety in Lansing is a must-visit every summer. The isles are narrow and the shelves are packed full of everything. You will find large print coloring books, plastic containers of spices, atlas, and fly swatters with a telescoping handle. It's also common to find embroidery floss and embroidery kits.
Parks
Parks with playgrounds are common spaces throughout the County. Two of my favorites are the Waukon City Park with the unusual playground equipment.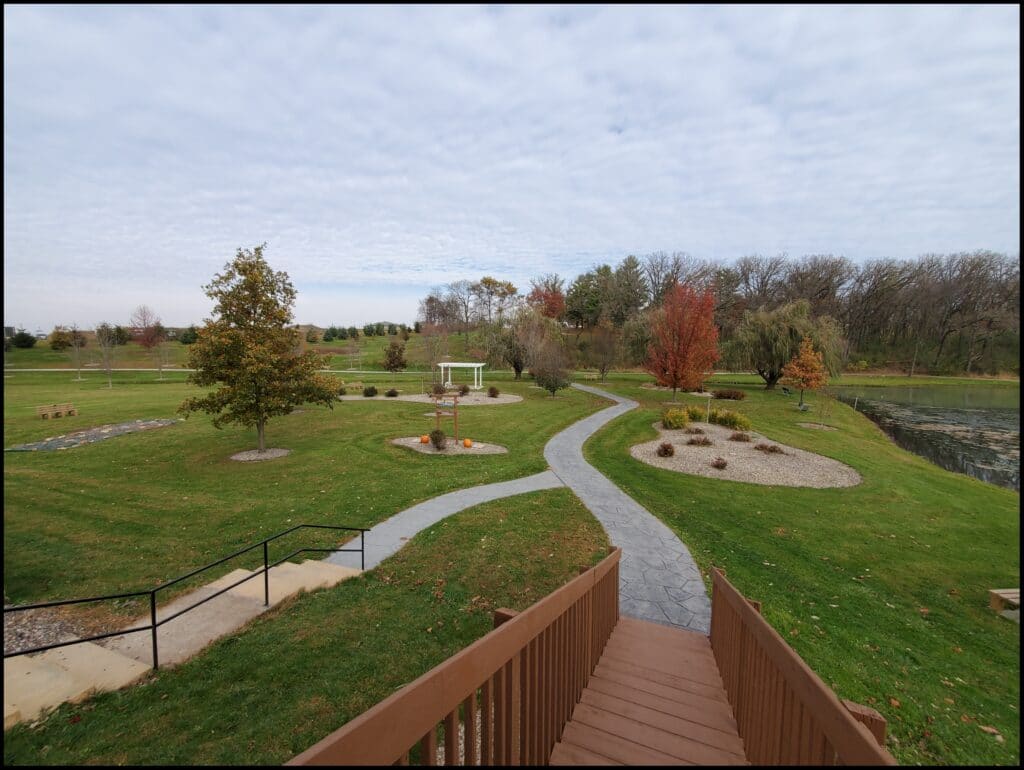 This city park also has a wooden fort structure to play in. The wide-open space makes for a wonderful picnic area. The Mount Hosmer City Park in Lansing was not what I expected when I first heard about it from the locals. The first time I was by myself, I drove to the top of the bluff. I was glad my brakes were in excellent condition, as it was a steep incline to the top. The panoramic views of the Mississippi River from the two overlooks are stunning. The park has playground equipment and tables for picnics. It's important to note that the road to Mount Hosmer is not suitable for RVs.
As you travel the backroads of Allamakee County, you are guaranteed to stumble across beautiful simple architectural churches. Many of these churches are located in the country in the most beautiful location. They often include a cemetery and trees.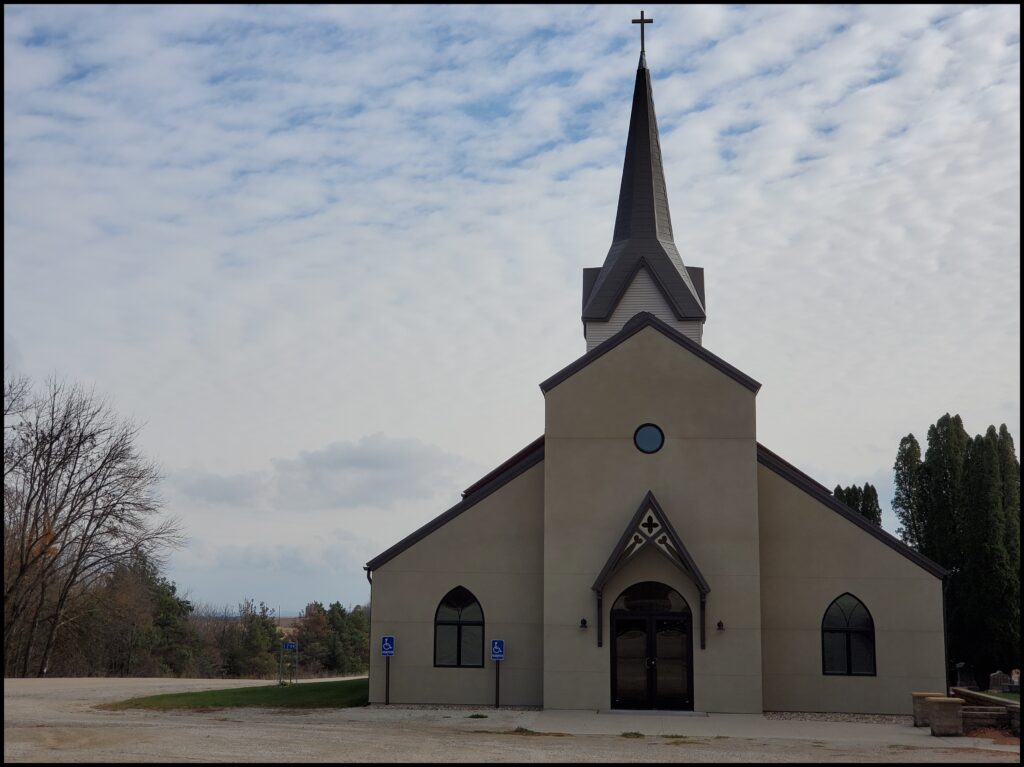 Tip: When in Harpers Ferry, make sure to check out roller-coaster road. You will want to have your camera ready for photos and make the drive.
Not having family living in the area to celebrate Christmas with, I find ways to celebrate the season. I enjoy making friends while watching the lighted Canadian Pacific Holiday Train roll through the communities situated along the Mississippi River. A cup of hot chocolate or hot apple cider is a highlight of my holidays. Pair this with a warm, cozy fire, and live music for an incredible holiday.
Conclusion
These experiences will have you hooked on traveling through Allamakee County. Another helpful suggestion is to stop into a bar, store, or restaurant, Visitor Center, gas station and strike up a conversation with a local. I stopped in at the One-Stop Convenience Store and chatted with Robbie. I warned her that she might become my best friend. Robbie was warm and hospitable. She shared more information with me than I could have imagined.
Plan to stop at the Driftless Area Education and Visitor Center outside of Lansing. The exhibits are top-notch and the center offers clean restrooms for visitors.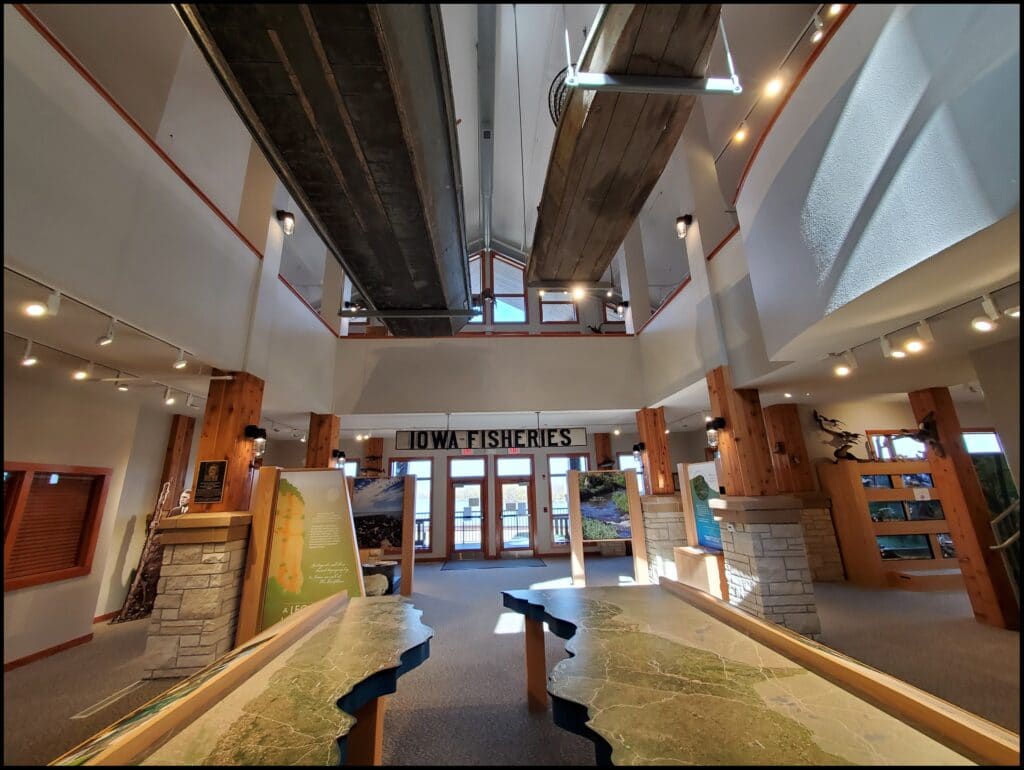 Step out on the deck, as there are tremendous views of the Mississippi River. You can see both ways for miles. The Visitor Center folks are professional and they enjoy answering questions that guests have about the area.
I recommend checking out the County's tourism website when you begin planning your trip. Traveling through Allamakee County will be a highlight of your road tripping season, as there's something around every bend. The website is user-friendly and is always my go-to for help in plan my trips, www.allamakeecounty.com.
The following two tabs change content below.
SaraB
Sara is a travel enthusiast that resides in North Iowa. You can find her traveling where the plane, train, ship, or car will go. Are you looking to take a road trip? Sara has solutions for you!