Santa and Holiday Fun Can be Found in Janesville
Holiday fun in Janesville, Wisconsin, awaits you. The holidays are a favorite time of year for many to get out and enjoy the festivities. This thriving Southern Wisconsin community offers fun for everyone, as the magic of the holidays comes to life.
I recently spent time experiencing a sampling of the holiday fun in Janesville. Some of the highlights will be showcased here and I invite you to visit and check them out yourself.
*Note: I was a guest of the Janesville Area Convention & Visitors Bureau and all of my opinions are mine and nobody else's.
Start Your Day With An Award Winning Breakfast
The Citrus Cafe is where the locals dine in Janesville. You will find a tasty, hot breakfast served up with a smile or two. I ordered one of their specials, under $10: Eggs, bacon, hashbrowns, and biscuits & gravy. And I might add, hashbrowns cooked to perfection- crunchy on the outside & just right on the inside.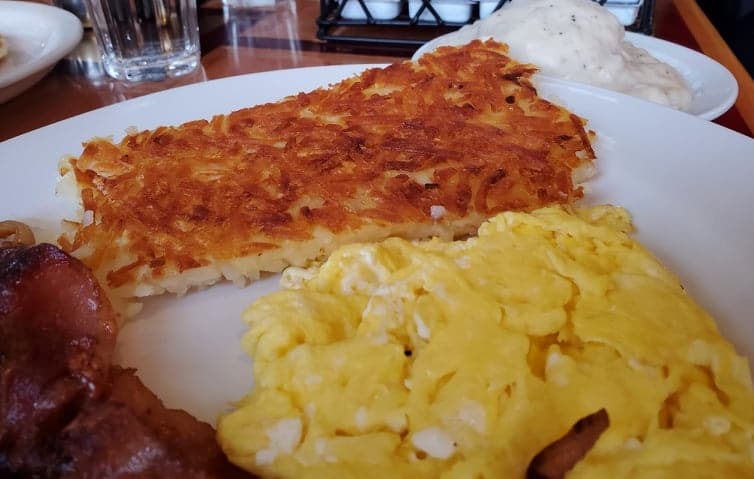 The menu is designed with hungry breakfast patrons, as the omelets can be ordered pan fluffy or flat, depending on how you like your eggs. Some of the people at my table ordered the omelets, looking delicious.
Tip: To quench your thirst, order the fresh-squeezed orange juice. Citrus Cafe is the perfect place to kick off your 24 hours of holiday fun in Janesville.
Citrus Cafe
208 S Main Street
Janesville, Wisconsin 53545
Enjoy Holiday Candy In Janesville, Wisconsin

The Sugar Exchange offers a step back in time when it comes to candy. You will find candy from your younger years, which fits your sweet tooth of today.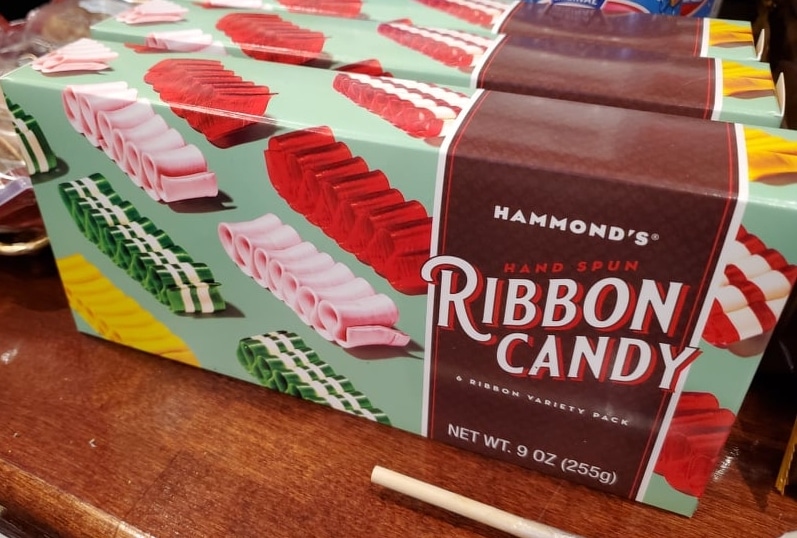 A sweet, sticky caramel apple and homemade fudge will greet you at the door. During my visit, Santa was in for the day and greeted guests of all ages.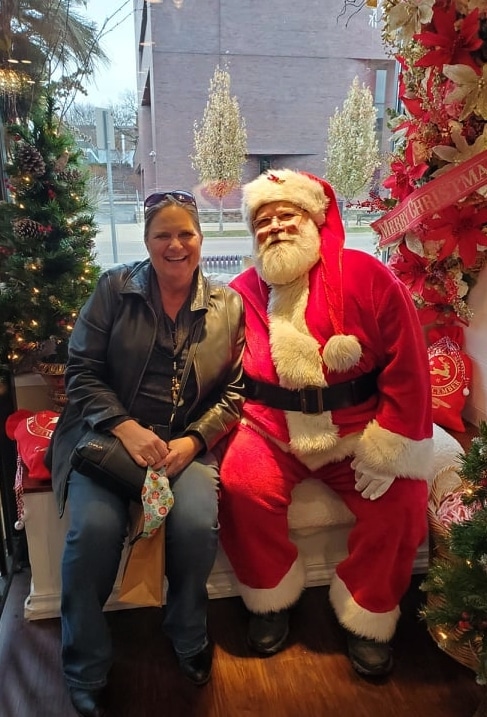 The holiday decor was second to none. Garland was hung, as the spirit of Christmas was abundant.
Sugar Exchange
119 N Main Street
Suite 100
Janesville, WI 53545
Incredible Holiday Light Show: Bellingrath Gardens- Alabama

Enjoy a Sandwich For Lunch in Janesville

The Sandwich Bar offers sandwiches that will have your taste buds dancing. Some of your choices are Tommy Salami, Cevapi, Jolene & the Red-Blooded American. I opted for the Red-Blooded American, sandwich, a red roast beef, cream cheese, a hashbrown (yes, you read that correctly), and caramelized onion sauce. My sandwich was tasty, and our table also ordered the delicious deviled eggs and crispy french fries with aioli.
The sandwich was a nice break from an "ordinary" sandwich in any restaurant, as the food combination was different. When you dine in, you are also surrounded by amazing art.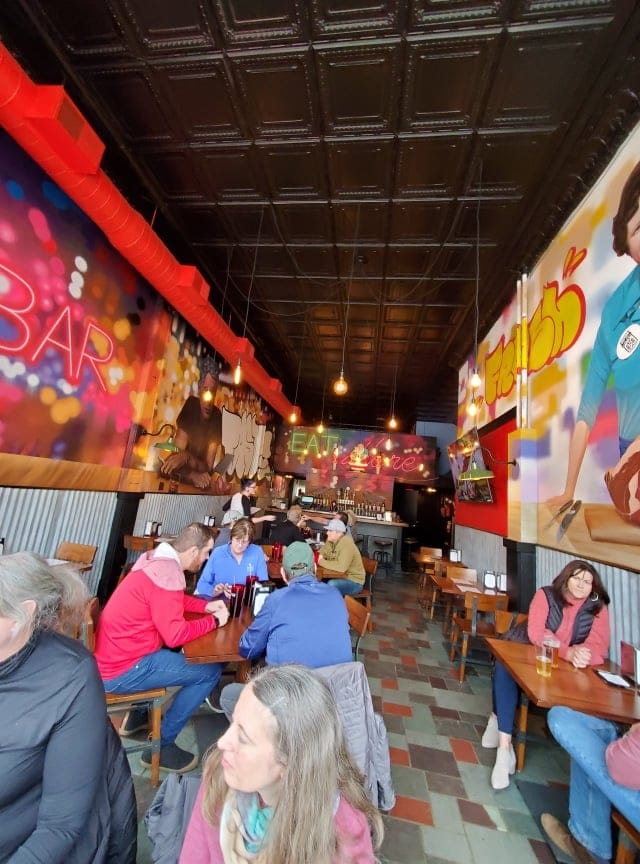 Janesville is known for its incredible art scene, and inside the Sandwich Bar, the artwork continues.
Come Home For Christmas in Morgan County, Indiana
The Sandwich Bar
54 S Main Street
Janesville, WI 53545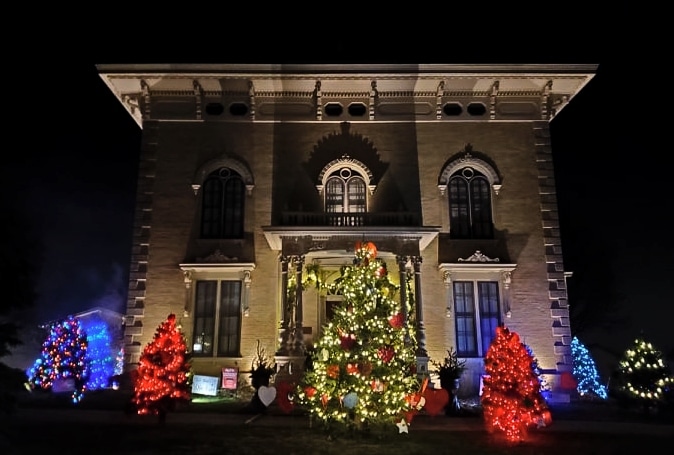 Holiday Tour at the Lincoln-Tallman House
The Rock County Historical Society is a resource in Janesville for folks looking for historical information. The Lincoln-Tallman House offers an incredible Holiday Tour. There's something special about experiencing a historical home when it's all decked out for the holidays. The Holiday Tree Show adds a nice variety of pomp and circumstance for the season.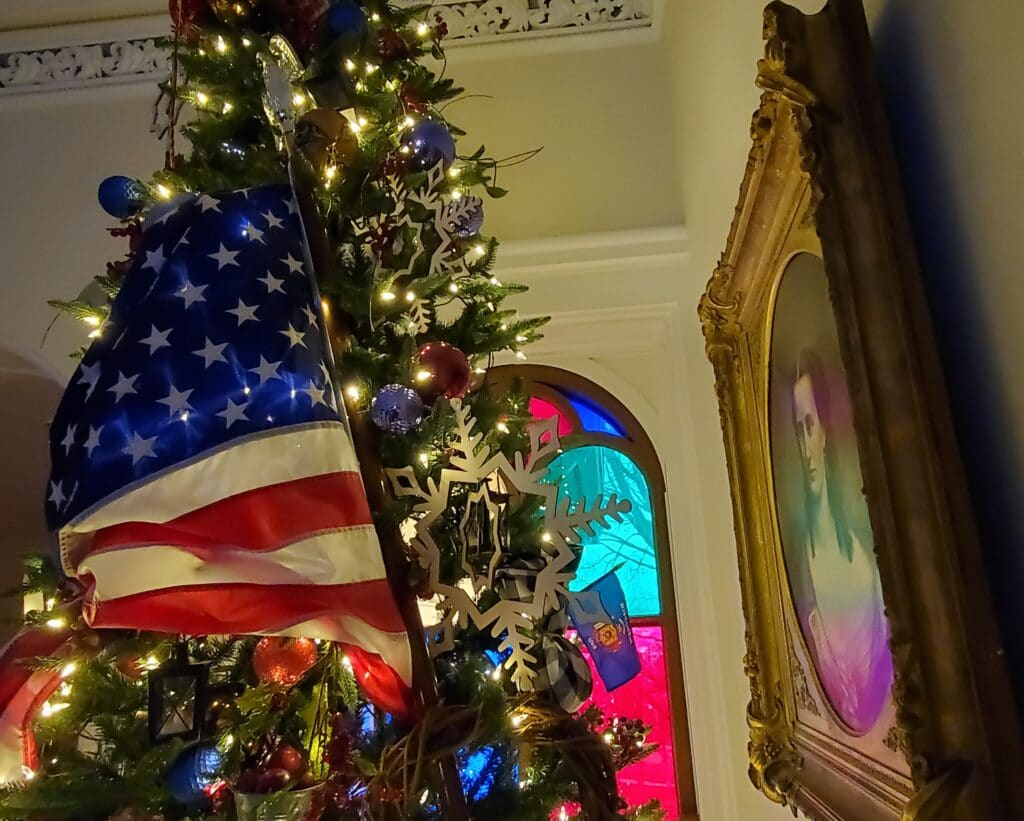 With more than 130 trees, this is a must-see when you experience holiday fun in Janesville. Tip: Visit after the sun has set, as the holiday lights are exceptional.
Lincoln-Tallman House
440 N Jackson Street
Janesville, WI 53547

Holiday Light Show in Janesville
The annual Holiday Light Show was a highlight of my visit. With millions of twinkling lights to lighten your holiday stress, you will find relaxation and enjoyment for hours.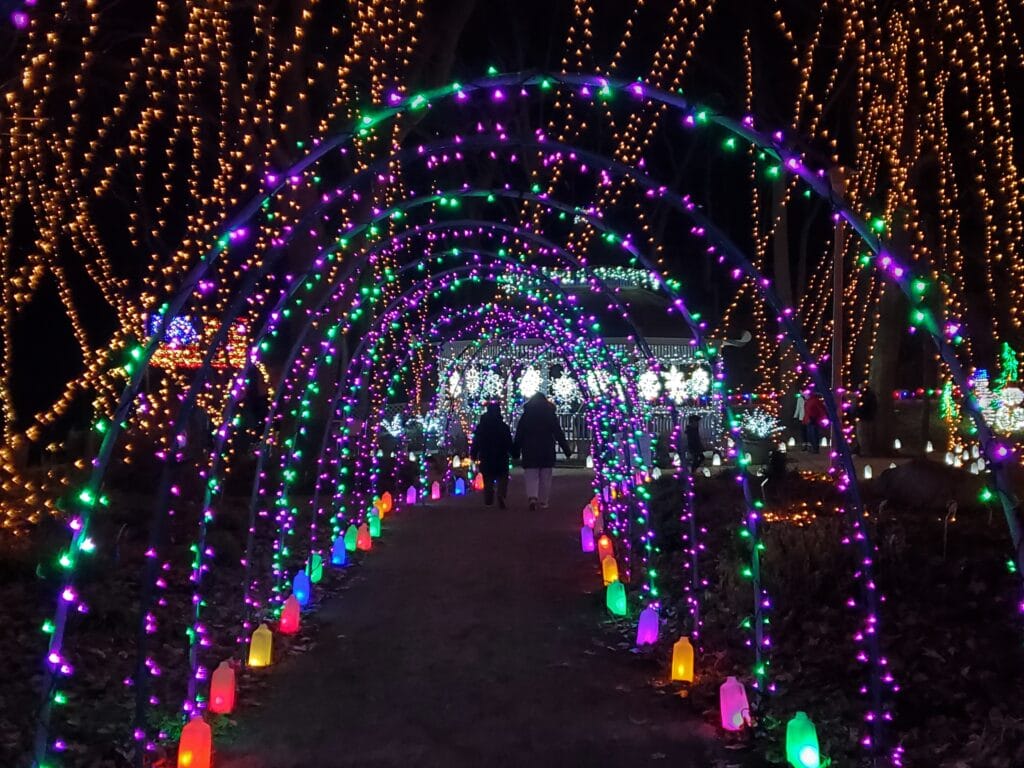 Throw on your winter coat, warm socks, glove, and a hat for your outdoor holiday walk. There was no snow on my visit, and I can only imagine how stunning the lights must be when surrounded by freshly fallen snow.
Each year volunteers string millions of lights for your enjoyment. The whole process takes months, literally more than 1/2 of the year.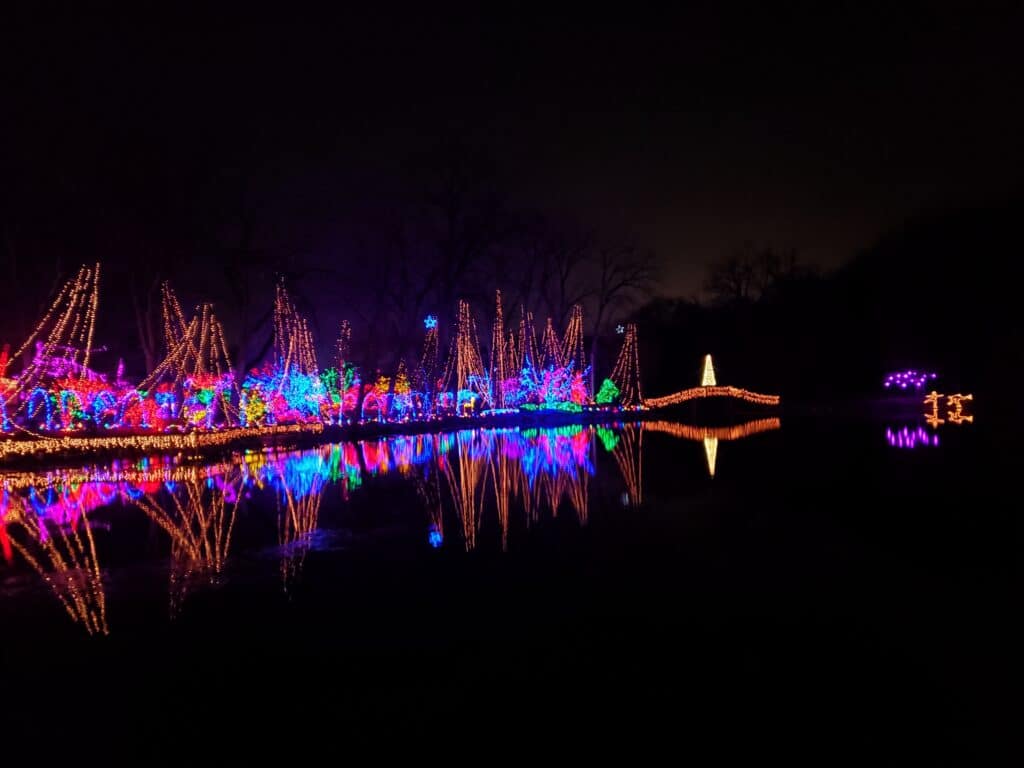 With 25 years under their belt, the Rotary Botanical Gardens offers cheer for all those that take in this holiday experience. The gates open at 4:30 pm and the lights go dark at 9 pm.

Rotary Botanical Gardens
1455 Palmer Drive
Janesville, WI 53545
Greenery for the Win
K & W Greenery offers greenery for all seasons. The Christmas season is incredibly colorful with poinsettias of all colors and fun holiday decor.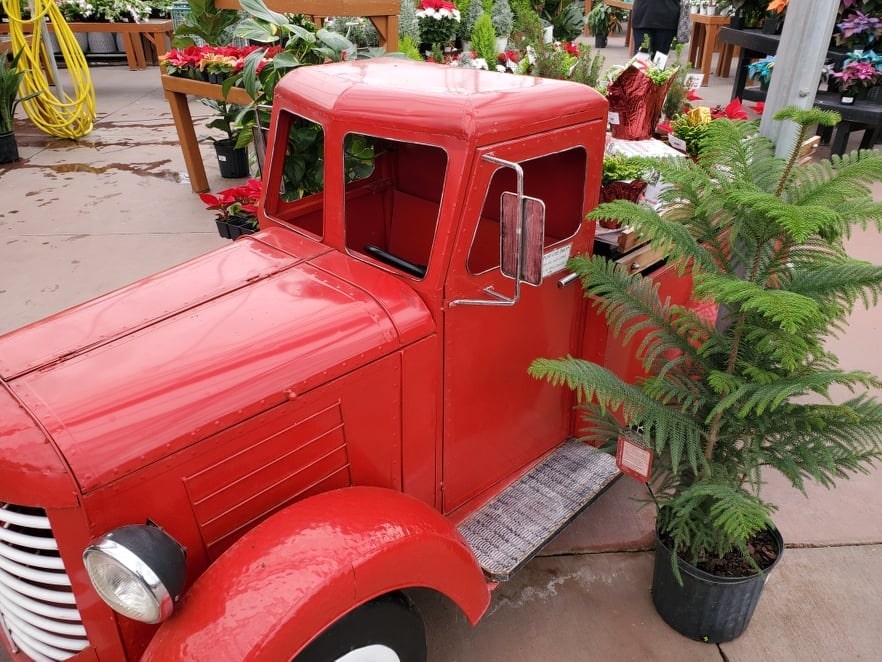 When you shop at K & W Greenery, you will meet a smiling face and customer service that you will want to tell all of your friends about.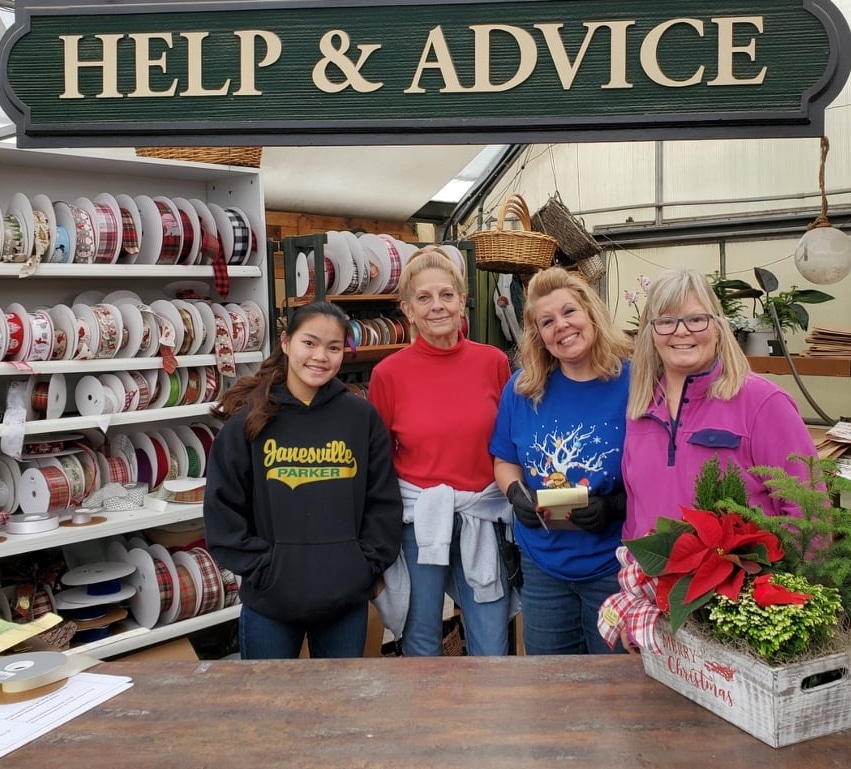 From tree ornaments to plants, this stop will add to your holiday fun in Janesville.
Sip Wine & Enjoy Conversation
Genisa Wine Bar is where you can wrap up your day in Janesville. Reservations can be made and during the busy holiday season, I would highly recommend them.
Four Indiana Wineries To Make Note Of
Genisa Wine Bar
11 N Main Street
Janesville, WI 53545

Where To Stay For Holiday Fun in Janesville
The Hampton Inn is conveniently located off of the Interstate Highway. All roads nearby led to holiday fun in Janesville. I appreciated the fact that the staff had decorated for the holidays.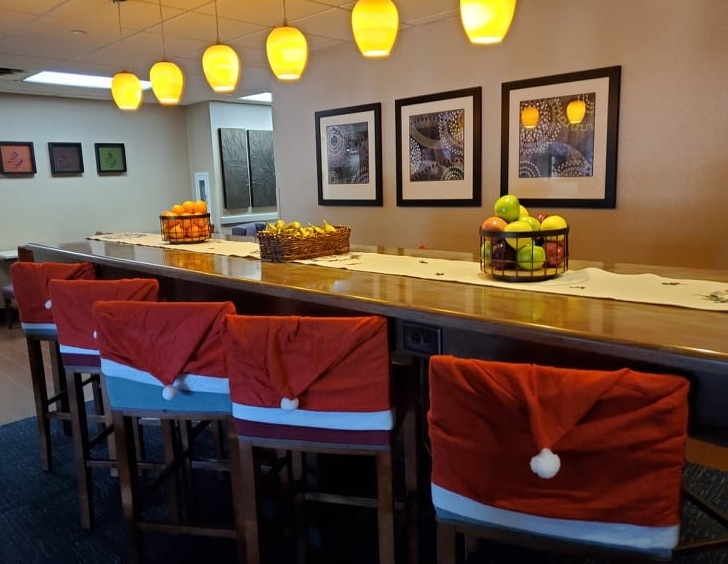 After all, isn't that what November & December are all about? My bed was cozy and my room was updated with USB phone charging ports and a nice work desk area.
Hampton Inn
2400 Fulton Street
Janesville, WI 53546
I enjoyed my December 2021 visit and have a lot more to share about this destination with you. Janesville, Wisconsin, is not only an excellent destination for holiday fun. It is also a fantastic place to hike and experience the great outdoors.
The following two tabs change content below.
SaraB
Sara is a travel enthusiast that resides in North Iowa. You can find her traveling where the plane, train, ship, or car will go. Are you looking to take a road trip? Sara has solutions for you!