America's Greatest Roadside Attractions
America's greatest roadside attractions are calling your name. One of the best things about the size of the United States is that it is an excellent place to go on a road trip adventure. Whatever direction you travel in, there is sure to be open roads and exciting attractions in abundance.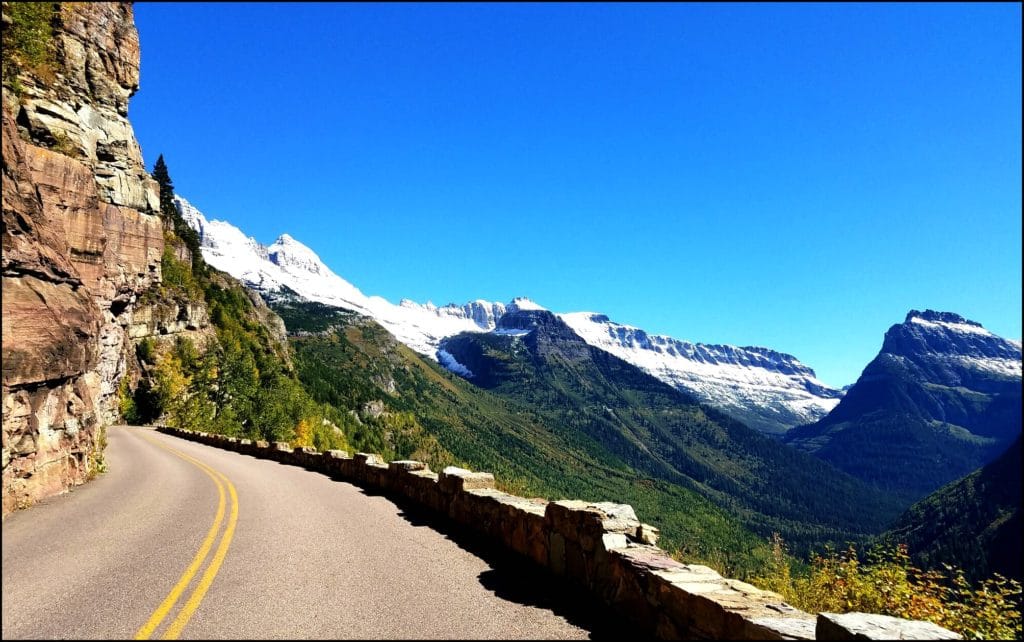 One of the best ways to see the USA is undoubtedly via car or RV – just be sure to have a car or RV service and repair before you head off – and one of the best parts of any road trip in the United States are the cool, quirky and unique roadside attractions that you can find along the way. America's greatest roadside attractions will not disappoint you.
100 Things To Do In Iowa Before You Die
With that in mind, let's take a look at some of the best roadside attractions you'll definitely want to look out for on your next road trip:
The Jolly Green Giant, Minnesota
If you're into vintage commercials and things of that nature ad you happen to be traveling through Blue Earth in Minnesota. This is one of America's greatest roadside attractions and it's a short drive off of I-90 in southern Minnesota. You will want to keep your eyes peeled for this unmissable statue of the famous Jolly Green Giant of sweetcorn commercial fame. It's a fun statue to get a selfie with.
Miles the Monster, Delaware
Staying on the theme of mythical creatures if you're ever road tripping through Dover, Delaware, you should definitely take the chance to see Miles the Monster. A huge rock monster with glowing red eyes and a hand that crushes real cars, this is one roadside attraction you are sure to get a kick out of, and if you're traveling with kids, they will undoubtedly love seeing Miles use his might to crumple cars too.
Cadillac Ranch, Texas
Attractions don't get much more roadside than Cadillac Ranch in Amarillo, Texas. Located right on the iconic Route 66, this colorful display of vintage vehicles, partially buried in the Earth and covered in dayglo graffiti is a fun place to stop and take a picture.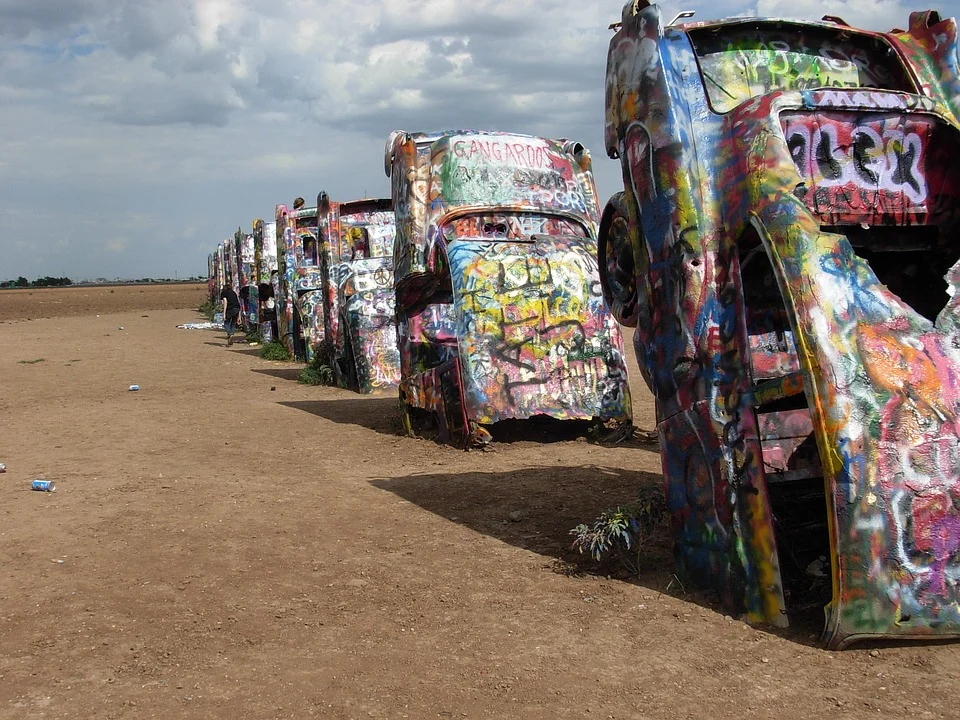 You can even add your own bit of graffiti to the cars to show that you have stopped by.
Lindsborg, Kansas- Unique Attractions To Not Miss
Clown Motel, Nevada
If you're driving through the Nevada desert it won't take you long to see how quite the route is. If you're looking for a place to stop and rest your weary head, the Clown Motel is ideal. The Clown Motel is located in Tonopah, Nevada. It is as you might expect, a clown-themed motel that is situated right next to an abandoned old cemetery. Try not to have nightmares as you crawl into bed for a somewhat cozy stay.
Cabazon Dinosaurs, California
Back to larger-than-life creatures for a second, we have the Cabazon Dinosaurs who you can find in Cabazon, California. From Mr. Rex who is the size of a three-story apartment building to the 150-foot concrete Apato that is Dinky. You're sure to be blown away by the sheer scale and detail that has gone into creating these fun prehistoric characters. A dinosaur for the win when it comes to America's greatest roadside attractions.
Corn Palace, South Dakota
The Corn Palace in Mitchell, South Dakota is a classic roadside attraction where you can learn all you wanted to know and more about the humble pantry staple that is corn. This is the perfect stop when you are traveling I-90 across South Dakota on your way to the Black Hills of South Dakota.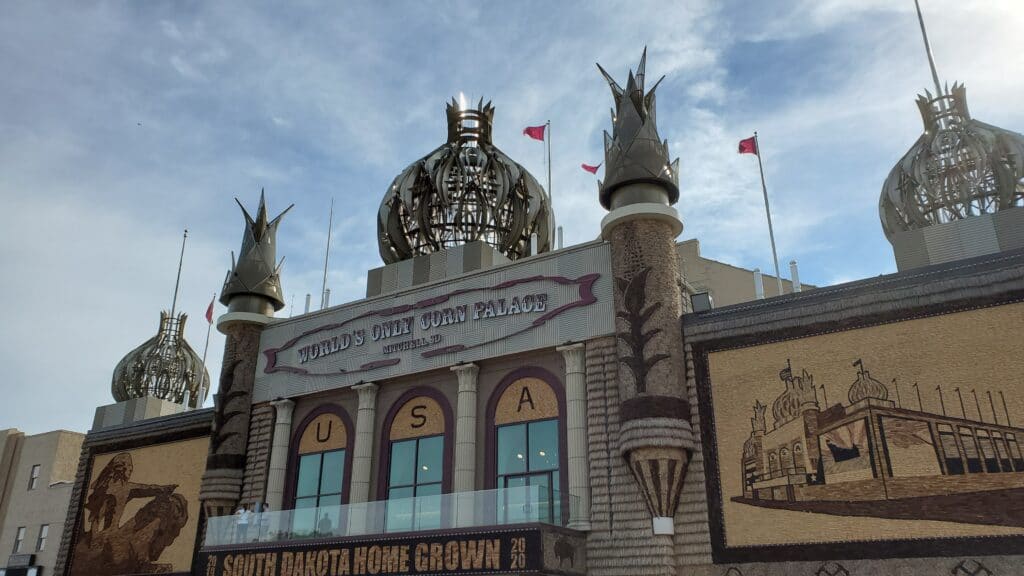 The Corn Palace is a classic roadside stop in the heart of America.
World's Largest Basket Building, Ohio
Located in Newark, Ohio, this very quirky attraction will look great in your vacation photos. As you might expect from the name, this attraction is a huge basket. It looks like an office building designed to look like a basket. It has been brightening up the Newark Skyline since the mid-70s. A local basket company owner had the brilliant idea to create this masterpiece.
UFO Welcome Center, South Carolina
If you're a lover of Stark Trek, The X-Files, or any other UFO-based media, or if indeed you love scouring the skies for UFOs, then you will definitely want to hit up the UFO Welcome Center in Bowman, South Carolina. Here you will find a stunning replica of a real flying saucer. Who knows, maybe the little green men will decide to pay a visit at the same time as you.
Enchanted Highway, North Dakota
The Enchanted Highway in Regent, North Dakota is home to some pretty impressive, metal sculptures, including "Geese in Flight." Theodore Roosevelt National Park is a few more miles down the road.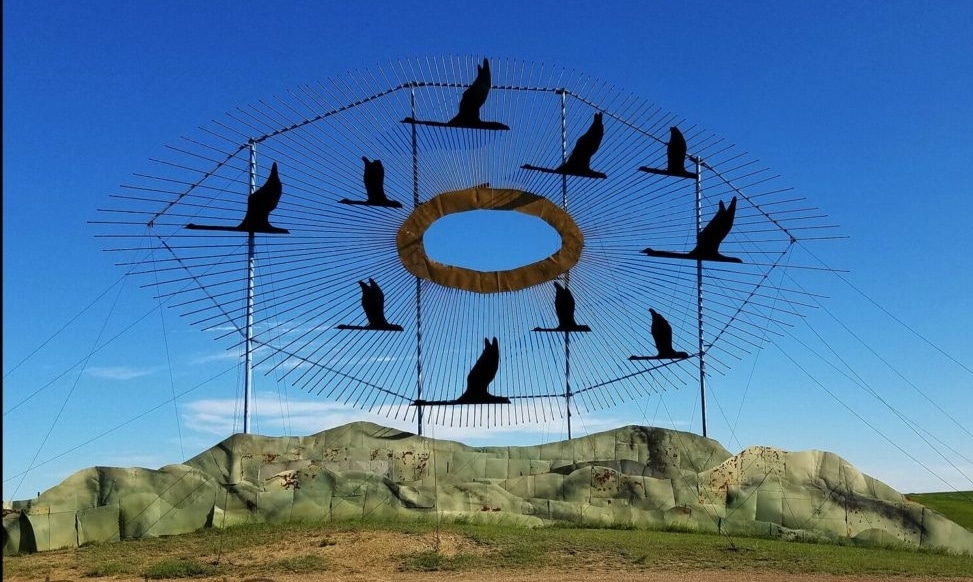 As you travel I-94 across North Dakota, you will come to the sign that says Enchanted Highway. The massive Geese in Flight sculpture will grab your attention. Spend part of a day driving this highway or a full day experiencing highway art.
As you can see, America has no shortage of interesting roadside attractions to make your next vacation even more fun. Which ones are you most excited to see?
The following two tabs change content below.
SaraB
Sara is a travel enthusiast that resides in North Iowa. You can find her traveling where the plane, train, ship, or car will go. Are you looking to take a road trip? Sara has solutions for you!