Cherry Tree Inn B & B: McHenry County, Illinois
A Classic Americana B & B is what you will find in Woodstock, Illinois. McHenry County is home to the world famous Cherry Tree Inn. In case you don't know, Woodstock was "home" to Dick Tracy's creator for 50 years, Chester Gould. He commuted to Chicago six days a week to bring Dick Tracy to life. It had been a few years since I had thought of Dick Tracy, but when I had the opportunity to visit Woodstock, I became intrigued. You can imagine how intrigued I became when I learned that the town was also the location where the hit movie Groundhog Day was filmed.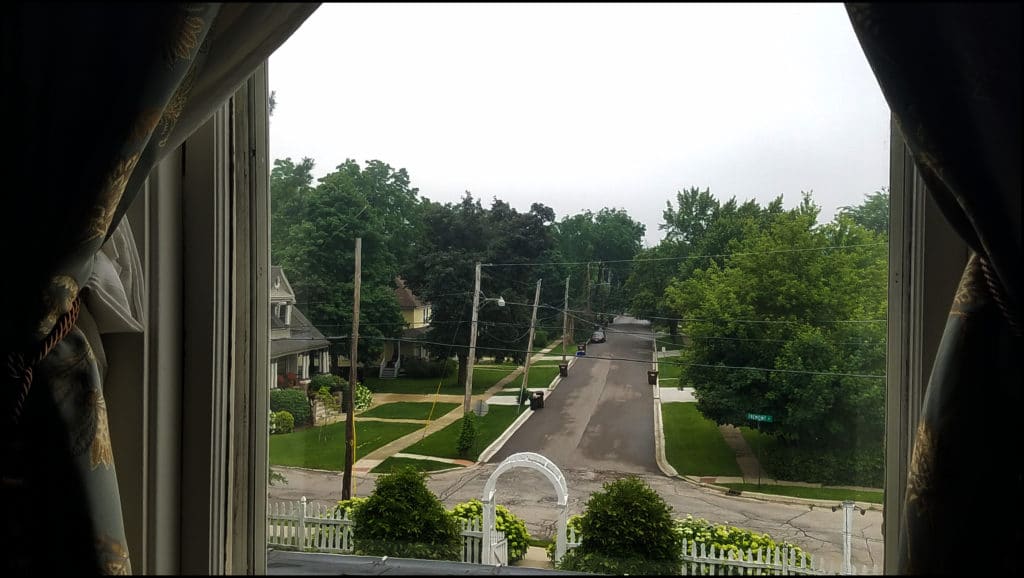 Imagine my enthusiasm when I woke up to the view that Bill Murray had each morning in the movie. I had to pinch myself and ask myself, "Is this a new day?"
The neighborhood looks just like the movie set did and this room definitely had a view! The Cherry Tree Inn not only offered a fun place to relive some fun entertainment days for a few years back, but it also offered a quiet place to call home while in the area.
You will find several fun things referring to Bill Murray around town and other things that represent the history that Woodstock has to offer. But the one thing that I will always remember about my stay at the Cherry Tree Inn is the awesome hospitality that our generous hosts had to offer. George and Lori rolled out the red carpet for myself and several other writers that visited while I was in town.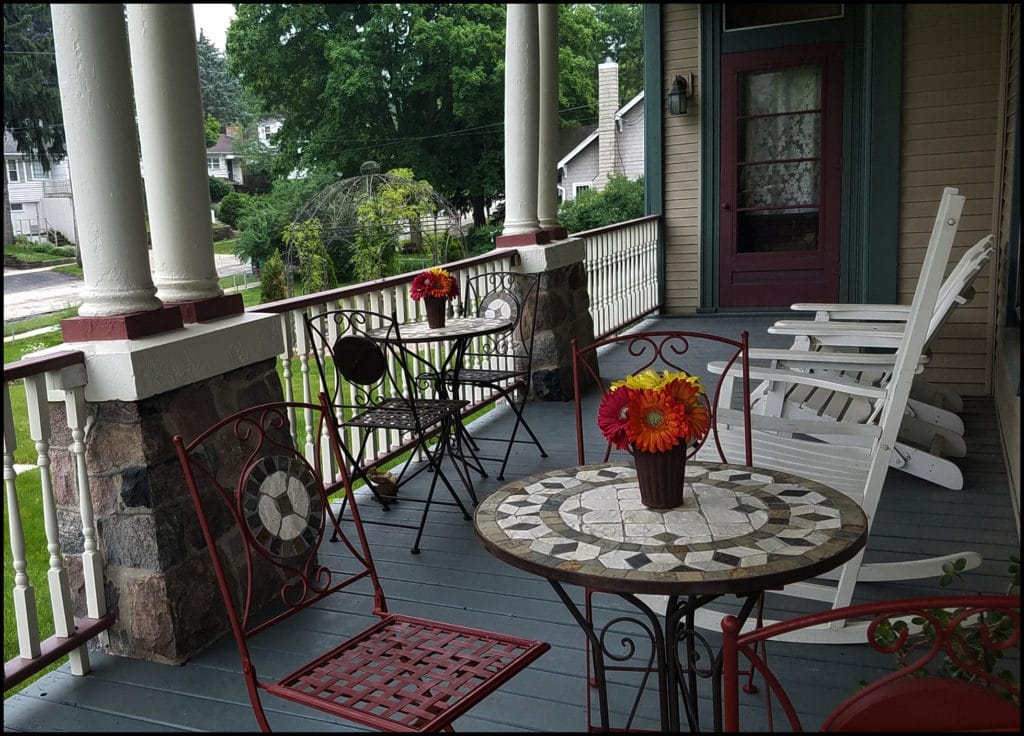 They not only enjoy cooking up a storm for breakfast, but they also love getting to know their guests. It is not uncommon for George and Lori to play a game or offer to chat with their guests out on the front porch. I found it refreshing, as I enjoy meeting B & B owners and love hearing their story.
My accommodations were top notch, as one would expect at a Historical Victorian B & B. Upon my arrival, George immediately took my luggage and carried it upstairs to my room. Keep in mind, B & B's usually have steep stairs, not elevators, so this was much appreciated.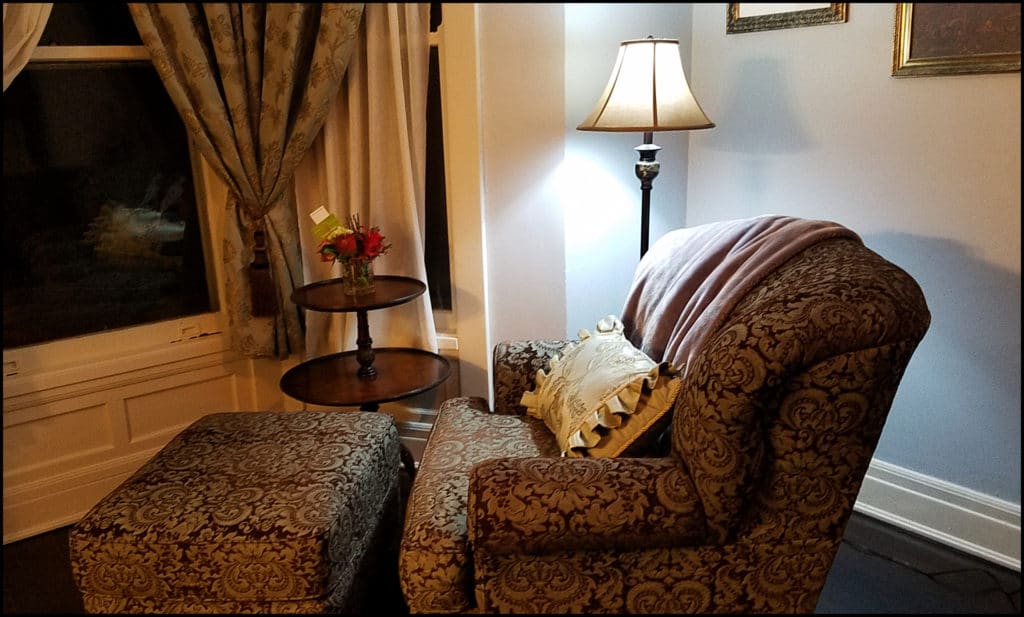 He was also quick to point out how to turn the tv on, where the light switches were and how to get a hold of them in the case of an emergency overnight. It's truly the little things that do make a difference when staying at a B & B.
Tip: If you would like to relive each morning as Bill Murray did in the movie Groundhog Day, request to stay in The Magnolia Suite.
It was a fun experience and while you are there, be sure to pop in the movie and view it. If you have spent some time in McHenry County, now is the time to indulge in some of the chocolate that you purchased. A movie with local chocolate= a win/win for all!
The parlor and other areas of this home are stunning and even fun to view after the sun goes down.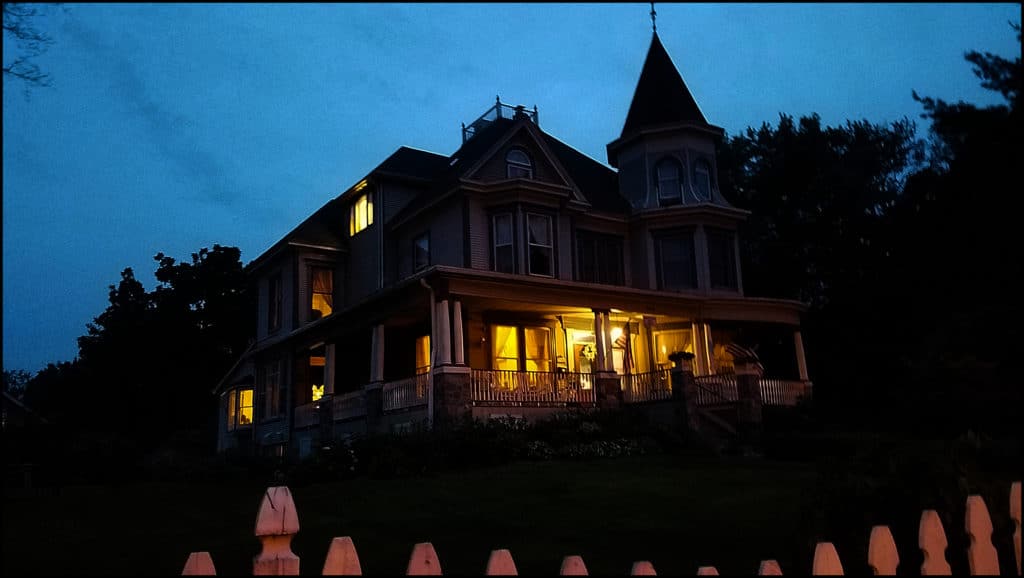 What do you enjoy most about staying at B & B's? Is it the opportunity to meet new people, learn about others and their way of life or are you looking for a relaxing place to call home for a night or two? I can promise you, The Cherry Tree Inn B & B, will not disappoint. Book your stay today at 815-308-5946 and let them know that Travel With Sara thinks you need to stay in The Magnolia Suite and relive the Groundhog Day magic that Woodstock is known for.
Stay in tune with what is going on in McHenry County through their website and Facebook page.
*Thank you to McHenry County, Illinois and The Cherry Tree Inn B & B for hosting me.
The following two tabs change content below.
SaraB
Sara is a travel enthusiast that resides in North Iowa. You can find her traveling where the plane, train, ship, or car will go. Are you looking to take a road trip? Sara has solutions for you!