The Pros And Cons Of Camper Styles
---
Camping is one of the easiest ways to enjoy nature and the great outdoors. There are several pros and cons of different camper styles. I'd like to think that all types of camping are problem-free, but in reality, they are not. I asked several of my camping friends to share their tips, on the pros and cons of camper styles that are available for campers.
Iowa State Parks Including Camping
Trailer Camping
My husband and I dove back into the camping scene during the pandemic. We purchased a 2020 Imagine XLS 17MKE Grand Design RV.
We enjoy having our lodging in tow, knowing that everything is with us. With so many things to love about camping, it's hard to find things that make camping with a trailer a challenge. The downside of owning a travel trailer is that you need to have a vehicle that is fit to tow the size of your trailer. It's important to learn the pros and cons of camper styles before you invest in a camper, so you can enjoy it the way that you want.
Glamping
Kylie of Between England and Iowa has tips to share on glamping.
I love going camping and one of my favorite ways is to 'glamp'! An advantage of glamping is that you can still enjoy the outdoors, in the same way, that you can with camping, but without having to fund the upfront cost of having to purchase a camper or a camper van. Glamping is becoming widely popular, with many campgrounds offering mini pods, yurts, and 'tiny living' accommodation options. Depending on the style of the small cabins, some don't have internal bathrooms.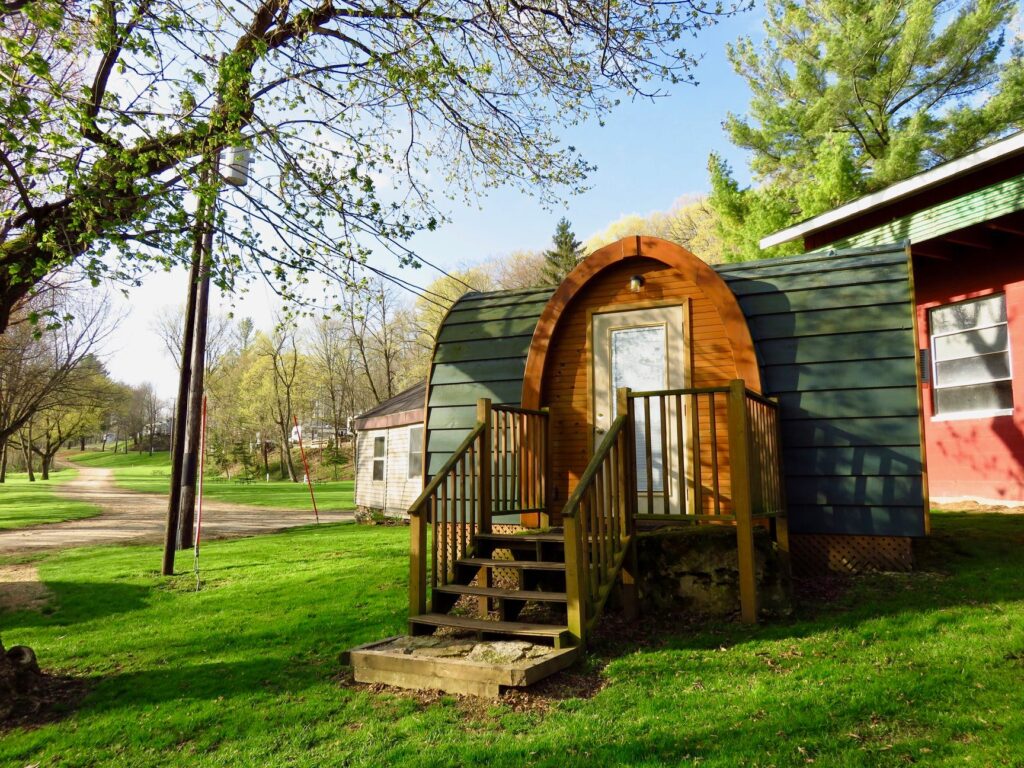 You have to rely on a campground toilet and shower block, the same way you would if you were tent or car camping. They also don't always include cooking facilities. Some may have a microwave, but many will just have access to an outside fire pit or barbecue. For me, this is all part of the fun, I love cooking my meals outdoors, on a barbecue. For people that are used to the 'home comforts' of the larger campers, these things may be a disadvantage!
The only disadvantage that I find when glamping, is that you are restricted to campgrounds with glamping options and you're limited for space. Everything on your glamping packing list will need to fit into the vehicle that you are traveling in. From camping chairs, cooking equipment, food, and luggage. However, I do love the way that once you arrive at your campground, there's nothing that needs to be set up. You can just unload the car and start enjoying your time in the great outdoors!
Five BEST Midwest Fishing Lakes
Campervan Camping
Susan offers some advice on campervan camping from This Big Wild World.
The pros and cons of camper styles continues with campervan camping. After months of long days working from home and isolation, I looked over to see my dog staring sadly out the window. It dawned on me that he was feeling isolated too. I racked my brain for something I could do to cheer him up. That's how this tent camping girl ended up on a campervan adventure with her dog through northern Minnesota and instantly fell in love with this style of camping.
What's so great about campervan camping? Well, there's practically zero setup when you get to the campsite. Just toss out a folding chair and pour a drink or hit the trail! Also, trade your nights sleeping on the hard ground for a restful night on an actual bed. Wake up refreshed and ready for a day of adventure! Many campervans even have a fan to regulate the temperature and keep you comfy, rain or shine. Lastly, as a solo female camper, I felt safe and secure knowing that I could lock the doors from the inside at night.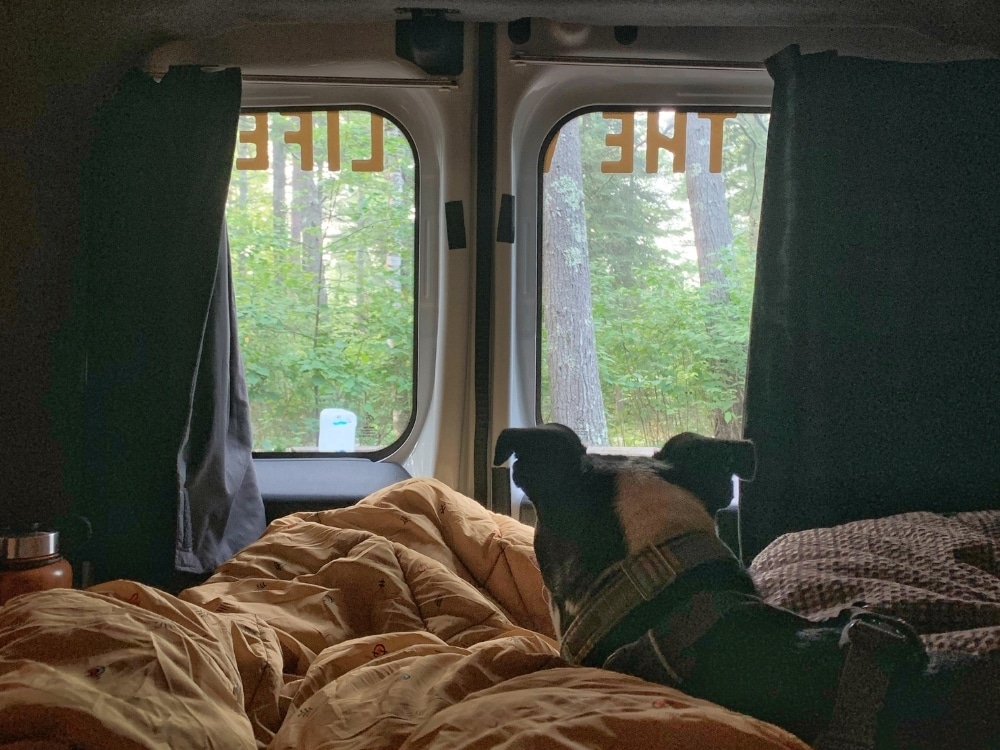 But campervan camping isn't for everyone. The cost of renting a campervan can be more than a hotel room! And, there are mileage limitations to consider when planning your route. These limitations vary greatly depending on where you rent from so check the rental details closely before booking. Lastly, the drop-off and pickup times for most campervan rentals are not convenient. Pickup is usually in mid-afternoon, meaning you may only have 4-5 hours to reach your first destination. The typical mid-morning drop-off times may require you to leave your destination the day prior or an early wake-up call on your last day.
If you can get past these negatives I think you'll find that campervan camping is the perfect way to experience the outdoors with more comfort and ease but with nearly all of the benefits of tent camping. Read Susan's tips on campervan rental tips for newbies.
An Adventure Out West In An RV
Camping In A Motorhome
Jody Halsted is the publisher of CampingTipsForEveryone.com, a website dedicated to turning new
campers into confident adventurers. Get Jody's Motorhome Rental Tips for Beginners and try your first
RV rental this year!
My family has worked through all types of camping. Beginning with backcountry 'pack it all in', to front
country aka 'car camping', then a pop-up camper, followed by a Class C 'overcab' motorhome, to our
current Class A 'bus-type' motorhome.
And while each type of camping was right for the time of our lives we were in, the only type of camping
that you will find me doing outside the comforts of my motorhome is luxury glamping – with all the frills.
The benefits of a motorhome are truly never-ending.
It is a tiny (or not so tiny, depending on the size of the motorhome) house that you drive. Complete with
comfortable beds, kitchen, bathroom, and seating. And, like a house, you can add amenities. Our motorhome has a small "room' with bunk beds, as well as a drop-down bed above the front seats. The bedroom has closets that rival my first apartment. Our kitchen has a full-size refrigerator, stove, oven, and microwave, as well as plenty of storage and counter space. The outdoor kitchen, much like a backyard patio, has a mini-fridge, sink, and grill hookups.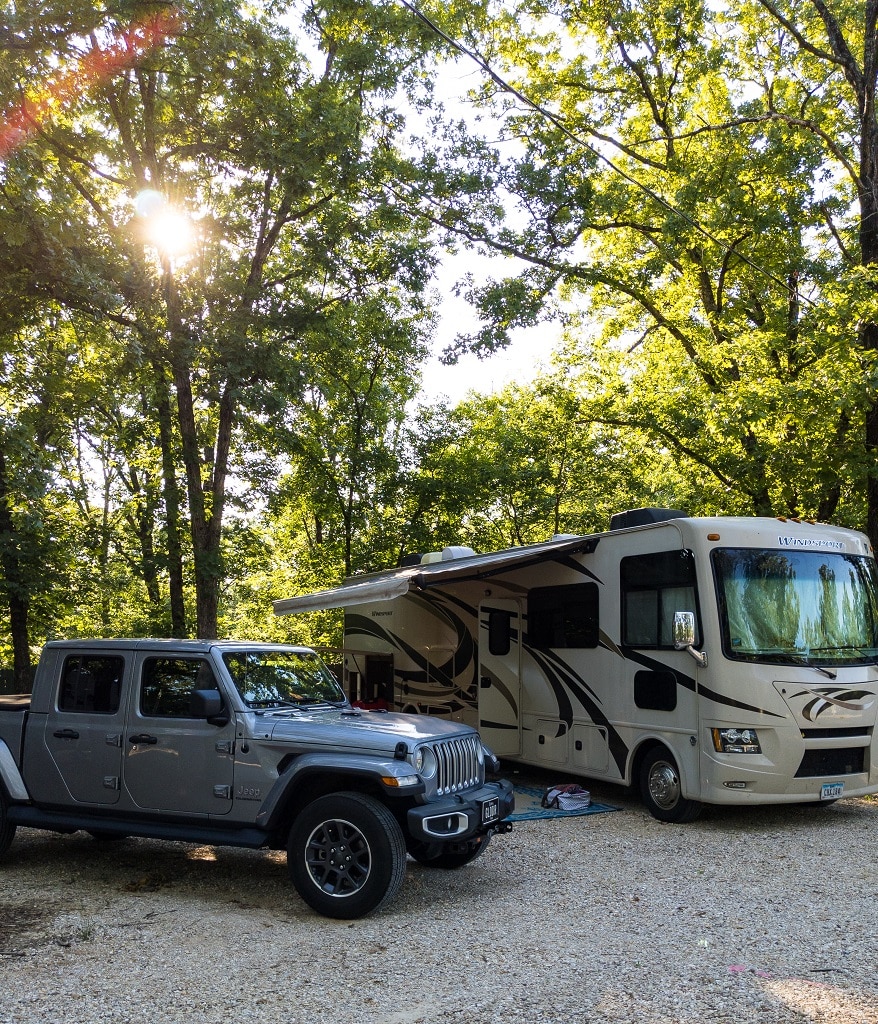 Motorhomes are available in multiple sizes, and 3 types, so you'll find one that is right for you. Class A, is
the large 'bus' style. Class C is built on a van chassis and features the 'overcab' bed. Class B has become
synonymous with #vanlife.
With all there is to love about owning a motorhome, there are a few disadvantages.
1) Motorhomes are not inexpensive, though you can find some good deals on used units if you
look for them.
2) You won't want to hook and unhook a motorhome daily, so you will need a 'toad' – a vehicle
you tow behind- to get around.
3) There is always ongoing maintenance. As both a house and a vehicle, there is always something
that could use a 'quick fix', an update, or a replacement.
If you think you might enjoy owning a motorhome I highly recommend renting a few different types to
see what you like, what you don't, and decide what you need in the unit you ultimately purchase.
Tent Camping
Karthika of Culturally Ours shares tips on tent camping in the backcountry.
There is nothing quite like the feeling of sleeping under the stars, out in the wilderness, away from all of the hustle and bustle of city life. Camping has always provided me that much- needed escape and allowed me a chance to reconnect with nature and the outdoors. While there are so many different forms of camping, backcountry camping with just my tent and my sleeping bag has always been extra special. And thankfully for me, my family enjoys it just as much. We have been to known to pack our gear and head outdoors with little or no planning and have always managed to find a spot to camp in the backcountry for a night or two. The spontaneity adds to the charm of being away from everything.
When you understand the pros and cons of camper styles, your camping experience will be what you desire.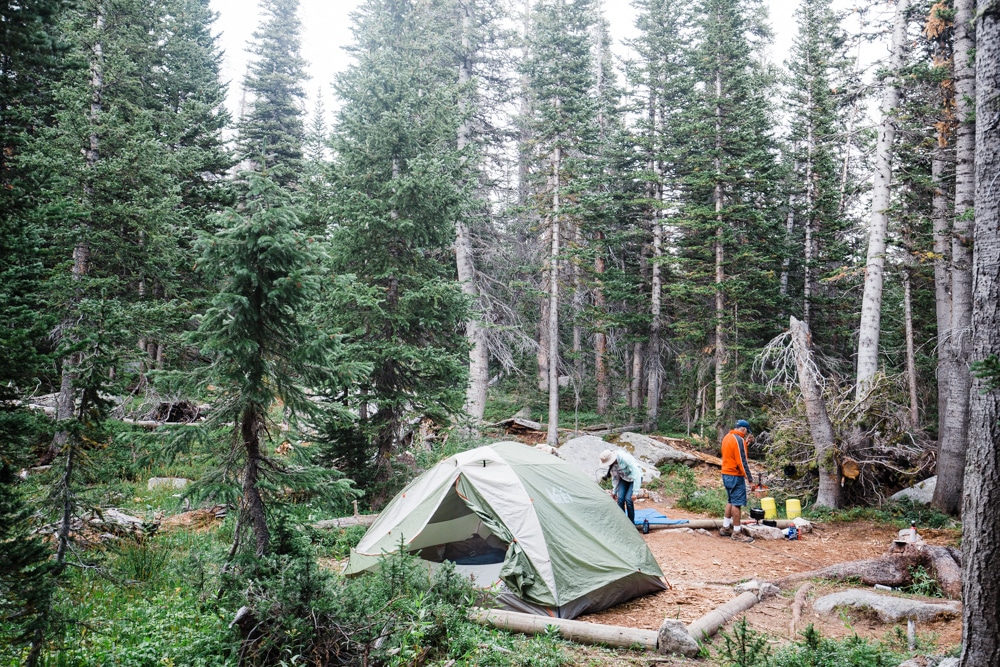 You truly don't need much to have a good backcountry camping experience. A tent, good quality sleeping bags, a sturdy backpack, hiking shoes, some camping food, and you are pretty much set. Plus, many state parks, national forests, and national parks have plenty of campsites for every kind of camper- whether you want to do a single night in the wilderness or even a multi-day backpacking adventure. However, if you are looking to tent camp in the backcountry in some popular national parks, it might be a good idea to plan ahead and make the appropriate reservations. Most backcountry permits are handled with the forest department or special backcountry permit offices within the national parks.
Hammock Camping
Jennifer of Day Tripper will inspire you to try hammock camping. This style of camping looks fun, but there are some pros and cons to camper styles, like hammock camping.
There comes a time in everyone's life when they've had enough sleeping on the ground. That's when they transition to Hammock Camping. One night in a hammock and you'll never go back. Having a hammock makes it super easy to go off-grid. Anywhere with trees can be considered a campsite. No need to look for level spaces, avoiding roots or rocks. Hammocks are easy to throw into your pack, car or camper. After getting to your camp, you'll be off the ground in 30 seconds. Aside from amazing sleep, you also don't have to worry about waking up in a puddle if it decides to rain on you. Hammock campers do so year-round.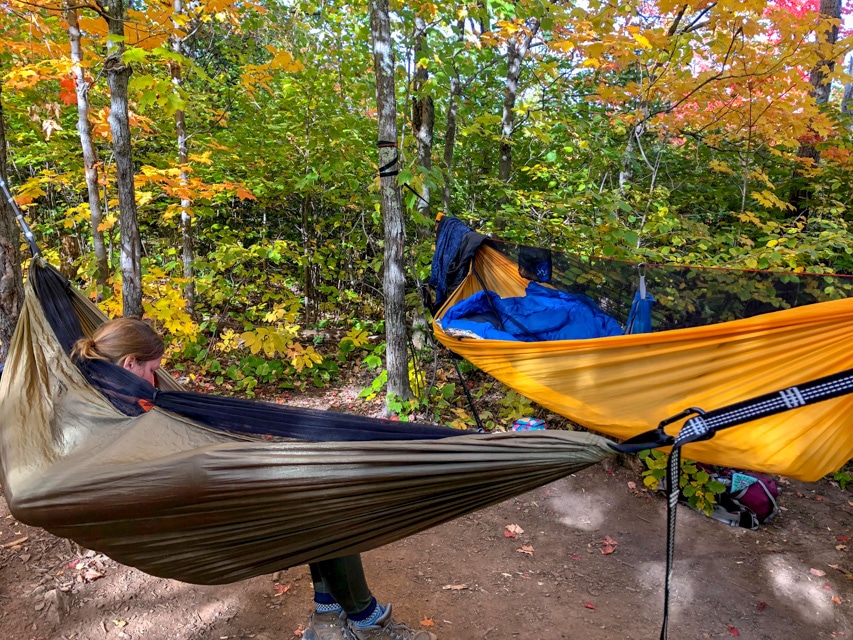 It's not for everyone or every situation. Before going someplace, you have to make sure the site has suitable trees to hang from, 2" in diameterr. You'll also need a bug net, tarp, and an underquilt or sleeping pad to keep your underside warm. For backpackers that think Hammock camping will save on weight, it doesn't. You usually break even. You also need to have a setup for each person in your family, with trees for everyone. In some cases, you may not be right next to each other. But having the most comfortable night of sleep ever makes it all worth it. An epic hammock camping experience awaits you along the Superior Hiking Trail.
Margaret M. MacNider Campground: Mason City, Iowa
A-Frame Camping
Kay of Happy Trails Hiking offers advice on owning an A-Frame camping trailer.
In March 2019, we decided to add a Forest River Travel Trailer to the Happy Trails Hiking family. This is our first camper and we really liked the options and quality in the Forest River Flagstaff A-frame camper. We bought a 2018 Flagstaff 21TBHW. It is 21 feet long and 7 feet wide. It even has a FLUSH TOILET!!! As a hard-sided pop-up camper, we can use it in campgrounds that will not allow tents or tent trailers, like several in bear country. We also like that it is easily towable when it is put down. Towing with our Toyota Tundra works and we are pleased with the towability. At camp, we treat our camper kind of like we treated our tent when we were tent camping.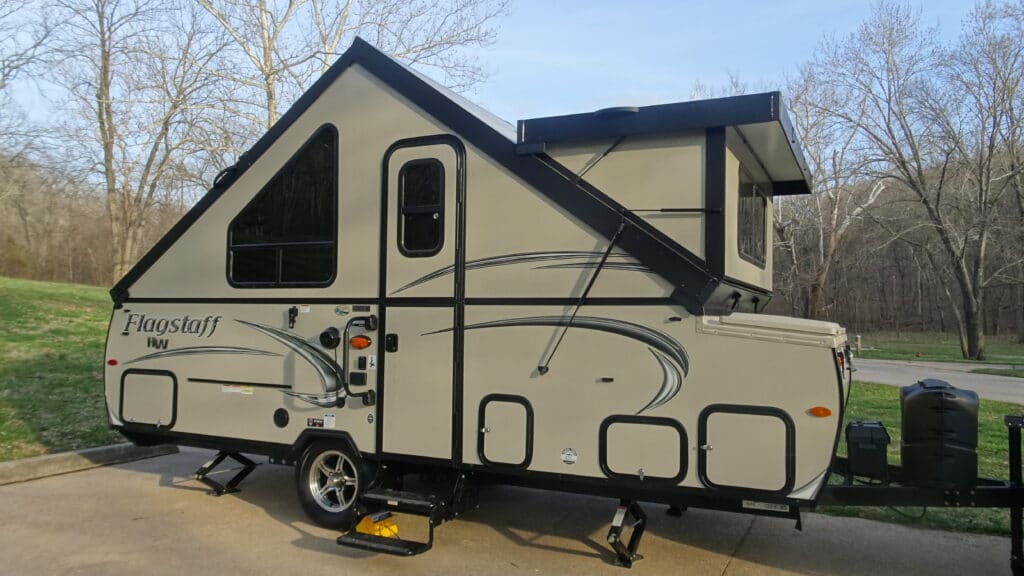 We do cook inside the camper when it is raining or really windy. It has a mini-fridge, sink, 3-burner stove, and a microwave. Since there are just two of us in our family, we have just enough room inside "Alf" the A-Frame. If there were any more traveling with us, we would need more space. We haven't had issues with any leaking than other A-frame owners have reported. We think that is because we store it in our garage. You can see more about "Alf" on our website: https://happytrailshiking.com/product-reviews/2018-forest-river-flagstaff-a-frame-travel-trailer
Pop-Up Camper
Leanna of Wander In Germany shares some tips on camping with a pop-up camper.
Ever since I was a kid, I've always loved camping. But, something about having small children made sleeping on the hard ground and rain seeping into the then seem, well, less than enjoyable. As with any camper, there are pros and cons of different camper styles, including pop-up campers.
This is exactly why we ended up getting Gerta, our Pop-Up trailer.
We wanted to dip our toys into the travel trailer life but weren't sure if we wanted to financially go all-in with a full RV right from the start. Towing a trailer is an important part of owning a camper. It was important that we had something that Hansel, our Honda Odyssey minivan, could easily tow and something that our whole family (plus a grandparent or two) could get out into the great outdoors for a bit more of a "Glamping Experience" while still being most comfortable, despite the outside elements.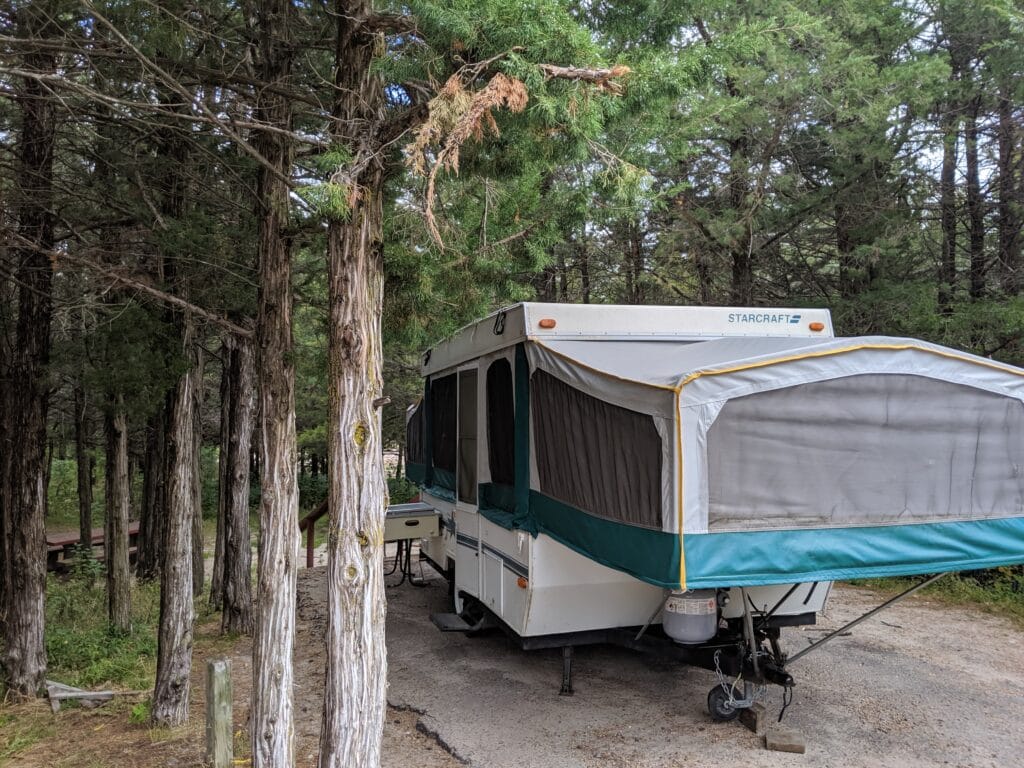 We really love camping with our Pop-Up camper because can fit into all campsites easily and we didn't need a huge, new truck. You can get them relatively cheap on used sale sites, and best of all, the beds are actually shockingly comfy!
Having a space that we could take the baby into (and not crawling in the dirt or toddling off somewhere) where we could comfortably play board games, eat a meal if we wanted to, or read books. This was a nice treat. We eventually installed a portable AC unit and then were really living up the luxury of camping. Unfortunately, you are still living in a pretty tight space. Even if you pack a ton of people into those little trailers, it can often still feel like everyone is in everyone's space. It also takes a good deal of work to set up and takedown, which meant for just a night or two of camping, it sometimes felt like a burden to fully set up camp.
However, for small families, those not sure if they want something bigger or expensive. A pop-up camper is a perfect option for someone wanting to get off of the ground while they are sleeping.
Camping With A Vintage Camper
Lori of Lori Loves Adventure camps with Beatrice. She shares her love of the lifestyle of vintage camping.
Camping with a vintage camper is all about the lifestyle. It has its advantages. Camping with a renovated old camper is guaranteed to grab a lot of attention wherever you go. I have never taken Beatrice, my little 1969 renovated Camp Mor canned ham trailer, camping without at least a couple of fellow campers stop to admire her. Getting a thumbs up while driving down the road and smiles at a gas station all make the many months and countless hours to do a cushion rebuild worth it.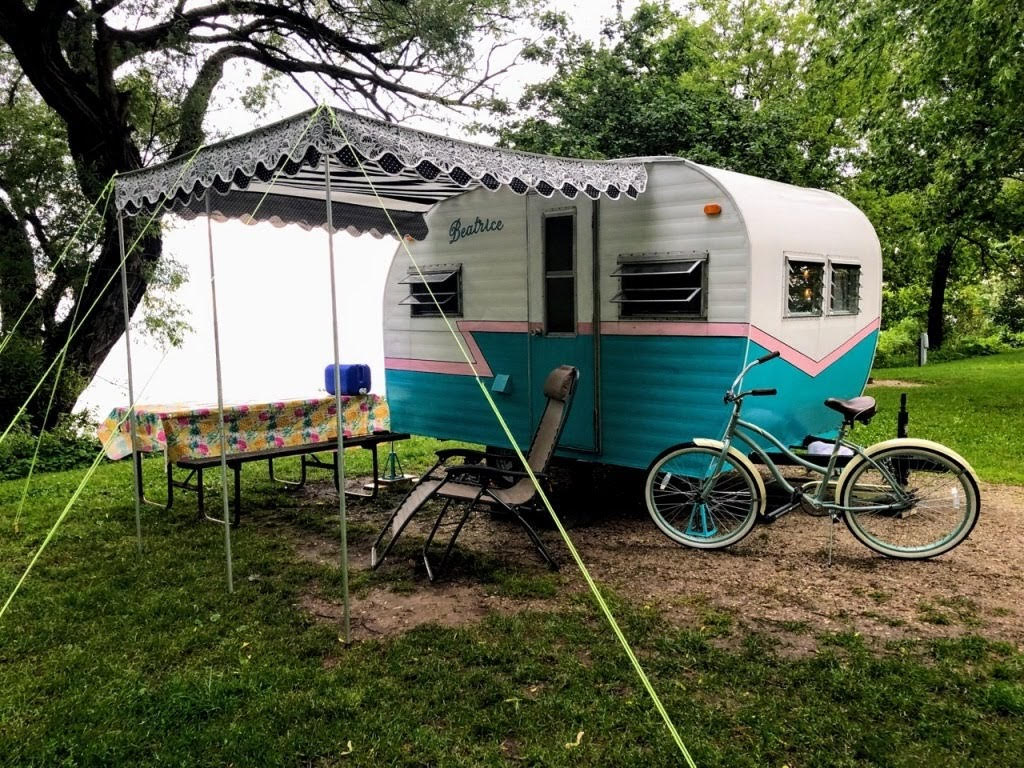 Another advantage is oftentimes, these campers are small, easy to tow, plus easy to set up and tear down at the campsite. When you camp with a vintage camper, you are making a statement. You belong to a fun and passionate community of vintage enthusiasts.
Now let me share some disadvantages.
There are pros and cons to different camper styles, including a vintage camper. Older campers don't have the many conveniences that new campers have. Bluetooth stereo, outside kitchens, boondocking capability, and power awnings are not usually part of the package. I never really missed these things on my weekend trips, but camping for extended periods and in remote areas is not as easily doable in vintage campers. I have boondocked with Beatrice and used a generator, but she is not equipped with large tanks or a bathroom.
Probably the disadvantage I hear most often although I have never run into this, is some private campgrounds have age restrictions regarding the campers they will allow. Most often it's 10 years or older. It's one of the reasons besides cost that many vintage owners prefer to camp in state, county, or national parks over private campgrounds.
Camping with a vintage camper is not for everyone, but I enjoy it for weekend trips. I have met and became friends with people just because of Beatrice. It's a lifestyle that I'm happy to be a part of and enables me to spend time in nature and isn't that what camping is really all about.
When you know the pros and cons of different camper styles before you invest in a camper, you will be more likely to make the best decision for you and your family. No matter what style of camping you choose, I'm sure you will enjoy the great outdoors. The camping experience includes stepping outdoors in the morning to an amazing sunrise. When morning breaks at your campsite, embrace the moment and take in the early skies. Yes, this means it's ok to rise early and go to bed after you sit around an evening campfire.
The following two tabs change content below.
SaraB
Sara is a travel enthusiast that resides in North Iowa. You can find her traveling where the plane, train, ship, or car will go. Are you looking to take a road trip? Sara has solutions for you!