The Best Steak On The Beach With Spectrum Resorts At Turquoise Place In Orange Beach, Alabama
Turquoise Place, managed by Spectrum Resorts, in Orange Beach, stands out as a beautiful space to call home while in the area. On a recent stay, we took it all in. From the hot tub on the balcony to the full-sized kitchen, we took advantage of all the awesome amenities.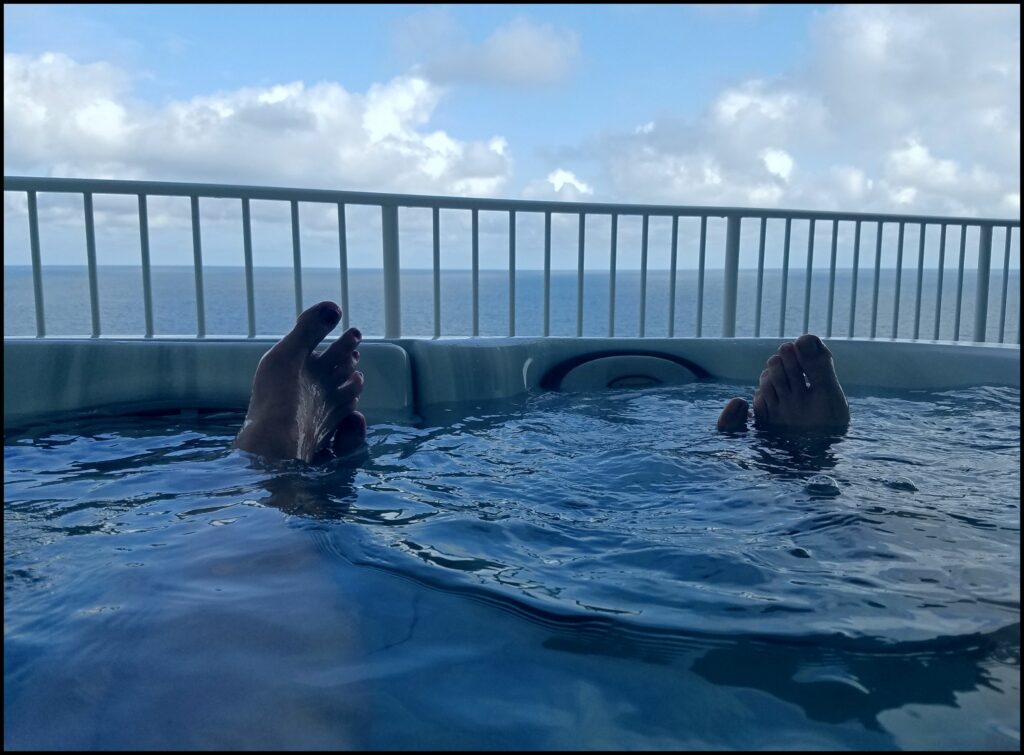 We were guests of Turquoise Place and as always, the opinions expressed here, are mine and nobody else's.
TURQUOISE PLACE IS LOCATED IN THE HEART OF ORANGE BEACH
We had previously stayed with Spectrum Resorts at The Beach Club, so Turquoise Place was a new experience for us. It's located in the heart of the beach area in Orange Beach, Alabama.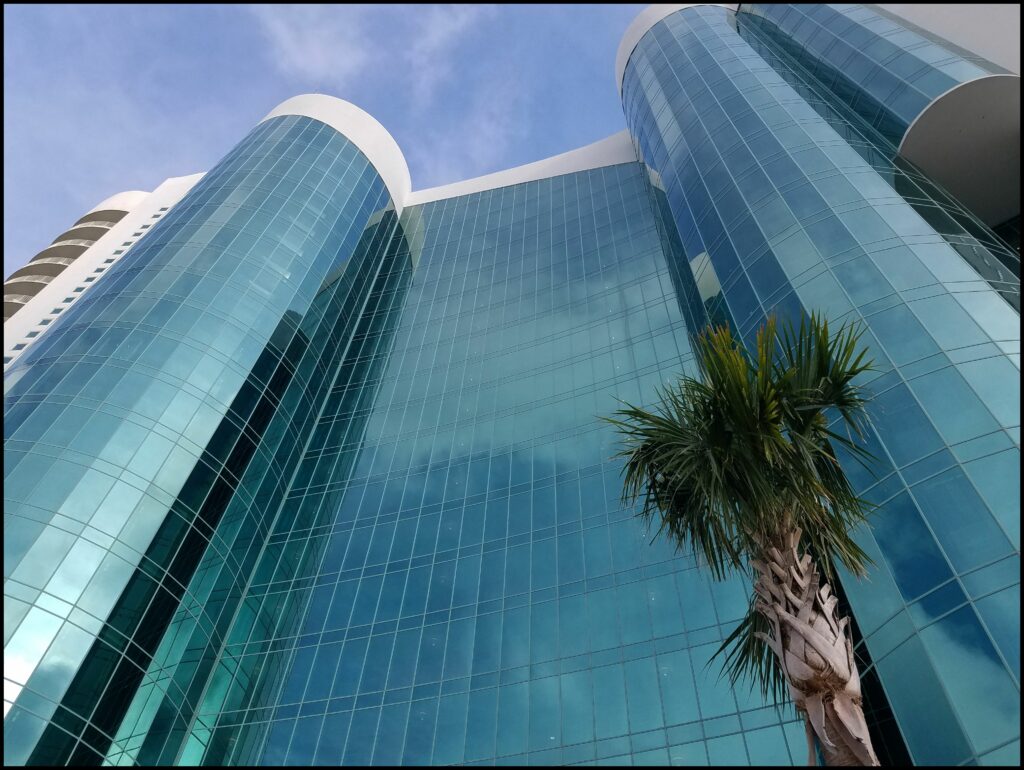 Guests are not far from the world famous Flor-A-Bama Bar or the local favorite donut shop, City Donut. The best amenity is the fact that it is right on the beach! it is no secret that the white, fine, sugar sand sinks between your toes the instant you set foot on the beach. And it was literally a hop, skip and a jump from Unit 1302.
TURQUOISE PLACE OFFERS A CLEAN BED WITH EVERY STAY
The amenities at Turquoise Place were top notch. The amenity that stands out for me, is the clean bed with every stay. You may be asking, "What does that mean?" This means that every bed is prepped with a freshly laundered duvet before every check-in.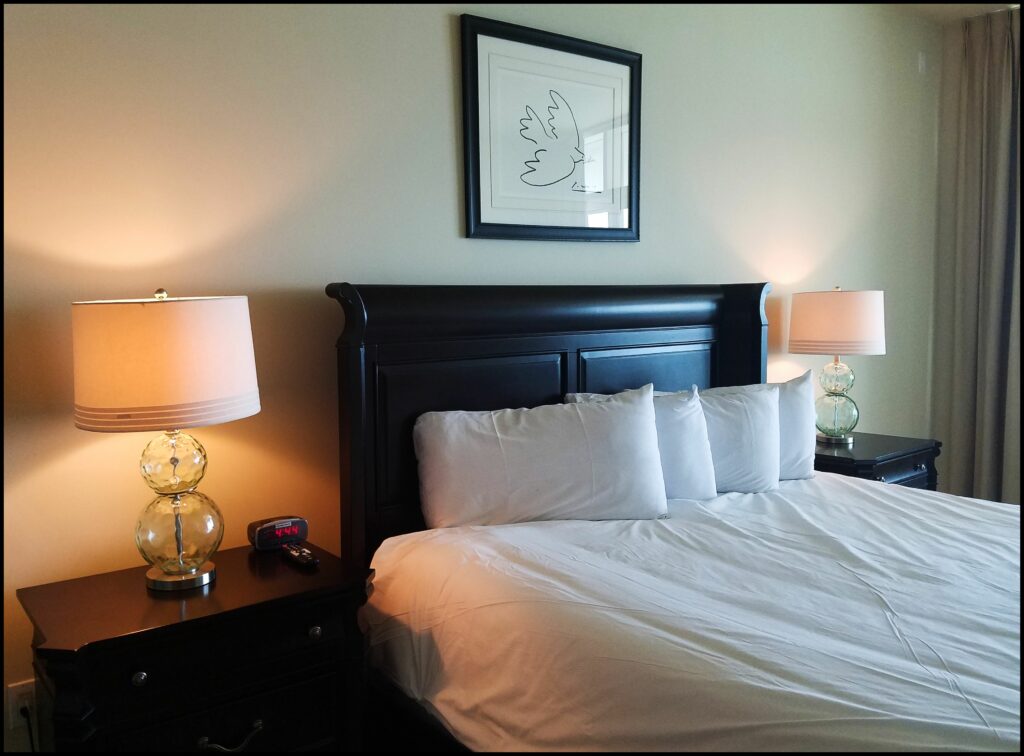 A restful night's sleep is also guaranteed, with a high-quality mattress for you to claim. This is something I have not thought of, as I am now wondering how clean actual duvets are in lodging facilities across the country. Spectrum Resorts moves to the top of my list with the Clean Bed Guarantee!
Most of you know that I do love the Alabama Beaches, but it is also fair to say that I thoroughly enjoyed the Lazy River.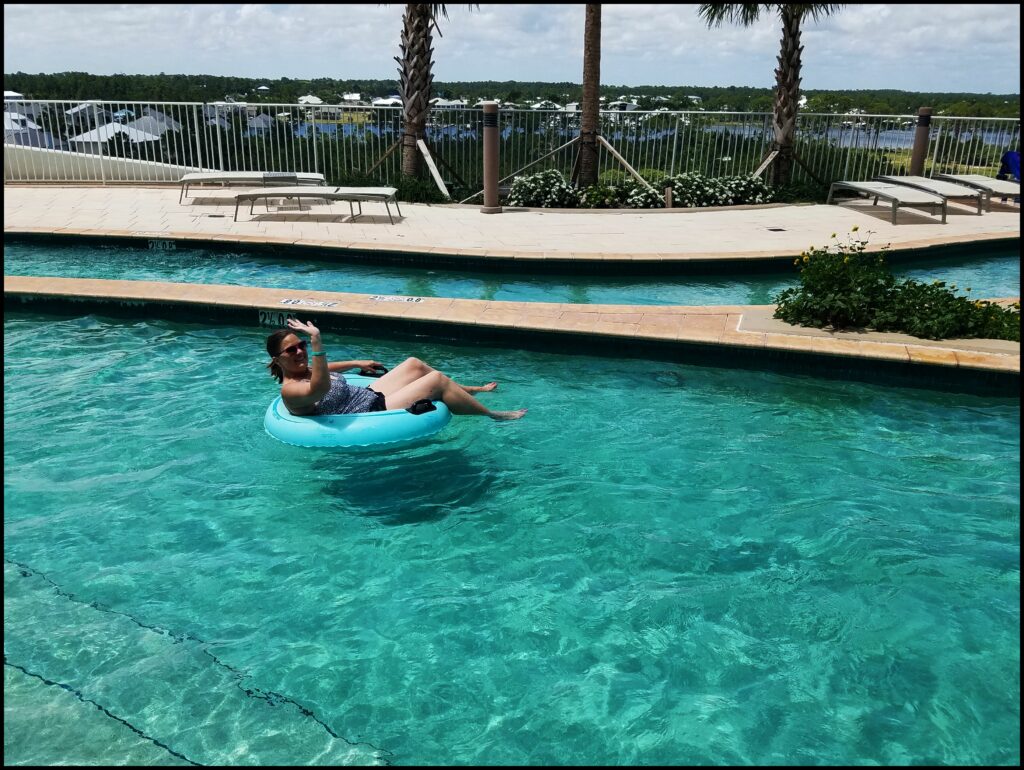 Spectrum Resorts advertises the Lazy River at Turquoise Place as 450 feet of relaxed bliss, and that it was.
RESERVE YOUR BEACH CHAIRS FOR SHADE AND RELAXATION AT TURQUOISE PLACE
Now let's talk about the beach! There are 32 miles of pristine beaches in Alabama and the beach at Turquoise Place was simply AMAZING! I would suggest calling Perdido Beach Services at (251-981-4807) during your stay to reserve beach chairs.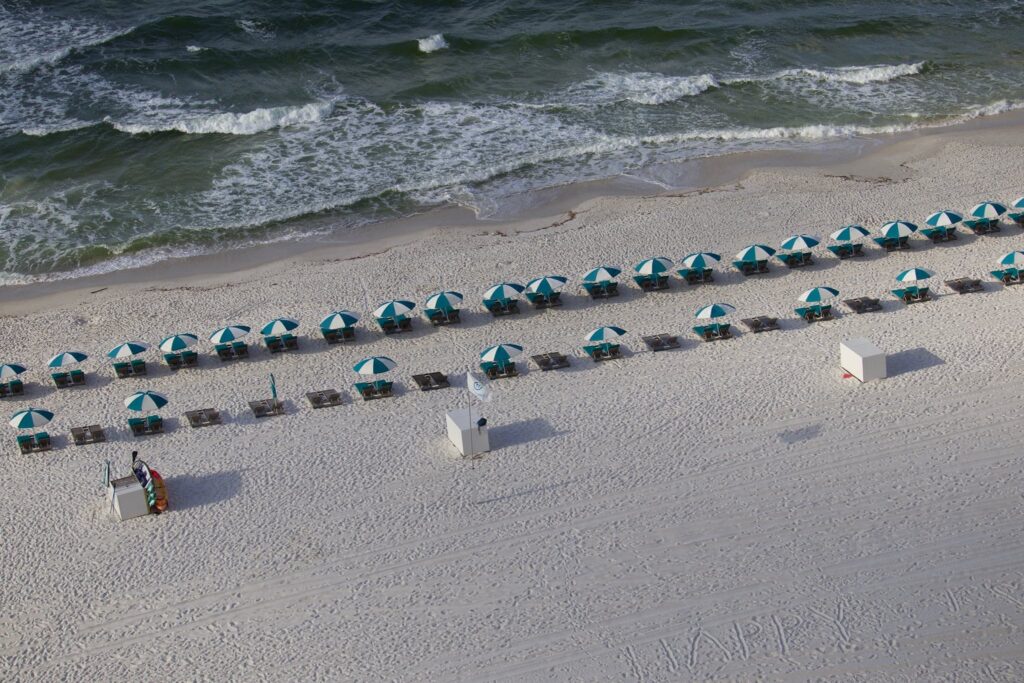 They will place your name on the chairs down by the beach and you will have a chair with shade for the day.
We have stayed in many beautiful places over the years with beautiful kitchens. Turquoise Place was no exception. Instead of going out to eat one night, we opted to put our kitchen to use.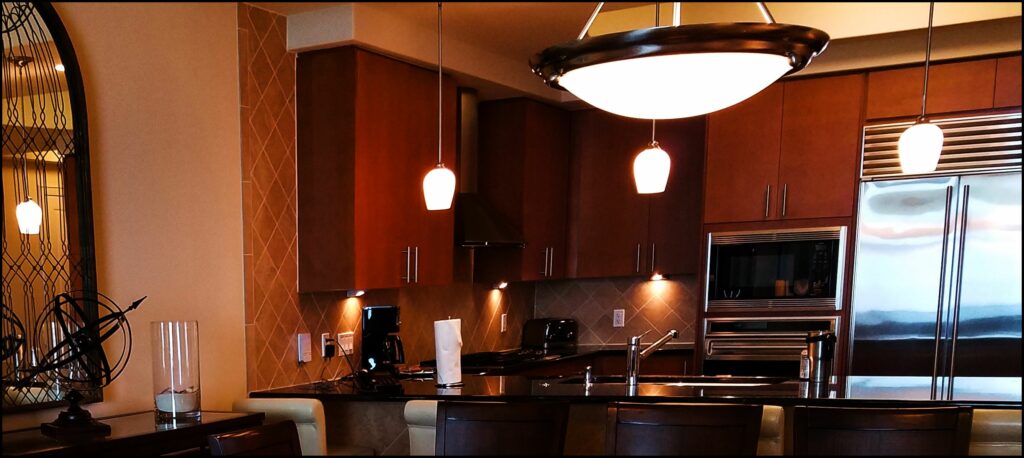 We headed out to find a local grocery store, which was nearby, to purchase the ingredients to make our steaks.
STEAKS ON THE BEACH: NORTHWESTERN STEAKHOUSE COPY CAT RECIPE
These steaks are a copy cat recipe from the Northwestern Steakhouse in Mason City, Iowa. This is as close to the "secret" recipe that my husband and I were able to create.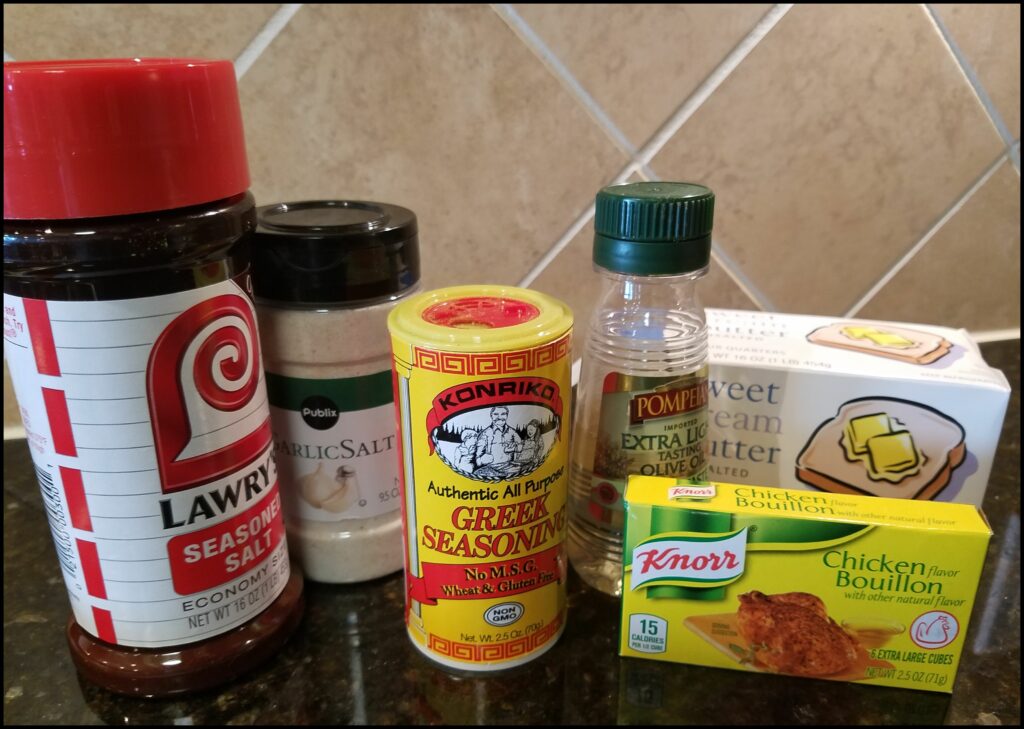 "Steaks For Two On The Beach"
Ingredients:
2 steaks of your choice
2 sticks of butter
2 tsp. Greek Seasoning
2 tsp. Lawry's Seasoning Salt
2 tsp. Garlic Salt (We usually use 1 1/2)
2 Knorr Chicken Bouillon Cubes (In our opinion, other brands do not work)
Regular Spaghetti
Olive Oil (@ 1/4 cup)
Non-stick cooking spray
Bread of your choice (We like a dense bread) for dipping in all the flavors of the steak juice.
Brown steaks for 2 minutes on each side in a pan with non-stick cooking spray
Melt butter, seasonings, salt, olive oil and chicken bouillon cubes
Pour melted butter and seasonings over steak in baking pan.
Cook the spaghetti in a kettle of boiling water and dish onto a plate when cooked.
Bake steaks at 350 degrees for 30 minutes. Baking time may vary, depending on the size of your steaks. Place baked steaks next to your plate of spaghetti. Scoop the butter with seasonings from the pan you baked your steaks in all over your plate. Indulge for the BEST STEAK SUPPER EVER.. ON THE BEACH!
You not only have a guaranteed clean bed, but you will also have a kitchen that will allow you to cook up any type of meal that you can imagine. From the stunning views to the magical water experiences, Turquoise Place has won us over. Until next time, Gulf Shores & Orange Beach! We cannot wait for a return visit, as our sliver of paradise awaits.
Fun things to do in Gulf Shores & Orange Beach:
*Thank you to Gulf Shores & Orange Beach Tourism, Turquoise Place and Spectrum Resorts for hosting me.
The following two tabs change content below.
SaraB
Sara is a travel enthusiast that resides in North Iowa. You can find her traveling where the plane, train, ship, or car will go. Are you looking to take a road trip? Sara has solutions for you!