I Fell In Love With Kansas On The Big Kansas Road Trip
Note: Post Updated January 2023
Big Kansas Road Trip- May 4-7, 2023
This year is turning out to be the year of Kansas! I hopped on the Big Kansas Road Trip with Melody of Wherever I May Roam Blog the first part of May of 2019. It was during this trip that I was exposed to an area of Kansas that I had never explored. Wow…. it's fair to say, that my breath was literally taken away. Thank you to the good folks in Sherman, Cheyenne and Wallace Counties for welcoming us into their communities.
Unique Lodging In North Central Kansas
SHERMAN COUNTY, KANSAS: BIG KANSAS ROAD TRIP
Our fun started in Goodland, Kansas in Sherman County, as we embarked on the Big Kansas Road Trip. Here is where we dined at the Crazy R Restaurant and were given a tour of a buffalo farm. It's fair to say that local farmer Ken, was an excellent tour guide.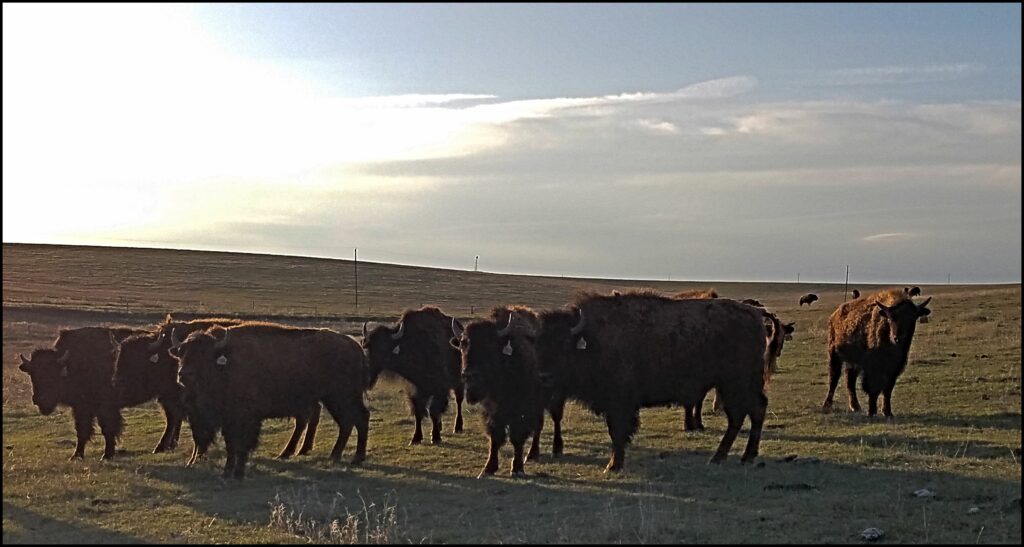 When is the last time you were up close with a herd of buffalo?
CHEYENNE COUNTY, KANSAS: BIG KANSAS ROAD TRIP
Cheyenne County was a pleasant surprise. I'm not sure what I expected, but it is fair to say that I was impressed with the St. Francis Motorcycle Museum located on the main drag at 110 East Washington in St. Francis, Kansas.
With more than 115 vintage motorcycles from more than 40 manufacturers, you will be sucked in. A suggested donation of $7 is the fee to get in.
The Arikaree Breaks located North of St. Francis, in Cheyenne County, totally blew both of us away!
Fun Fact: The Arikaree Breakfast are 36 miles long and are 2-3 miles wide. When we came up over a hill, we both gasped. The beauty here is unlike anything you will find anywhere else. The best tip I can give you is to bring water and know that there are no flush toilets along the way. This is a part of Kansas that appears untouched and filled with beauty.
Places To Stay Along Kansas Highway 36
The Three Corners is another fun stop in this area. Here is where you can stand in Colorado, Kansas and Nebraska at one time. It's even a sweeter experience when you run into tourism friends!
WALLACE COUNTY, KANSAS: BIG KANSAS ROAD TRIP
It's fair to say that Erin's Fresh Food Truck was a highlight of my visit. I'm not sure where I have been when it comes to this new foodie trend, but her homemade pop tarts are amazing.
The 1200 wild mares in the fields near the For Wallace Museum was something I will also never forget. I could have stood there all day and watched these beautiful horses.
And then there was Mt. Sunflower, the highest point in Kansas. I did hit a golf ball and earned my certificate while on this mountain.
I chuckled as we pulled up to the view, as some had commented to bring hiking boots. It's seriously, the easiest hike to the highest mountain on the planet!
Unusual Things To Do In Lindsborg, Kansas
In case you are wondering, the Big Kansas Road Trip is on the calendar for 2023, and the dates are May 4-7, 2023. The next Big Kansas Road Trip will be in Jewell, Republic, and Smith Counties, in Northcentral Kansas. I'm sure the view won't be just like this, but you will be able to fly a BKRT flag high!
If you love to travel and enjoy experiencing new destinations, place this on your calendar now. You will fall in love with Kansas and wonder why you haven't been exploring the state sooner.
Happy Traveling~ Sara
*Thank you to the event organizers in Sherman, Wallace and Cheyenne Counties. A special shout out to Marci and Wendee of the Kansas Sampler Foundation for including myself and Melody in this wonderful event.