7 Reasons Why You Need To Book A Tee Time At Bully Pulpit Golf Course In Medora
The best golf course in North Dakota can be found at Bully Pulpit in Medora, North Dakota. If you have followed me for quite some time, you know that I love the town of Medora, North Dakota. Earlier this summer I had the opportunity to golf at beautiful Bully Pulpit, the best golf course in North Dakota, and possibly the midwest. If you have ever wanted to golf a course in North Dakota or the Midwest, I'd highly recommend this course.
Full Disclosure: My golf outing was a hosted experience and all opinions are mine and nobody else's.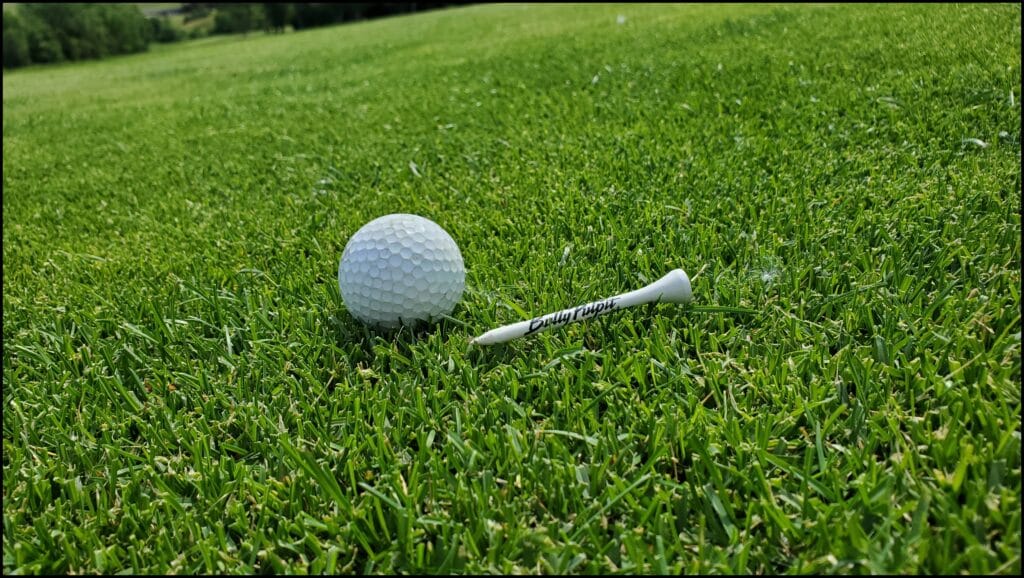 Here are seven reasons why you need to have Bully Pulpit Golf Course on your radar. Tip: Book your tee time as soon as possible.
Medora Is A Small, Friendly Town
Medora is a small town, in fact, less than 150 people live there all year long. The people will welcome you, as you explore the shops and visit the attractions that they have to offer. For a fun night with a view from above, order the Pineapple Beer at the Little Missouri Dining Room & Saloon.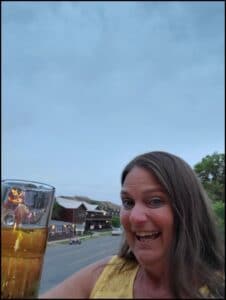 Ask to be seated on the deck, for an above view of the town. Stop into Todd's Old Time Photo Parlor and schedule a memorable photo to showcase your visit. Swing into the Medora Convention & Visitors Bureau office for the latest up to date information on the area. Another favorite of mine, in Medora, is the blueberry, meatball pizza at Medora Uncork'd.
Kim at Medora Boot & Western Wear will help you out with the right western clothing for you to take home with you. I personally love the cowboy boots that I purchased here, as well as a pair of jeans and a beautiful bracelet that I have fallen in love with. All of the people in Medora are ready to welcome you and it's the perfect way to spend a day before you tee off at Bully Pulpit.
Theodore Roosevelt National Park: South Unit Entrance Is In Town
The entrance to the South Unit of Theodore Roosevelt National Park is on the main drag in Medora. You cannot miss it. If you have an annual national park pass, entering the park is super easy. Show your national park pass with an id and the next thing you know, you will be driving with the bison in view. You will find a lot of wildlife in the national park.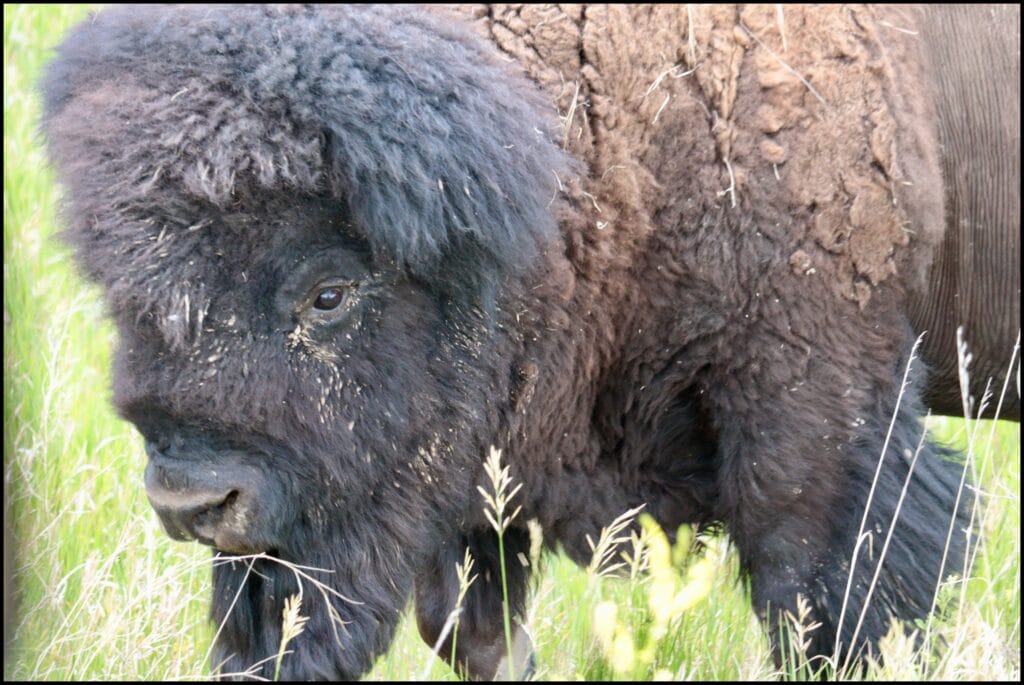 There are also prairie dogs, jackrabbits, wild horses, and even pronghorn. Most importantly, maintain a safe distance so you don't land on the front page of the newspaper. A fun memory on my last visit was arriving at the picnic area to find that the bison had overtaken the area for their own picnic! The best advice I can give you when visiting any national park is to be flexible, as you never know where the wildlife will appear.
Click Here To Learn More About Theodore Roosevelt National Park Here
Numerous Lodging Opportunities Are In Medora
Campers will appreciate the level camping sites at the Medora Campground. Pitch your tent, pull in with your travel trailer, or even rent a cabin that sits in a quiet area of the town on the property. In case you are curious about a travel trailer, we really love ours.
The AmericInn offers an indoor pool and all of the traditional amenities that travelers have grown to expect. The Badlands Motel offers cozy rooms in western-themed rooms and is right next door to the new mini-golf course and Manitou the Point to Point Zipline, which are nice additions to Medora. Most importantly, you will find somewhere to stay that meets your needs and keep in mind that everything is within walking distance, while in town.
Click Here For Outdoor Adventures In Medora
The Medora Musical Experience
The Medora Musical is something that everyone needs to do when they visit Medora. It is the longest-running outdoor musical in the country and offers a family-friendly variety show. The music, setting, and comedy will lure you in and you will find that you have fallen in love with North Dakota, as you take it all in.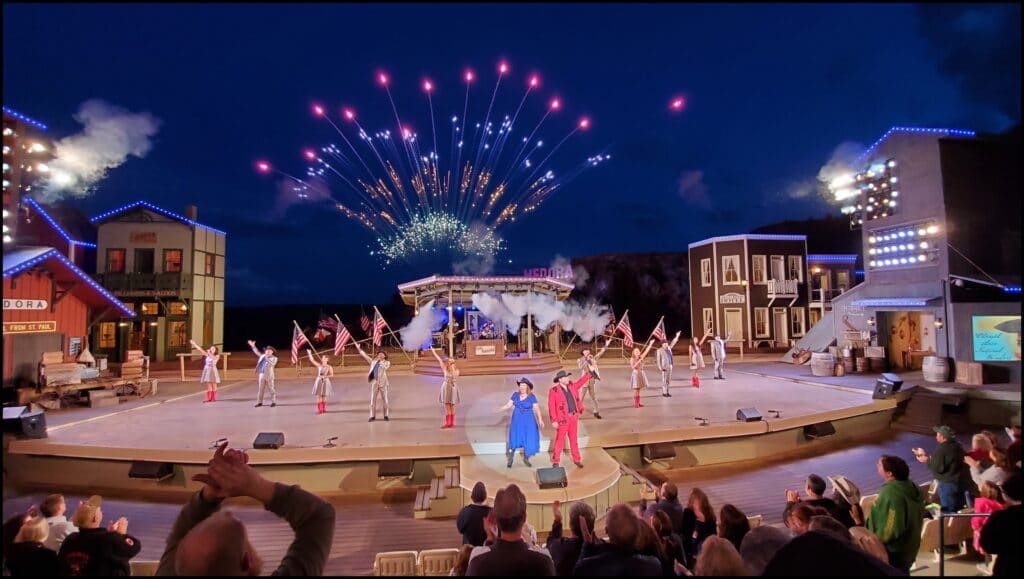 Tickets to attend can be ordered here. For an epic meal before the musical, indulge in the traditional steak fondue with an epic view of the Badlands of North Dakota.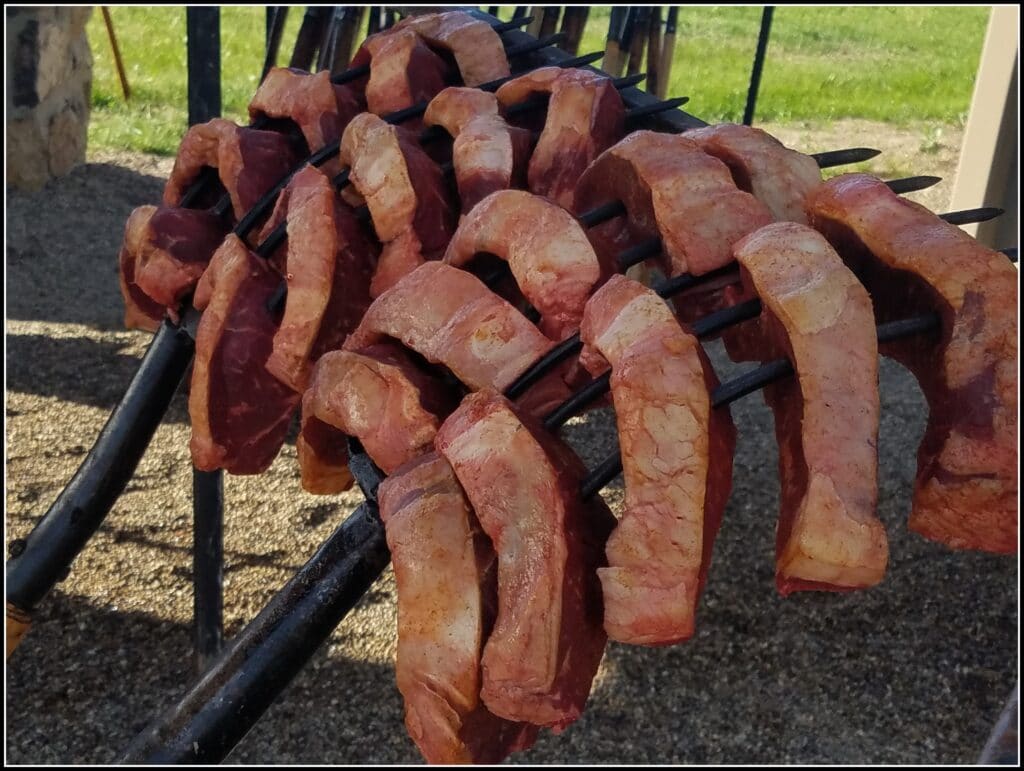 Arriving At Bully Pulpit
Bully Pulpit Golf Course is a short drive from Medora. We had reserved our tee time beforehand and arrived about 15 minutes before we were scheduled to tee off. Before my husband and I each hit our first ball, we heard a cow. Yes, there were cows nearby. Little did I know that it would be the beginning of a "wild" experience on the course. With 18 holes ahead of us, we knew we were in for one fo the best-golfing experiences of all times. There were cows (sounds of cows), deer hopping across the fairways, and even snakes.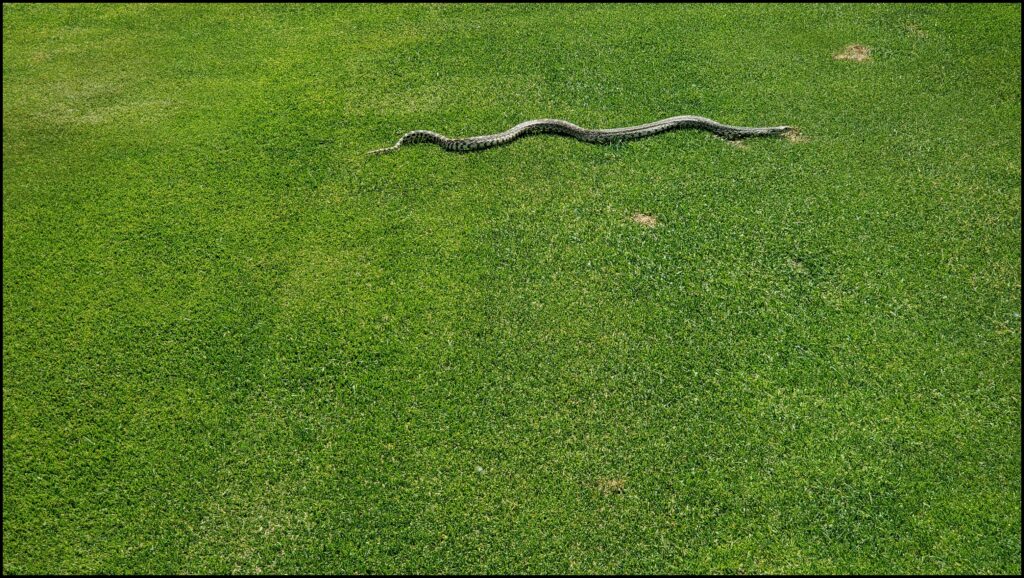 Now, I'm not a fan of snakes, but I will admit it, it was kind of cool to see a snake slither across the course. The beauty of the North Dakota Badlands made up for all of the "extra" wild things along the way. Practice before you head out to the "actual" course. We were glad we did, as it limbered up our arms. Keep in mind, we are NOT expert golfers. We were thrilled to golf at the best golf course in the midwest.
Teeing Off At Bully Pulpit
Hole number one was where we had a few cows in the background, which added to the ambiance of the open skies. We hit our balls, hopped in our golf cart, and we were on our way to golfing one of the top 100 golf courses in America. The front 9 (I believe that's what they call it) was rather flat, but you had a beautiful view of the North Dakota Badlands.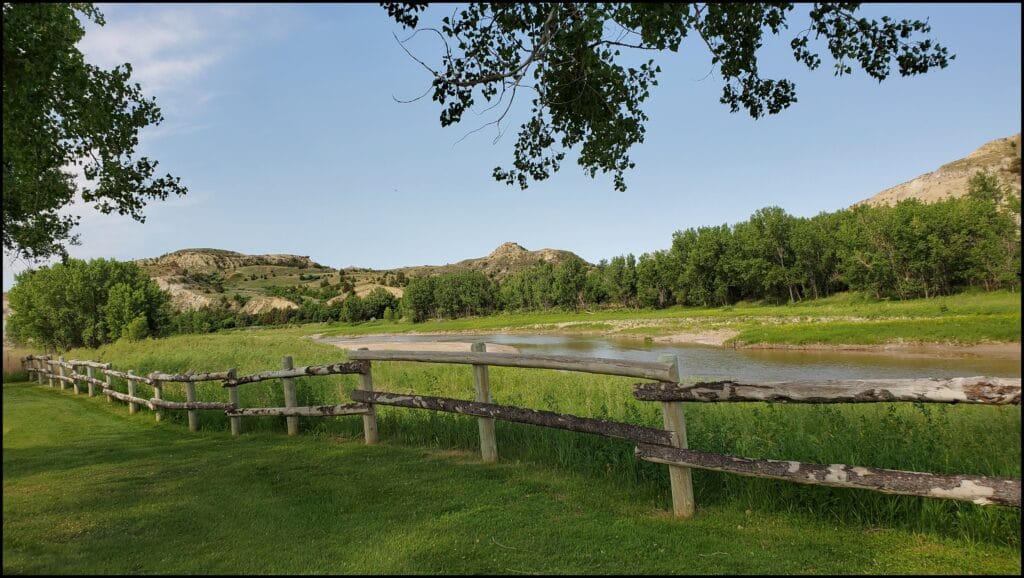 The back 9 (if that's what it is called) was absolutely stunning! If I can survive all 18 holes on this course, trust me, you can too.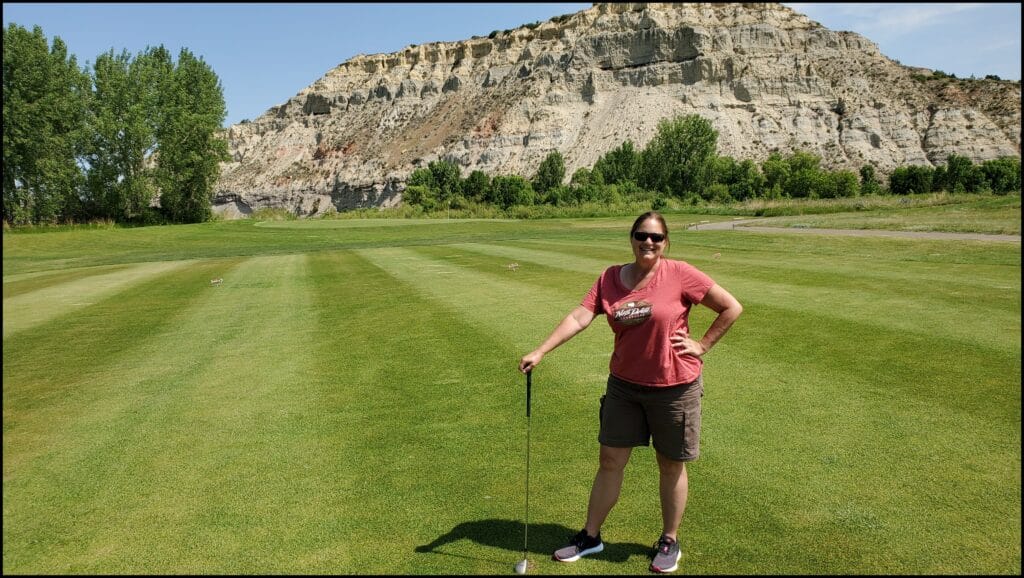 This course offered fairways that had cliff drop-offs, streams, trees, sandpits, and wildlife. We won't talk about the score I ended up with, as it wasn't real pretty. But I can tell you, that I survived all 18 holes. I would encourage you to get out and swing those clubs at Bully Pulpit Golf Course in Medora, North Dakota. This golf course has one of the best backgrounds for scenery from all holes on the course and you will not be disappointed.
Bragging Rights For Surviving all 18 Holes At Bully Pulpit Golf Course
If you have never golfed on an 18 hole golf course, make Bully Pulpit your first one! If I can tee off from here, anyone can.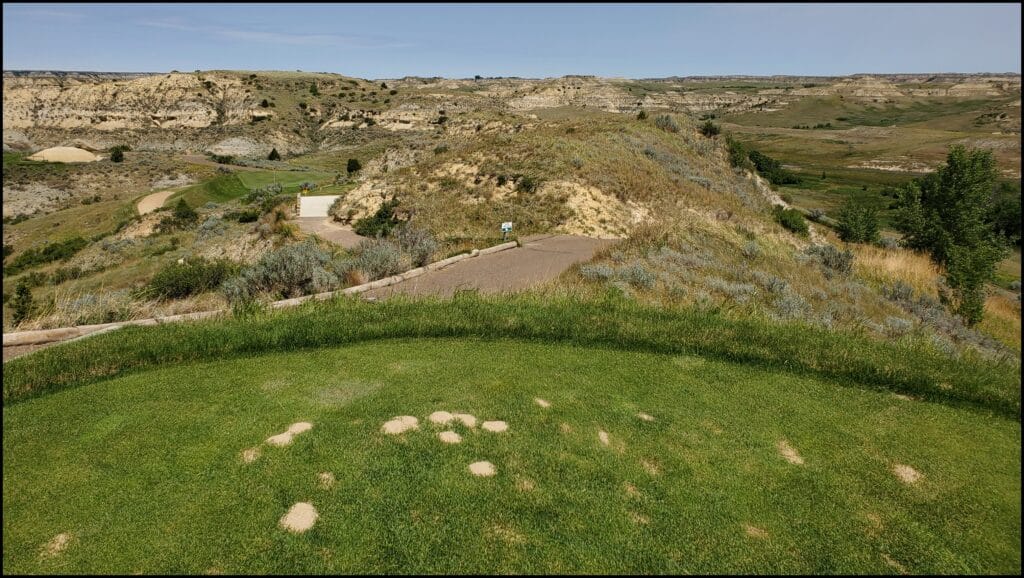 This was not the first one for me. The first one that I tackled was Kiva Dunes in Gulf Shores, Alabama.
Click Here For Lodging Options At Kiva Dunes
I am not an avid golfer, as I golf maybe once a year. If you are an expert golfer, you will find Bully Pulpit challenging as you will need to tee off further from the hole than others. It's no wonder why many call this the best golf course in North Dakota.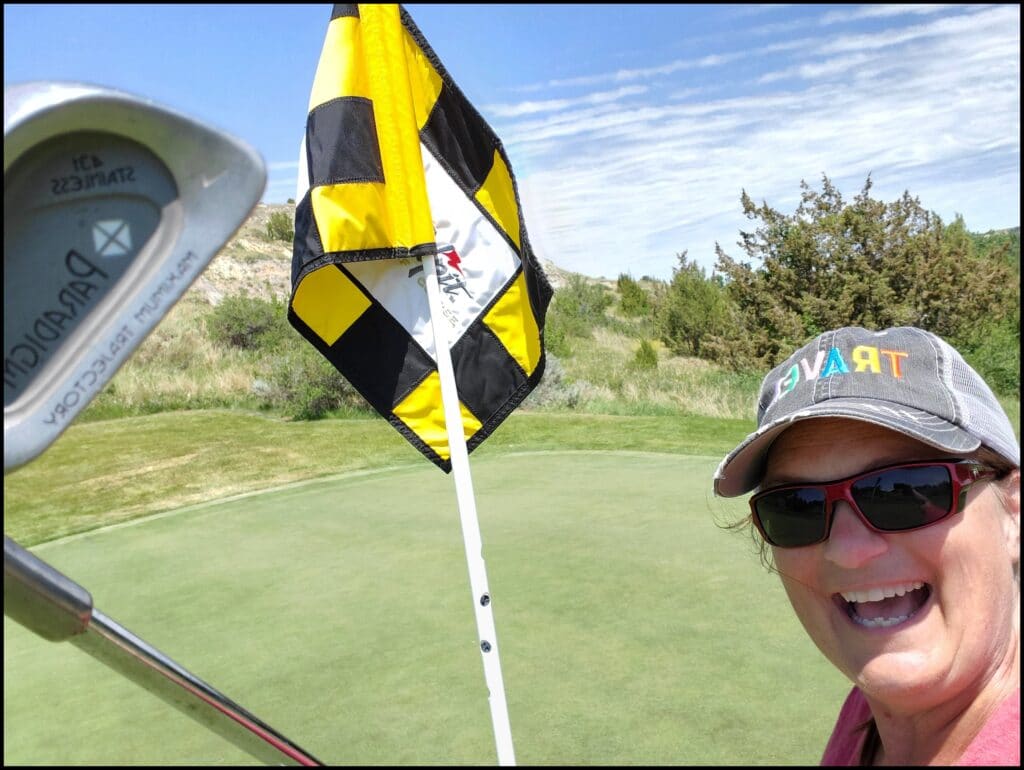 The fact that I can golf this course, should tell you that anyone can golf Bully Pulpit. I jokingly say that I need help with my swing, etc., and in reality, I need help with my golf game. I love the fact that golf is a sport that anyone can take up. As with anything, the more you practice the better you become. And most of all, once you tee off from hole #1, you will find yourself at hole #18 rather quickly. And you will have bragging rights that you completed the course.
Happy Traveling~ Sara
The following two tabs change content below.
SaraB
Sara is a travel enthusiast that resides in North Iowa. You can find her traveling where the plane, train, ship, or car will go. Are you looking to take a road trip? Sara has solutions for you!