Feast Your Eyes On These Sights In Gulf Shores & Orange Beach
The Alabama Coastline is home to 32 miles of incredible beaches, as well as other scenic views. With many beautiful things to see, you will find yourself wanting to stay for days on end. The beach, historical sites, Gulf of Mexico, and beautiful dishes of food are things that you will want to feast your eyes on while exploring the beaches in Alabama.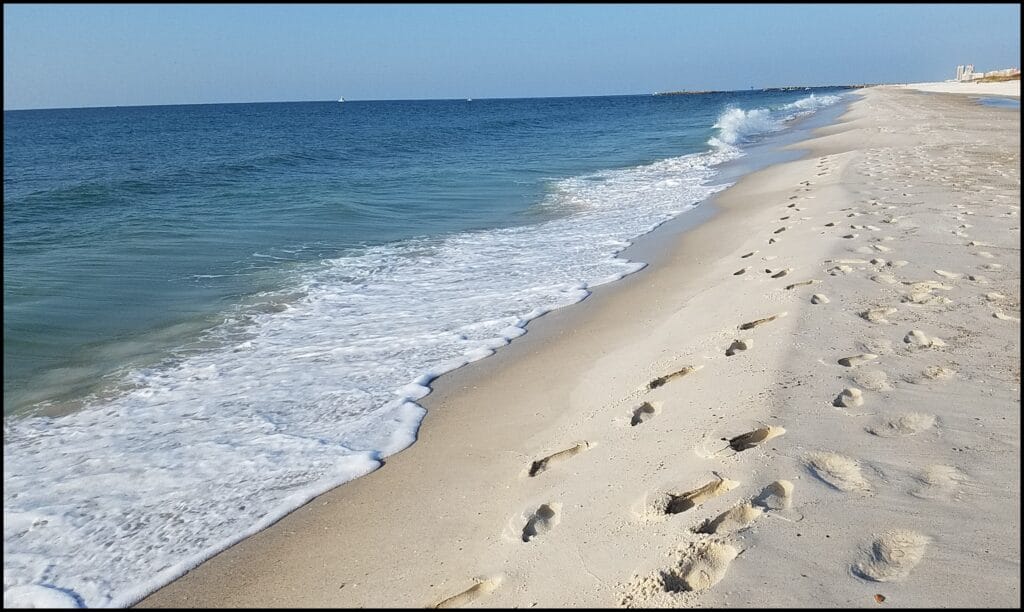 These are my favorite sights in Gulf Shores & Orange Beach. I hope you will plan to experience all of these things when you are along the Alabama Coast. Most importantly, have your sunglasses and binoculars alongside while you are out and about.
Come to Your Senses In 24 Hours In Gulf Shores & Orange Beach
Note: This post is a partnership with Gulf Shores & Orange Beach Tourism. As always, the opinions are my own. If you have followed me for quite some time, you know that this destination is my slice of paradise.
Alabama Beaches
With 32 miles of coastline, you can sink your toes into the fine, sugar sand wherever you desire. If you have reserved a beach chair with an umbrella, you will find yourself with a view of a lifetime.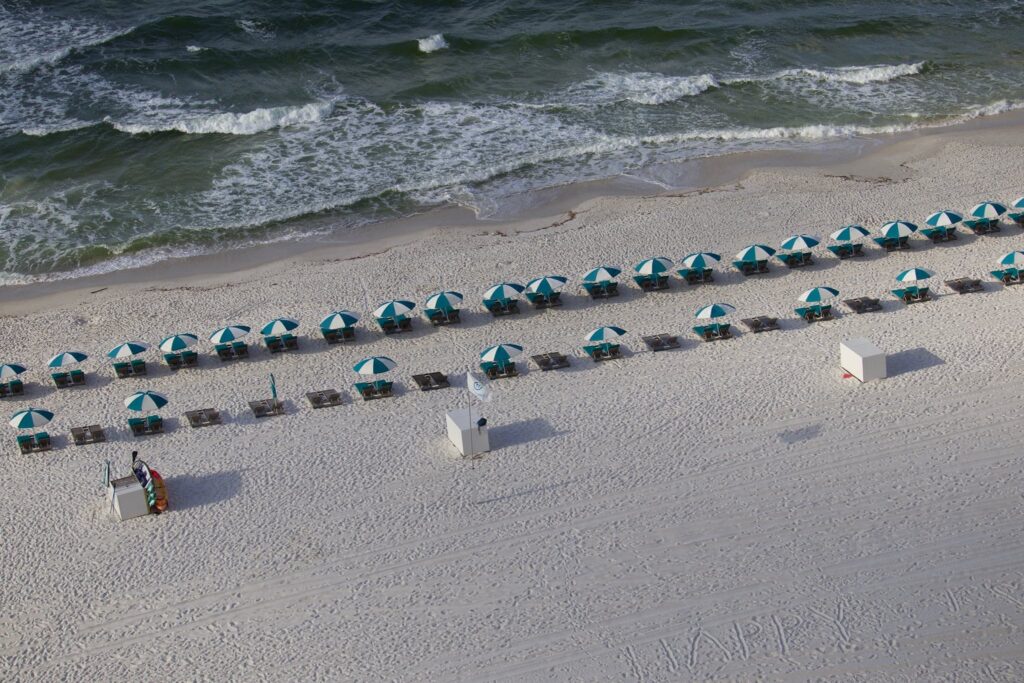 The turquoise water, surrounded by the sandy beach, is a perfect way to spend any full day along the Alabama Coastline. Sunrise and sunset are extraordinary times to stroll the beach, as the orange & yellow skies are out of this world. Depending on how you want to experience the beach, your balcony from your place of lodging can also be a fantastic way to experience the beach.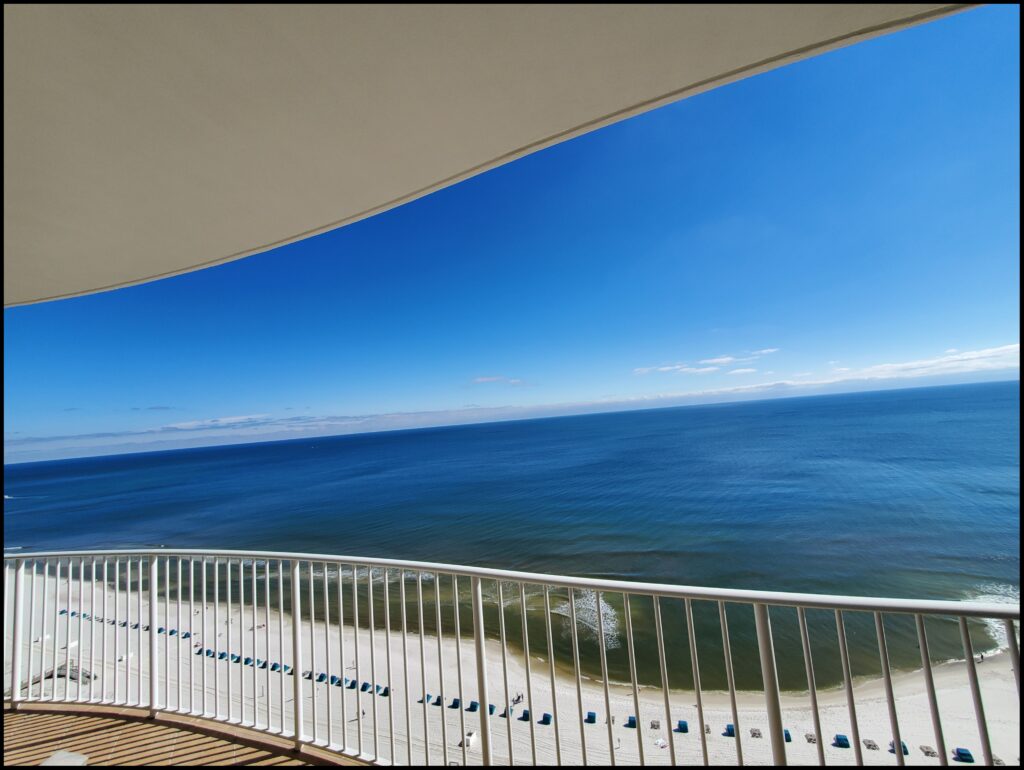 However you plan to spend your day on the beach, your eyes will thank you for the colorful memories. The beaches are one of several lovely sights in Gulf Shores & Orange Beach.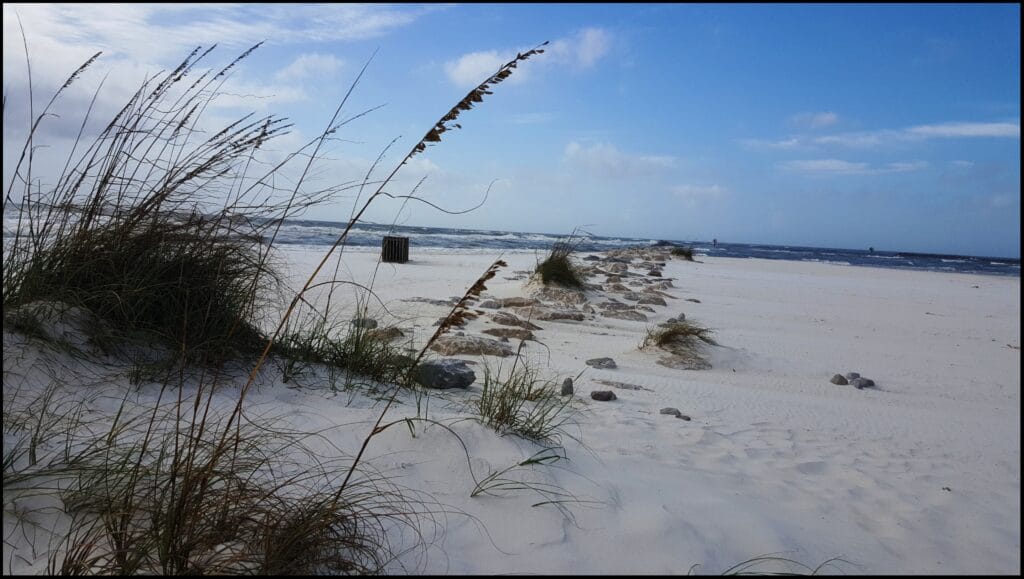 Historical Sites In Gulf Shores
Fort Morgan is located on Mobile Point, on the Fort Morgan Peninsula. My favorite time to drive out on this peninsula is sunset. There's a little beach area on the north side of the peninsula that makes some beautiful sunset photos.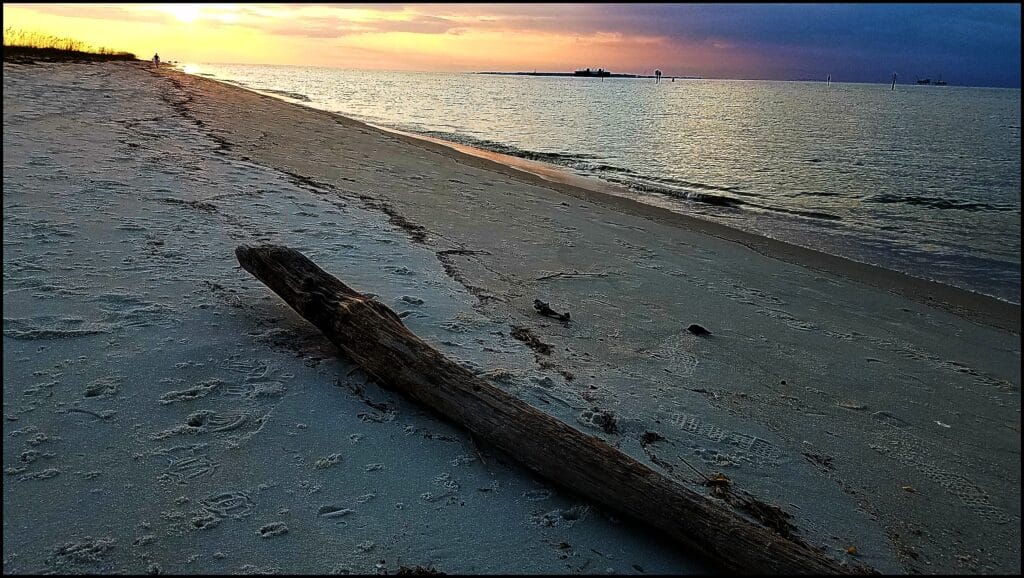 If you choose to visit Fort Morgan, there is a small fee to enter. The actual Fort was completed in 1834 and was named to honor Revolutionary War hero General Daniel Morgan. Fort Morgan takes you back into a different place in time, the 1800s. Some of the historical structures that can be seen today are Battery Schenck, Fort Morgan, and Peace Magazine.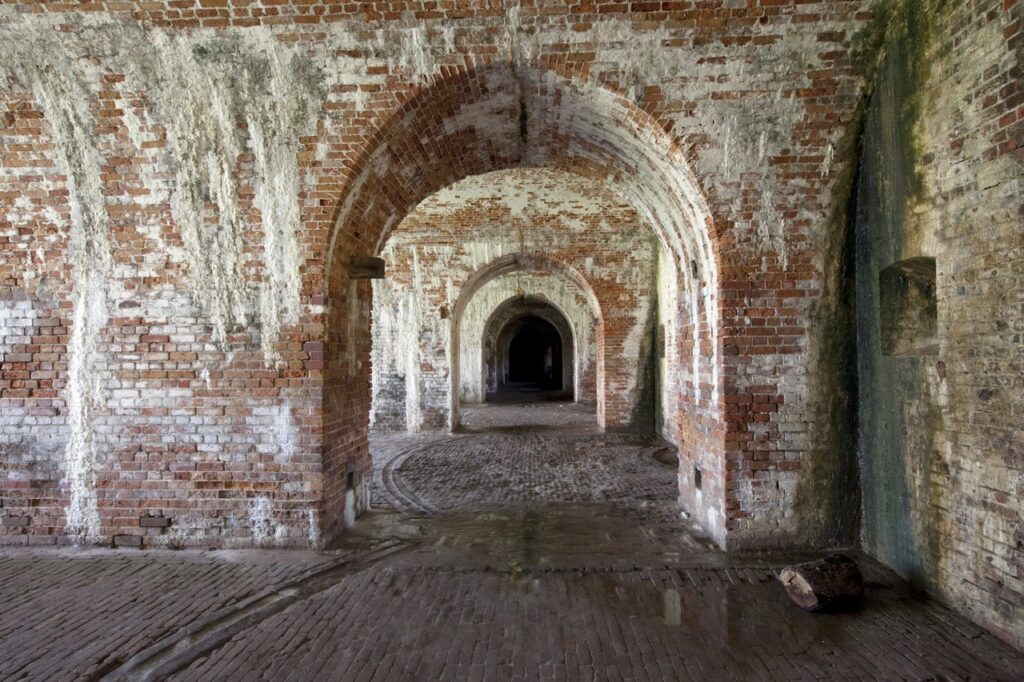 Look up and down as you walk around Fort Morgan. The pavement is uneven and the stairs are steep. Plan a minimum of two hours to visit. Look out of the fort area and take in the views that the Gulf of Mexico has to offer. The lush, green grounds are memorable, as they are surrounded by the colorful waters of the Gulf of Mexico.
Drive The Alabama Coastal Connection
Gulf of Mexico
The Gulf of Mexico is all around Gulf Shores & Orange Beach. Look for dolphins and watch for all types of birds, including sandhill cranes, brown pelicans, and great blue herons. It's not uncommon to see a pelican perched on a wooden post watching the glimmering waters of the Gulf of Mexico. A favorite thing that I like to do along the Gulf of Mexico is to sit with my feet in the water while sitting on the beach. Morning brings tranquility to the area, as the bright, yellow sunrises for the day.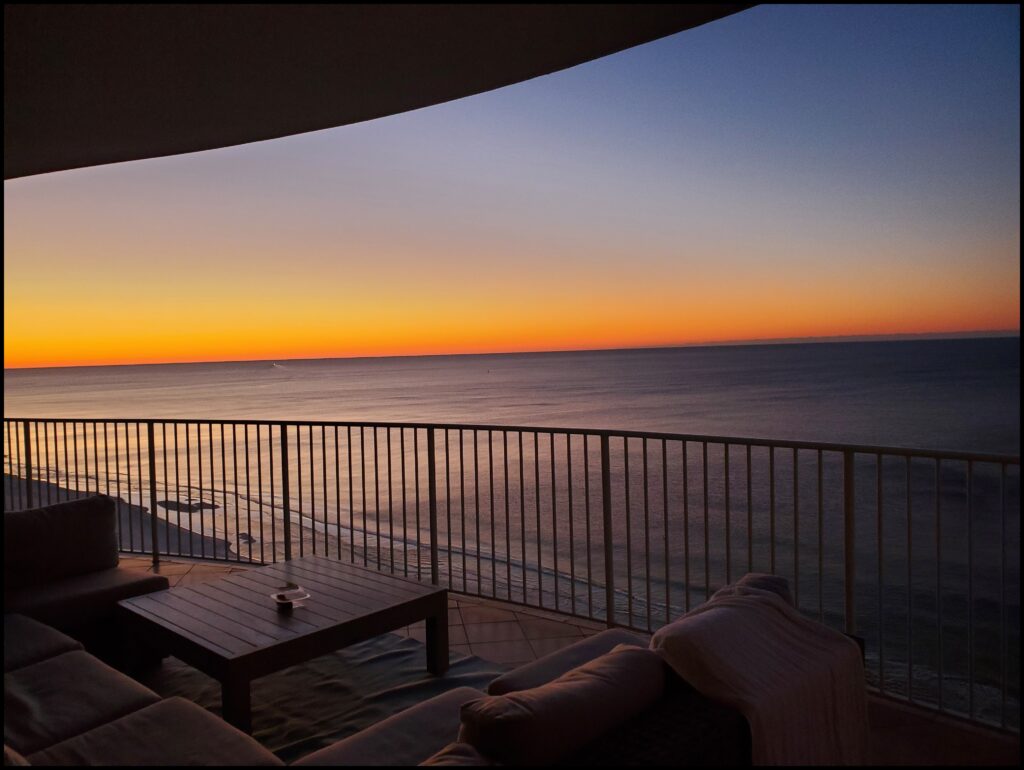 I also find myself dreaming of a cruise, as I stare out into the Gulf of Mexico. The incredible blues and greens that make up the water are ideal for dreaming of future travel. You may now be wondering, how does this work? It's easy, all you need to do is place your elbows on the ledge of your balcony at Turquoise Place and allow your relaxation and dreaming to take over. The perfect beach vacation is a week on the Alabama beaches and a week on a cruise ship.
Milkshakes From The Yard
One of my most memorable milkshakes has been from the Yard Milkshake Bar in Gulf Shores. Visit The Yard with your travel friends and order the most colorful milkshake you can find.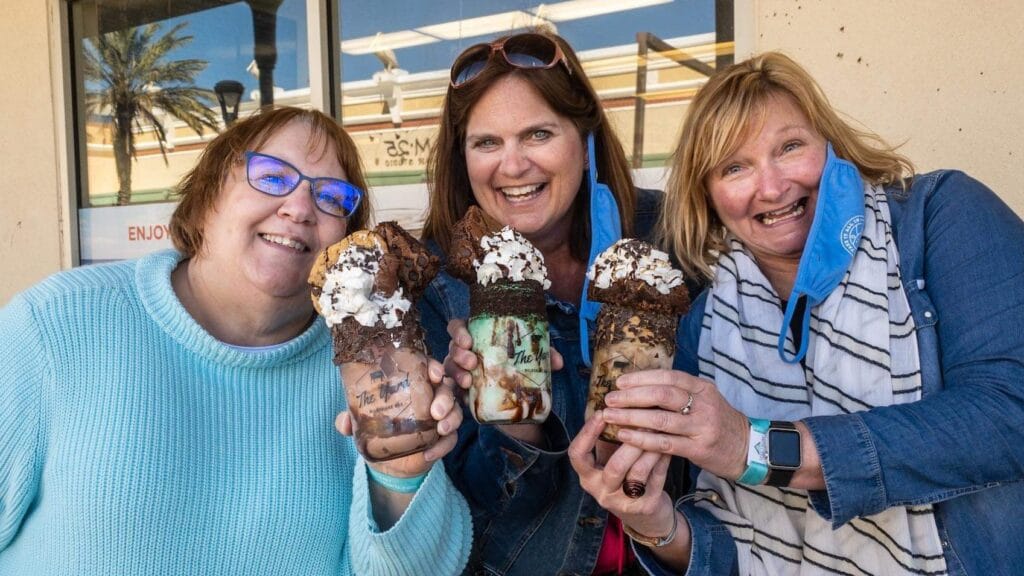 Your eyes will thank you, as this is one sight that you don't want to miss while in Gulf Shores. Arrive hungrily and be ready to indulge. Specialty milkshakes and sundaes are hot menu items. Don't forget to ask about the Secret Menu, you may find some of your favorite gluten-free milkshakes. When is the last time that you enjoyed a milkshake with friends and wanted to look at it for hours, as opposed to eating it?
View The Alabama Coastline From Above
Take flight with Beach Flight Aviation for a view from above. The colors and view from above are something you will always remember.
I find myself longing to return to Coastal Alabama, as I find new things to feast my eyes on during each of my visits. I could stare at every plate of bread pudding, but I find myself eating every last crumb, as it's so good. My 32 miles of paradise is where my heart lies and I am ready to return at the drop of a dime. My sunglasses and binoculars are packed, as I'm ready to take in the incredible sights in Gulf Shores & Orange Beach, Alabama. Do you want to know more about all of the incredible things to feast your eyes on in Gulf Shores & Orange Beach, Alabama? Order your own vacation & travel guide and start planning your memorable vacation in my slice of paradise.
The following two tabs change content below.
SaraB
Sara is a travel enthusiast that resides in North Iowa. You can find her traveling where the plane, train, ship, or car will go. Are you looking to take a road trip? Sara has solutions for you!