Fall in Love with Art in Abilene, Kansas
Abilene, Kansas, sits along Kansas I-70 in North Central Kansas and offers a lesson in history and art. Most people think of the Dwight D. Eisenhower Presidential Library & Museum when they hear Abilene, Kansas. What most people don't think of, is the amazing art that you will find throughout the town. Here are some art highlights that should make you want to put your foot on the brakes and stop in Abilene.
Murals In Abilene
It seems like there is a mural on every corner in Abilene. Once you roll into town on N Buckeye Avenue and enter the downtown area, there's a mural everywhere you look. Stop, park, and take a selfie or enjoy the story that each of these beautiful works of art has to share.
Wild Bill Hickok- 201 N Buckeye Ave
As you drive along the main street in town, N Buckeye, you will see this mural of Wild Bill Hickok. He was a marshal in Abilene for a few months. After an accidental shooting of his deputy, he was quickly removed from his position.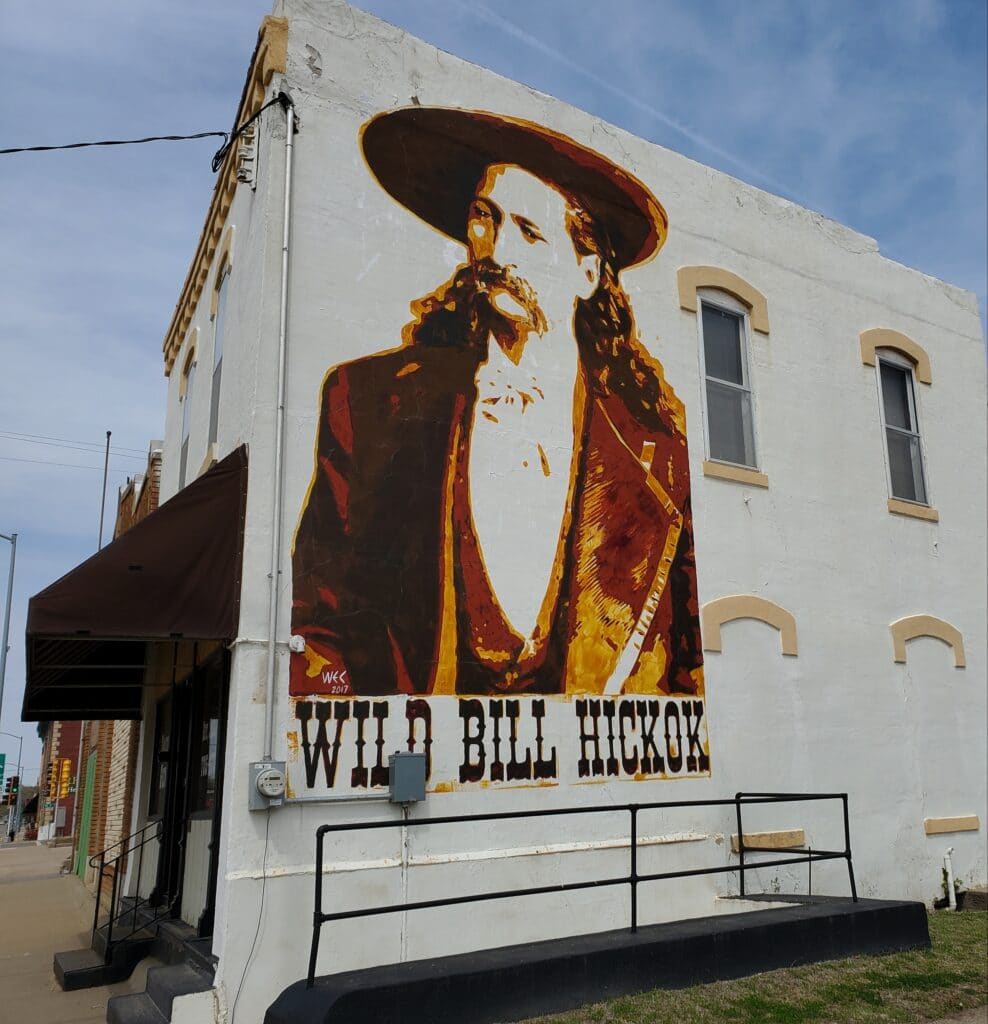 Dwight D. Eisenhower Mural- 405 N Buckeye Ave
A couple of blocks north of the Wild Bill Hickok mural, you will come to a mural of Dwight D. Eisenhower, America's 34th President. This work of art has always fascinated me. You can see that the image is the 34th President, but it has a "look" that lures your eye in.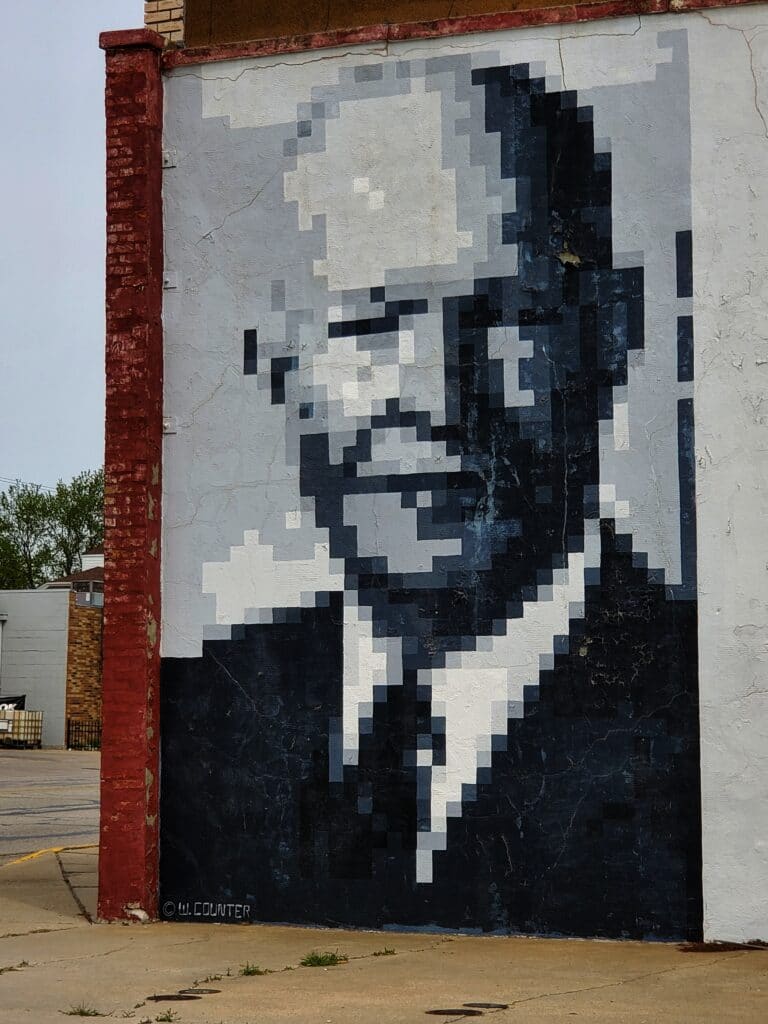 The American Bison Stamp Mural – 203 N Cedar
Local artist William Counter is responsible for several incredible murals in Abilene, including the American Bison Stamp Mural. If you are a stamp collector, this special 6 cent stamp will appeal to you in many ways.
Stay in an award-winning B & B
Sunflower Stamp Mural- 306 NW 3rd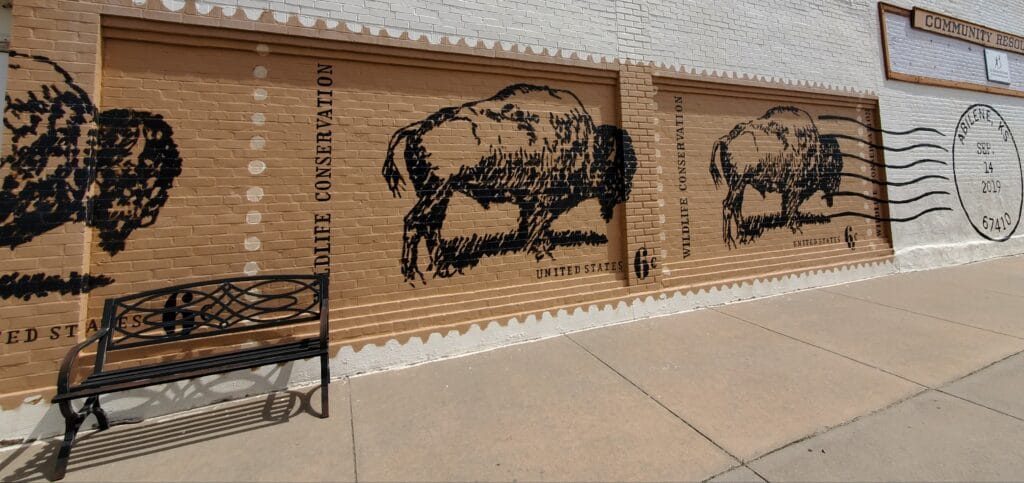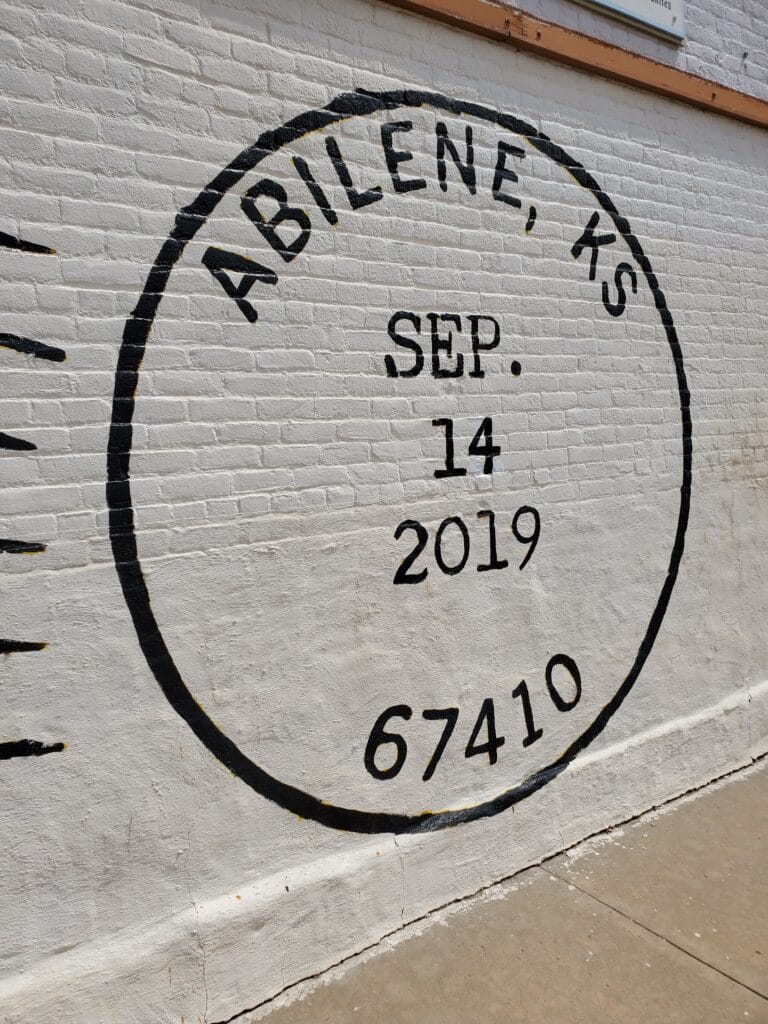 An incredible work of art is found in the Sunflower Stamp Mural. As you are driving around town, you cannot miss this beautiful stamp. The browns, yellows, and orange really stand out against a brick wall.
Visit the Seelye Mansion at Christmastime
Cedar House Greenhouse Mural- 307 NE 14th

Hope is what you will find at the Cedar House Greenhouse. This is not your typical greenhouse, as it's a place for women that are recovering from addictions and the effects of addictions. This colorful mural will catch your eye! Gardening and art are a perfect mix and together they are changing lives in Abilene, Kansas. Planting seeds is easy to do in Abilene when people come together for change in this establishment that rounds out beautiful murals in Abilene.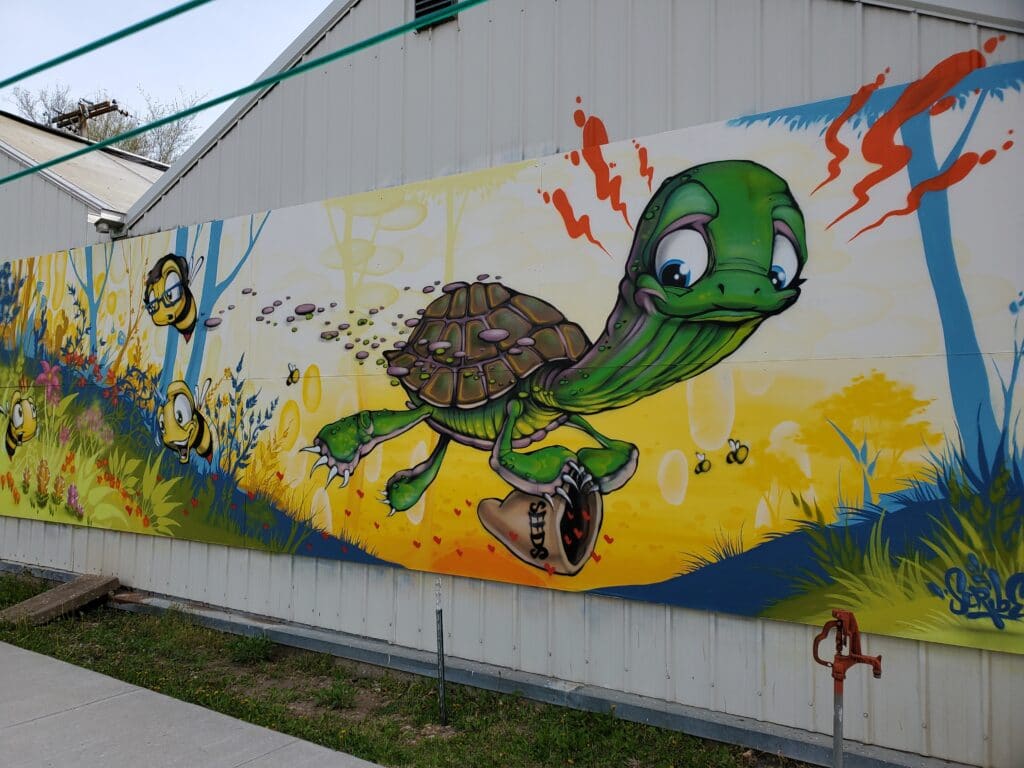 There are more murals in Abilene, but I challenge you to visit to experience them yourself. You can easily spend a full day taking in all of the murals in this town of America's 34th President, Dwight D. Eisenhower.
Sculptures In Abilene
There are several works of art in Abilene that reflect Dwight D. Eisenhower. Sculptures and murals can be found in numerous places around town. Abilene may be a small town, but this community sure knows how to play big when it comes to art in Abilene.
Dwight D. Eisenhower Statue
On the grounds of the Dwight D. Eisenhower Presidential Library & Museum, you will see an incredible statue of Abilene's pride and joy. Take a selfie, and then sit and reflect upon all that he did for our country during his reign as president from 1953-1961.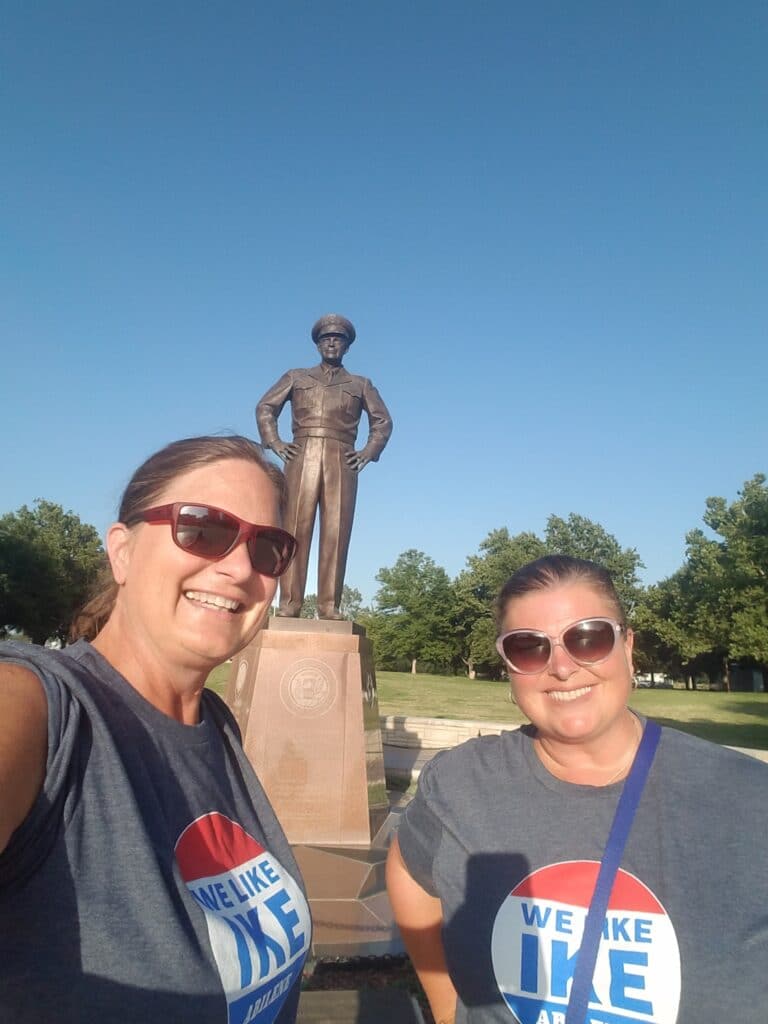 Fun Fact: Dwight D. Eisenhower is known for forming the Interstate Highways as we know them today in 1956. Stroll the grounds, visit his childhood home, enjoy the museum, and explore the presidential library. You will not regret the time that you spend at this attraction.
Little Ike Park in Abilene
Little Ike Park, 324 N Spruce, is home to a sculpture of young Dwight D. Eisenhower. Abilene pride shines through a mural sporting Abilene.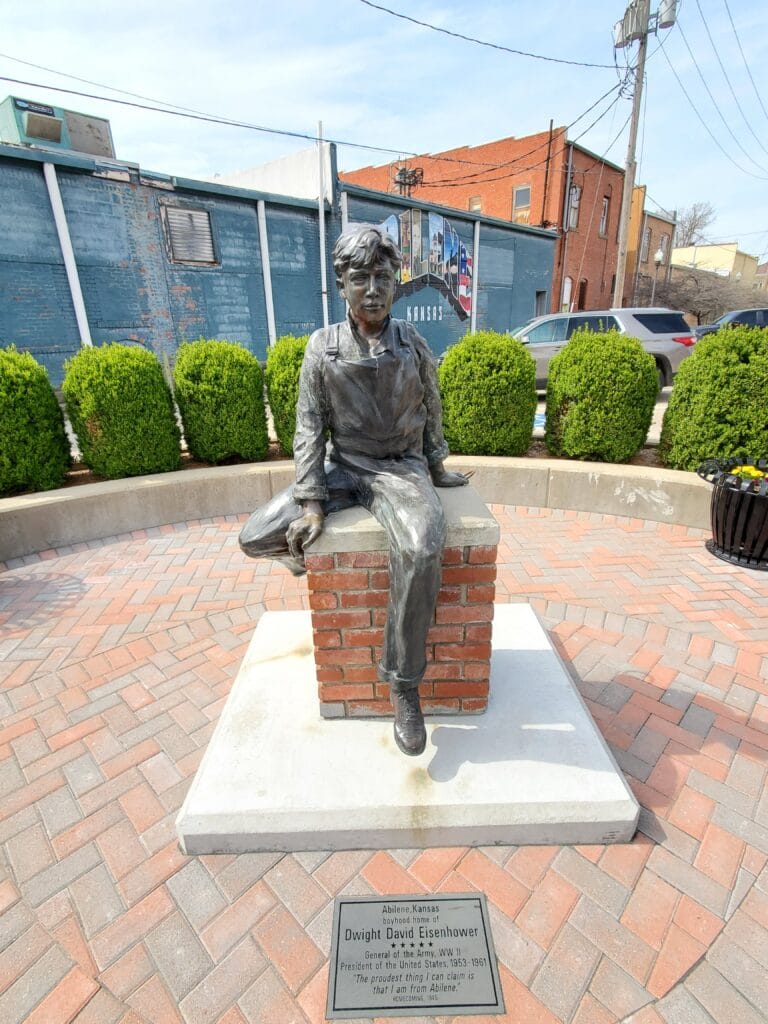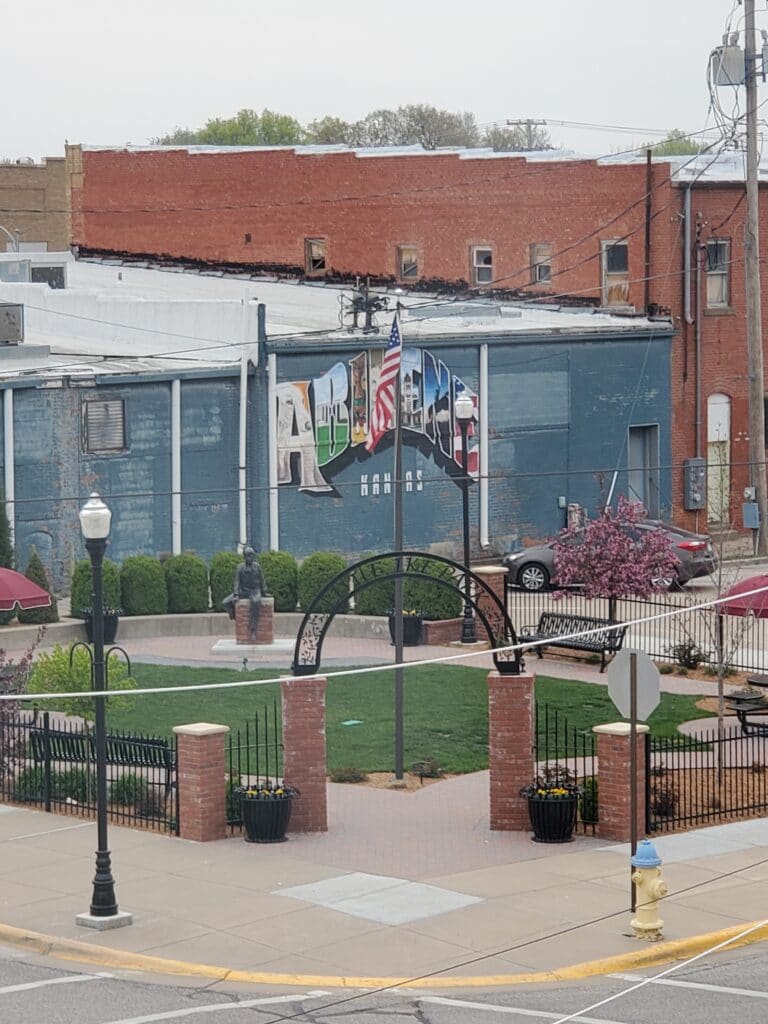 This park is not too big, a little bigger than a pocket park, making it an enjoyable place to spend time in Abilene, Kansas. Pack a sandwich for lunch and enjoy the view.
World's Largest Spur (Until 2017)
The once World's largest spur is at the entrance of Rittel's Western Wear at 1810 N Buckeye. You will see the spur shortly after you hop off of Kansas I-70 to head into town.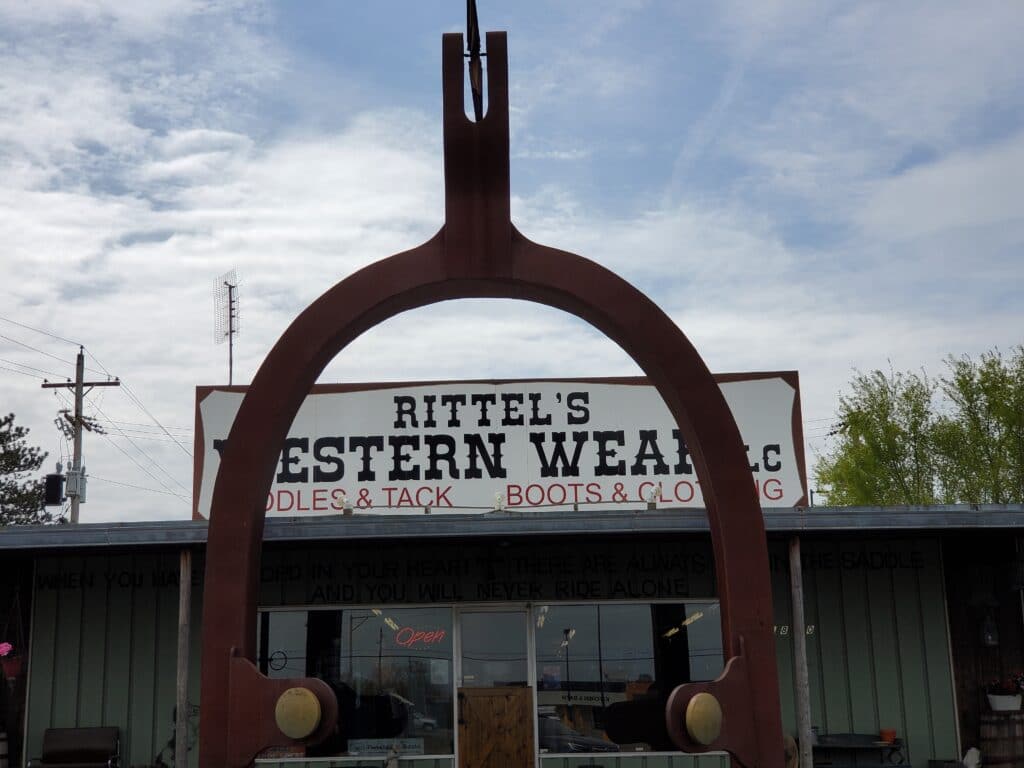 This spur stands 28 feet tall and weighs a ton. You can see this spur 24/7, as it sits at the entrance to the store in the parking lot. Tip: Visit shortly after sunrise, as the sun will be at a good angle for a photo.
Where to Stay in Abilene
For a cozy night's stay in a convenient location, book a stay at the Engle House Bed & Breakfast. This property is listed on the National Register of Historic Places with ties to Abilene history. When you pull up to the house, you will see the beauty of this home, as you pull around back to park.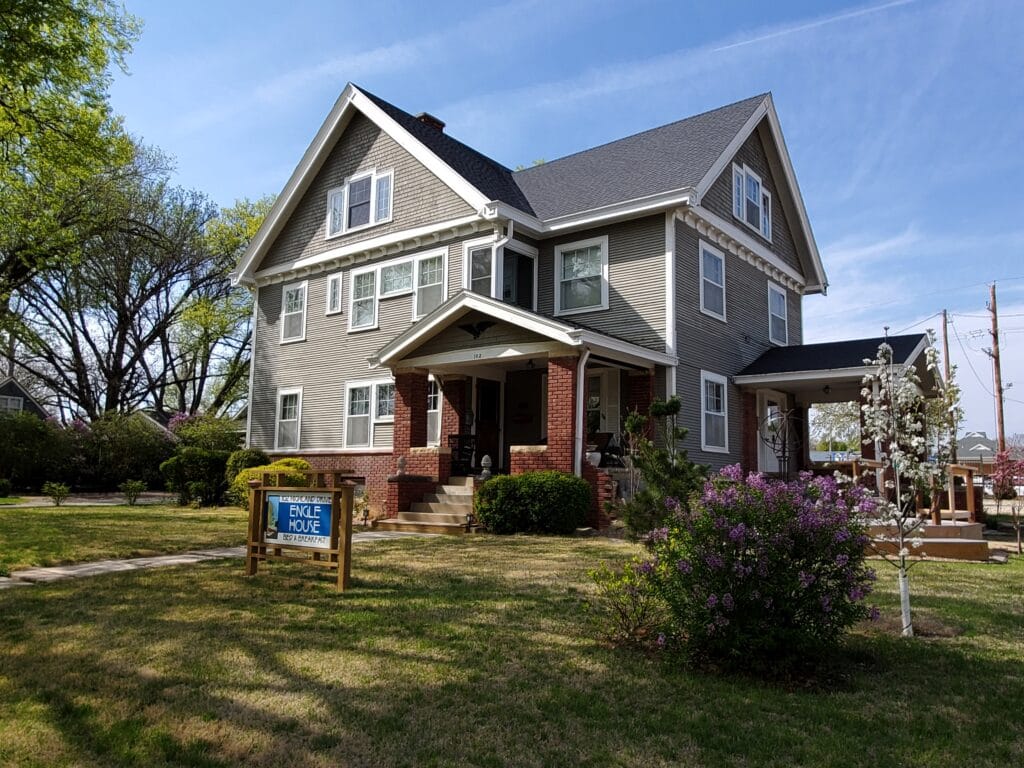 Dwight D. Eisenhower worked for Jacob Engle and during his tenure on the Abilene school board, he signed Eisenhower's high school diploma. The rooms are luxurious, affordable with your gracious hosts, Scott & Chris Ostermann.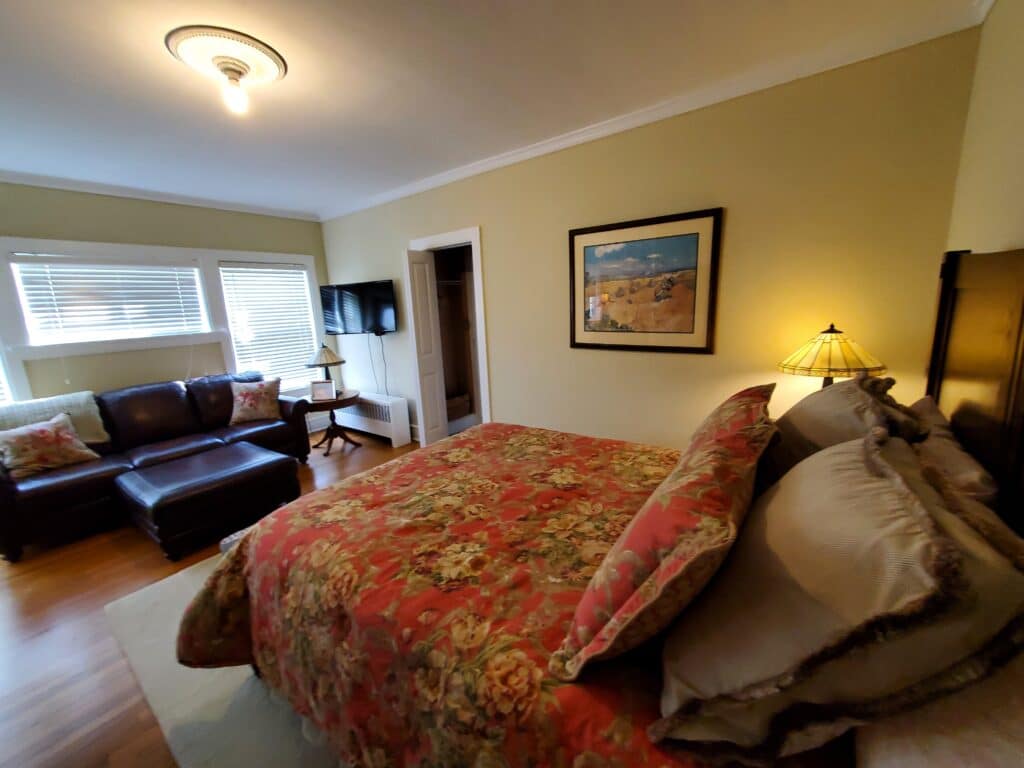 The location is perfect and it is fair to say that breakfast was a highlight of my stay.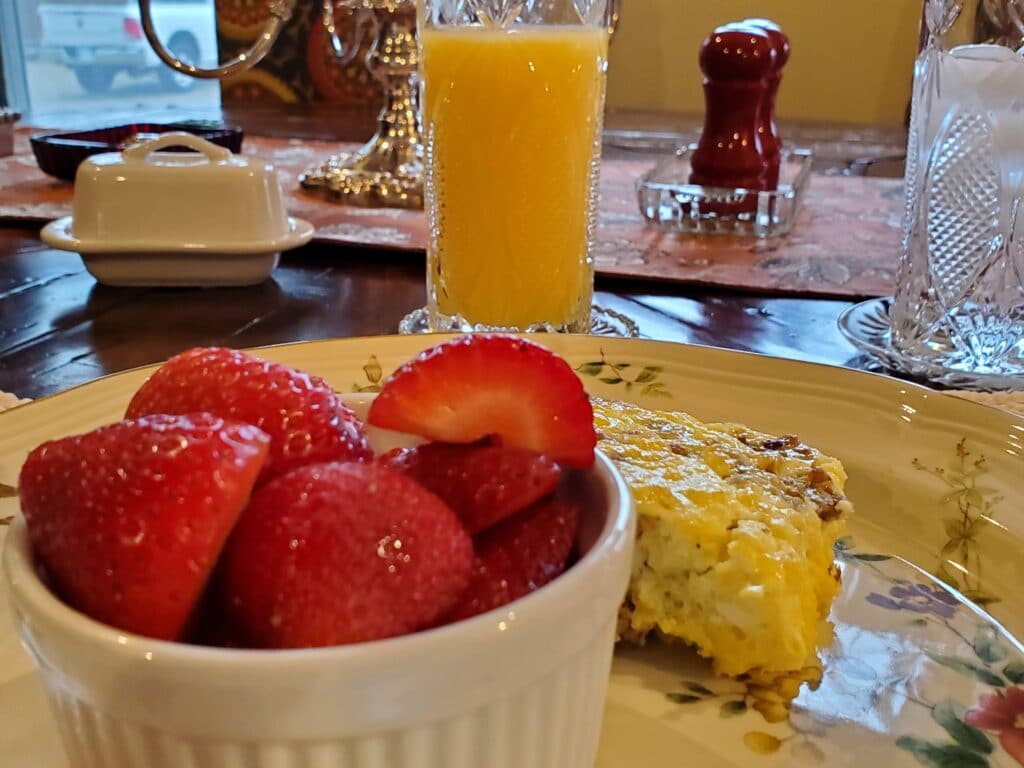 Abilene, Kansas, is a town that is loaded with history, art, and culture. Plan to spend a minimum of two nights and three days in Abilene. It took me about three days to fall in love with art in Abilene and you will most likely find yourself in the same shoes as I am. Each time I travel Kansas I-70, I find a reason to stop in Abilene, Kansas. My challenge to you is this- Visit each season of the year, the town has a different vibe as the seasons change. You will not regret it and be grateful that you made the choice to visit different times of the year.
The following two tabs change content below.
SaraB
Sara is a travel enthusiast that resides in North Iowa. You can find her traveling where the plane, train, ship, or car will go. Are you looking to take a road trip? Sara has solutions for you!