Midwest road trips are more popular now than they ever have been. Our wide-open spaces are inviting, and we are on a direct route when people travel from coast to coast.
The American Road Trip Is Back
Wide-open skies with stunning sunsets are sure to win travelers over. I have always had a soft spot in my heart for my home state of Iowa. When I had the opportunity to write the chapter for Iowa in the book Midwest Road Trip Adventures, I jumped on the chance. You can purchase this book through Amazon, or you can also order a signed copy through me.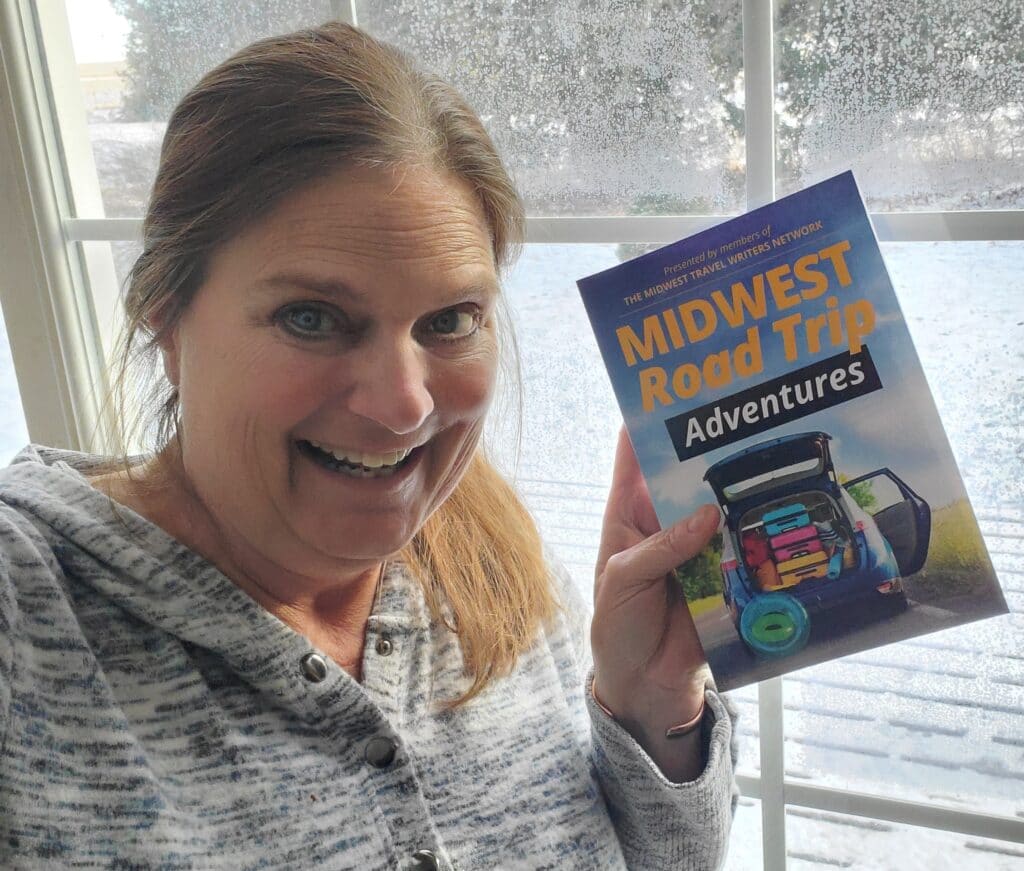 There are 12 Midwest states featured in the book: Illinois, Indiana, Iowa, Kansas, Michigan, Minnesota, Missouri, Nebraska, North Dakota, Ohio, South Dakota, and Wisconsin. Want a glimpse of what you can learn more about? Here you go!
Illinois
Theresa Goodrich of The Local Tourist wrote the chapter for Illinois. She shares adventures along Route 66, The Historic National Road, Ohio River Scenic Byway, and The Great River Road. She even shares where you can find the World's Largest Catsup Bottle. Casey is also home to several objects that are the World's Largest. Hop off the byway and explore the Shawnee National Forest an epic outdoor experience in the Midwest. Midwest Road Trip Adventures will surprise you with some surprising finds in southern Illinois.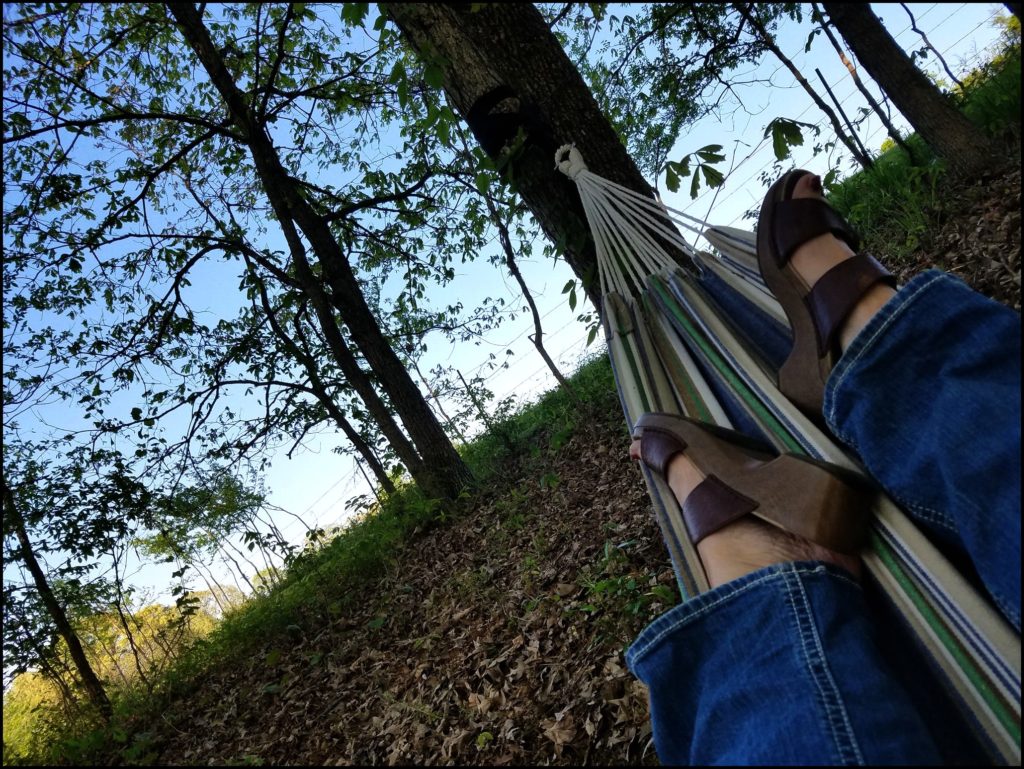 Get Your Signed Copy Of Midwest Road Trip Adventures
Indiana
Jamie Ward of Cornfields and High Heels is the author behind the Indiana chapter. Indiana's Historic Road and Indiana's Ohio Scenic Byway are two of several roads featured in this chapter. I was intrigued about the Wyliepalooza Ice Cream Emporium in Indianapolis; after all, who doesn't love ice cream? She also talks about Fort Wayne's Famous Coney Island and the BEST coney dogs around. The Studebaker Museum in South Bend makes a great stop on any road trip, and I was glad to see it included in this chapter. Indiana is also a state where you can celebrate Christmas all year long in Santa Claus. Not every state has that claim to fame.
Learn More About The Studebaker Museum
Iowa
I wrote the Iowa chapter, and you can read about all of Iowa's Scenic Highways & Byways. Fellow travel writers and I spent many days traveling the states we wrote about in the summer of 2020. I had some beautiful summer days as I drove all of these beautiful drives in Iowa. Did you know that Iowa is home to the World's Largest Popcorn Ball in Sac City? The Western Skies Scenic Byway is home to an authentic, working Danish Windmill. Madison County is home to the Covered Bridges Scenic Byway, featuring many famous wooden bridges. Effigy Mounds National Monument in Allamakee County is an American Treasure. The rolling hills and open skies of Iowa offer beauty unlike any other.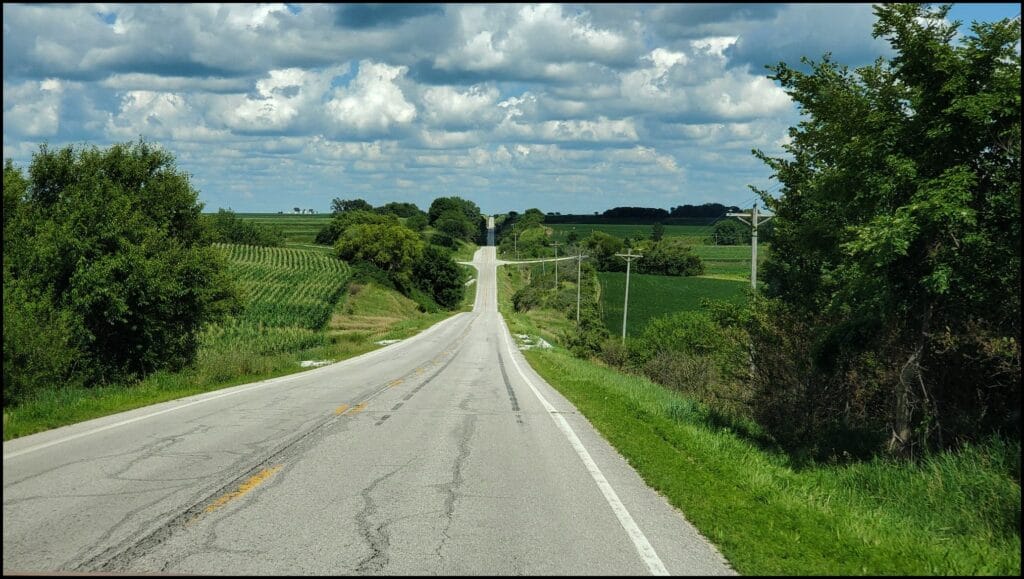 Kansas
Roxie Yonkey of Roxie On The Road wrote the Kansas chapter. She highlights the incredible Land & Sky Scenic Byway that runs through Northwest Kansas. It is the nation's first agriculture themed byway. Wheat, corn, dry beans, sunflowers, and milo are all grown along this byway. In the chapter, Roxie talks of standing on the Kansas, Missouri, Oklahoma tri-point outside Baxter Springs. This tri-point is a highlight of Kansas that I did not know about until I read her chapter. It appears that I have some more exploring to do in Kansas.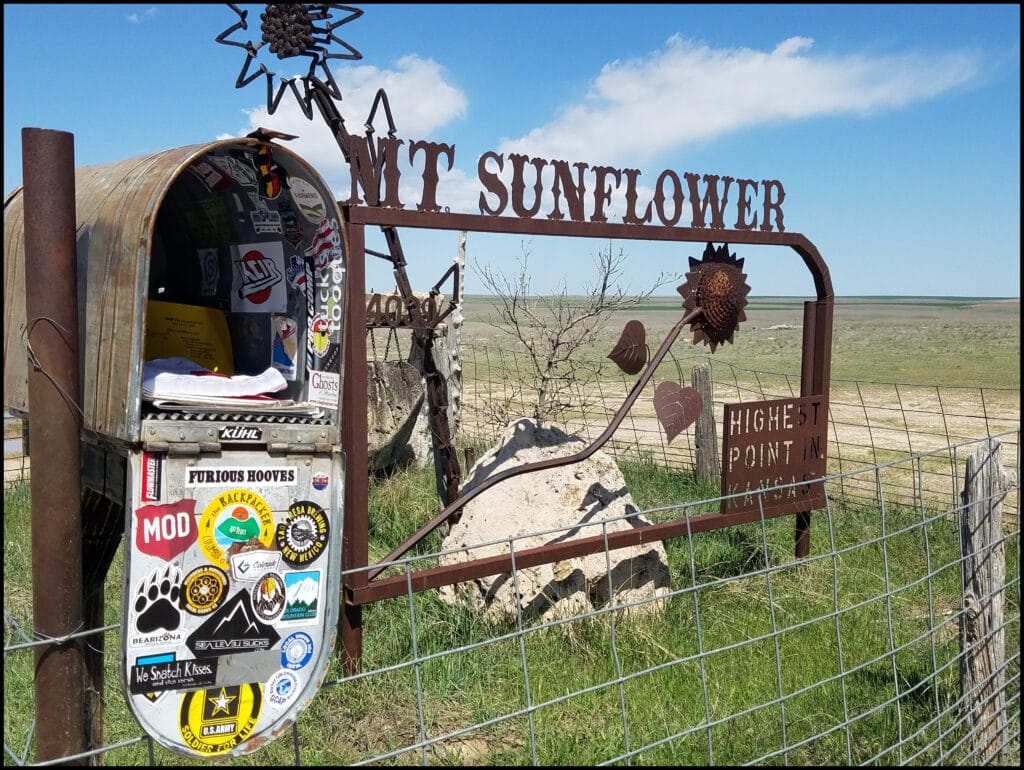 How I Fell In Love With Kansas
Michigan
Follow The Piper is the popular blog written by Amy Piper, who wrote the Michigan chapter. Did you know that Michigan has 124 lighthouses, more than any other state? Thanks to Amy, I now know this. Michigan offers more Midwest road trips than I ever imagined. A road trip around Michigan would be an excellent place to see lighthouses. Who is ready to hop in the car? These Midwest Roadtrip Adventures just got a whole lot more exciting. The U.S. 12 Heritage Trail offers 208 miles for the history enthusiast. A stop at The Henry Ford in Dearborn should be on the top of any Michigan Road Trip. Without Henry Ford, our highways & byways would have no reason to exist.
Minnesota
Dustin & Kelly Ratcliff of Dining Duster penned the Minnesota chapter. Their chapter highlights the Historic Bluff Country National Scenic Byway and the North Shore All-American Scenic Drive. Canal Park is where the famous bridge is located, and you can get a close-up view of ships moving in and out of the harbor.
Minnesota is known for fishing~ The BEST fishing lakes in the Midwest.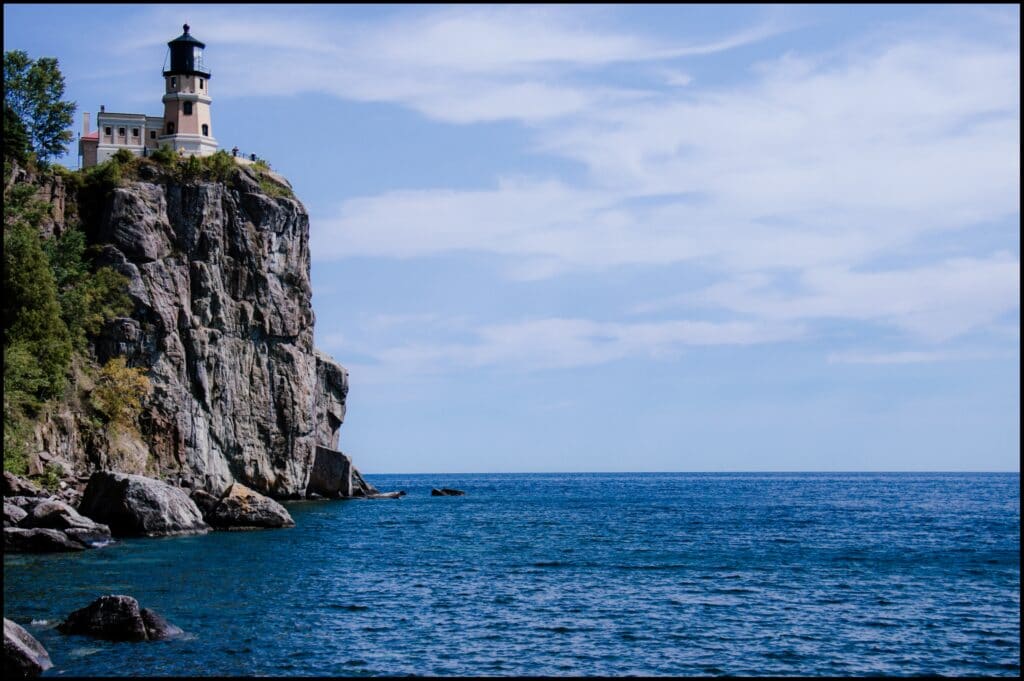 Your drive along Minnesota's North Shore includes incredible views of the largest freshwater lake of all the Great Lakes, Lake Superior. Hop on your bicycle and ride the well known Root River Trail along the Historic Bluff Country National Scenic Byway. I rode this trail this past fall and loved every moment of it.
Midwest Road Trip Adventures~ Signed Copy Available Here
Missouri
Matthew & Thena Franssen run the blog Hodge Pode Hippie. They reside in Missouri, where there are more than 6,000 caves. Travel Route 66 with the Franssen's as they take you along an EPIC Route 66 road trip through Missouri.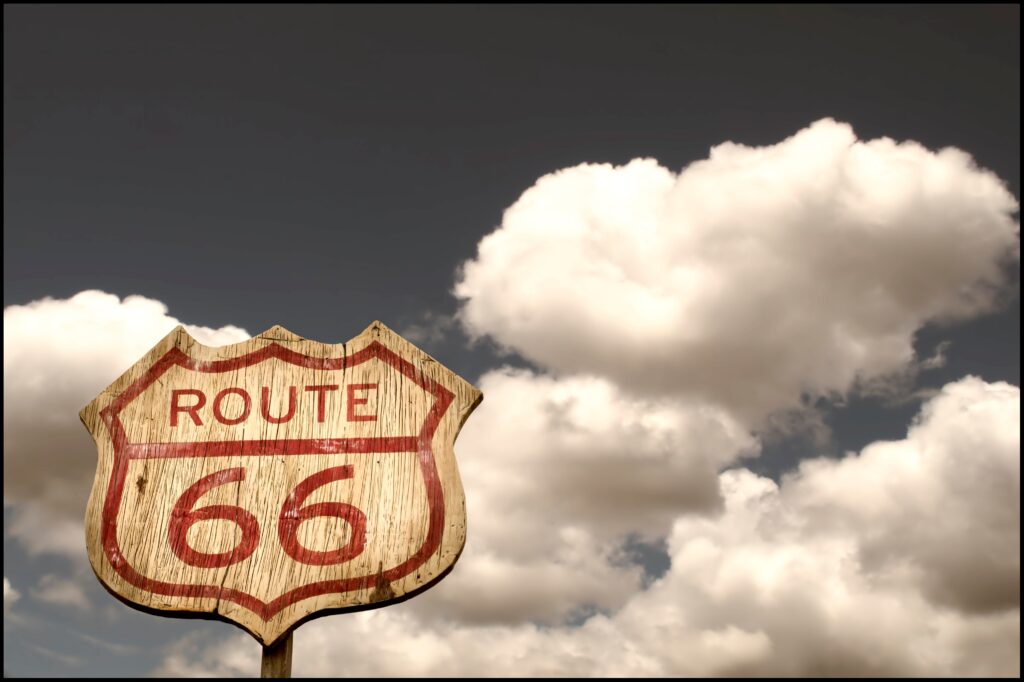 Did you know that you can indulge in a donut at a donut drive-in on Route 66 in St. Louis? For an unforgettable night of lodging along Route 66, book a stay at the Wagon Wheel Motel in Cuba, Missouri. The neon lights will lure you in. If there is one reason I need to visit Missouri, this may be why! I love staying in a traditional Route 66 motel. With several Midwest road trips to choose from along Route 66, you can easily hop in your car for a daily road trip.
Nebraska
Tim and Lisa Trudell penned the Nebraska chapter of Midwest Road Trip Adventures. They are based in Omaha and run the blog The Walking Tourists. They have written several books, including 100 Things To Do In Nebraska Before You Die. Travel From Heritage Highway 136 to the Lincoln Highway, your road trip will be filled with Nebraska adventure.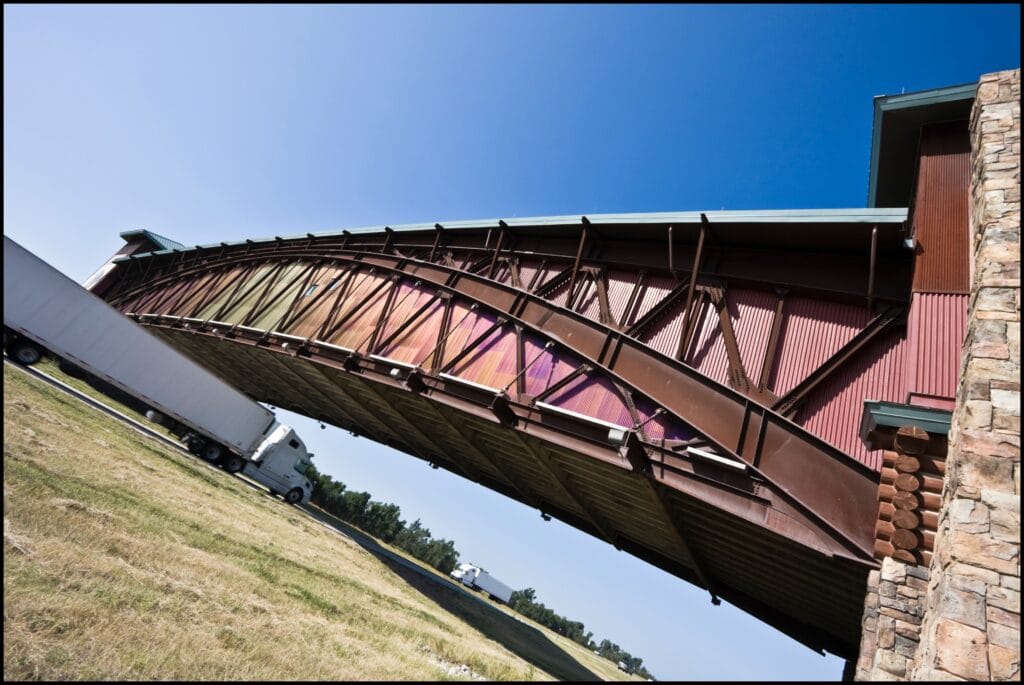 In Kearney, you can visit a museum that goes over I-80, the Great Platte River Road Archway Museum. Once you drive the Nebraska byways, you will quickly realize that Nebraska is not all flat.
I-80 – Iowa to Estes Park Road Trip
North Dakota
Alicia Underlee Nelson, of Prairie Style File, penned the North Dakota chapter. The Badlands, Theodore Roosevelt National Park, and scenic byways are all highlighted. When you drive the scenic byways, look for the beautiful blooming prairie rose, the state's flower. If North Dakota is your fiftieth state, which it often is, join the Best For Last Club at the Convention and Visitor's Bureau Center in Fargo. Yes, there is a club for claiming North Dakota as your fiftieth state! I have traveled through North Dakota and have now been introduced to many places in the North Dakota chapter of Midwest Road Trip Adventures. Hiking the trails in Theodore Roosevelt National Park is a favorite activity of mine. Imagine yourself here.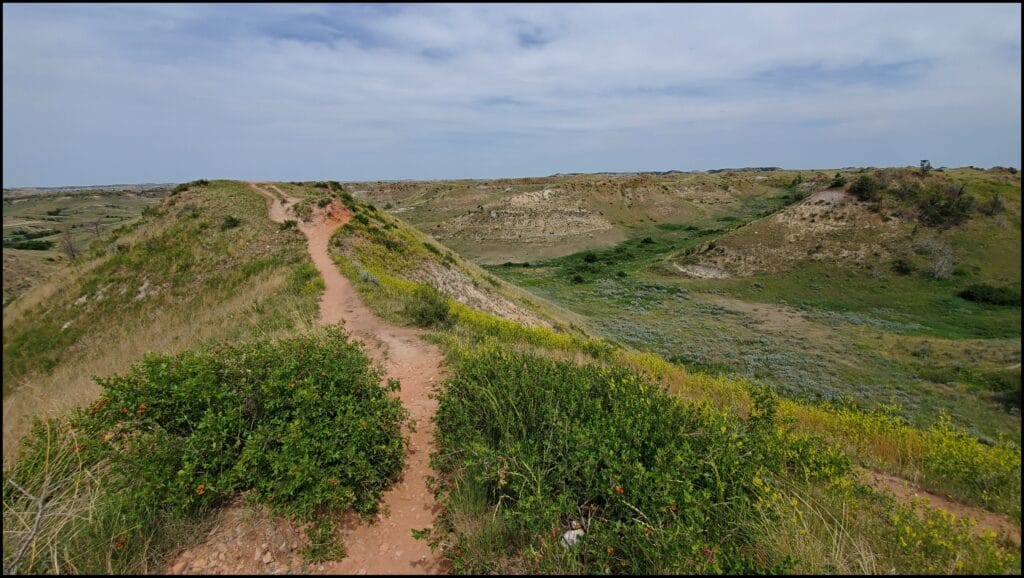 I-94 Road Trip Across North Dakota
Ohio
Brandy Gleason, Gleason Family Adventure, wrote the Ohio section of the Midwest Road Trip Adventures book. Did you know that all of Ohio's eighty-three state parks are free for everyone to enjoy? BONUS- Many are located along the scenic byways. Have you heard of Conneaut, Ohio? I now want to visit this town, as you can find beach glass. I did not know that we had beach glass in lakes in the Midwest. Railroad enthusiasts will want to book a ride on the Hocking Valley Scenic Railway. A trip on the rails while learning history and taking in the beauty of the Hocking Valley equals a win for the day. Ohio is filled with several Midwest road trips, and you can be guaranteed to find something new each time you hit the road.
South Dakota
Theresa, Alicia, and Roxie all wrote different portions of the South Dakota chapter. Mount Rushmore is what most people think of when they hear the words, South Dakota. I do agree, Mount Rushmore is incredible, and it's surrounded by a lot of other beautiful things. The Black Hills is home to the famous Needles Highway. This is an epic drive in itself, as you meander the curves and travel in and out of tunnels. This is not an RV friendly road, so plan accordingly. South Dakota is home to the Badlands National Park and offers scenic overlooks, as well as numerous hiking trails.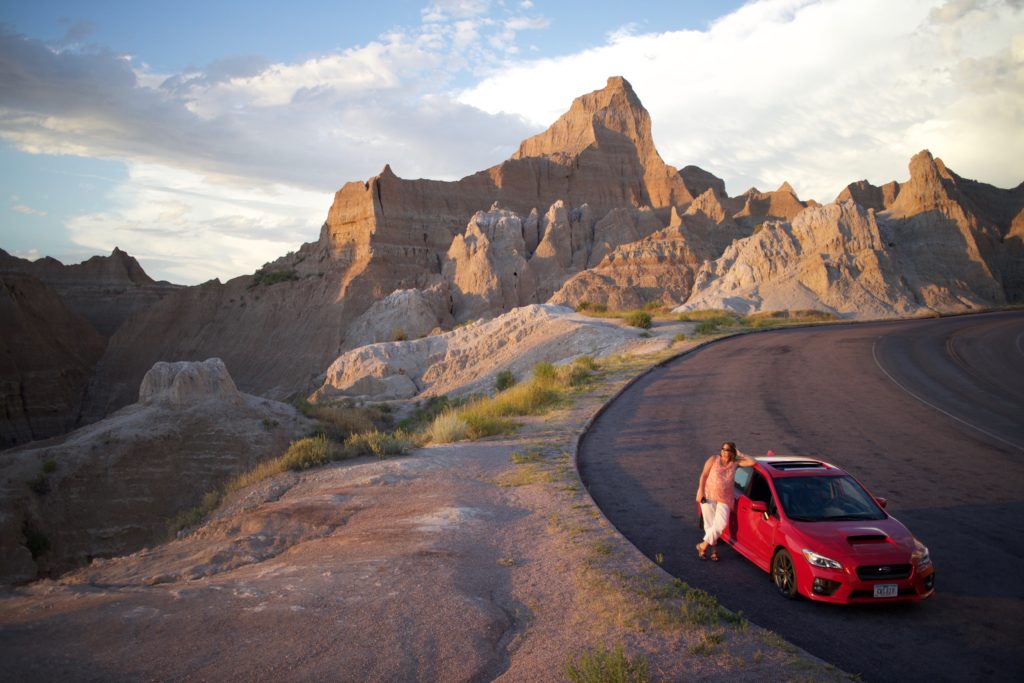 After your day in the national park, stop at the world-famous Wall Drug. In my opinion, everyone needs to see Wall Drug once in their lifetime.
Explore The Badlands National Park
Wisconsin
Dannelle Gay is the author of the Wisconsin chapter. She runs several websites, including the Traveling Cheeshead. The Lake Superior Scenic Byway and several other road trips in the Wisconsin chapter. A favorite destination of mine in Wisconsin is Door County. Dannelle offers tips on how you can get the most of the sixty-six miles of driving the Door County Coastal Byway: Gateway to Nature's Paradise. If you are road tripping through Bayfield, Dannelle says, " Maggie's is a must-hit in Bayfield. You can't go wrong with Maggie's Superior Sandwich." With several Wisconsin road trips to choose from, you can take road trips every season throughout the year.
I hope you will hop in your car and experience the Midwest. The American Road Trip is bigger and better than ever before. Teaming up with these incredible authors has been a rewarding experience, and I hope you will hop in your car and hit the road! With several Midwest road trips to choose from, you will find yourself enjoying the open road.
Happy Traveling~ Sara
The following two tabs change content below.
SaraB
Sara is a travel enthusiast that resides in North Iowa. You can find her traveling where the plane, train, ship, or car will go. Are you looking to take a road trip? Sara has solutions for you!