Places To Stop Along I-80 In Iowa
Many people travel across the country and travel along I-80 in Iowa. There are many things to do along this route, include history, museums, and numerous outdoor activities. Let's travel across I-80 in Iowa from east to west and explore Iowa. The rolling terrain in Iowa will lure you in, and you will find yourself wanting to explore more of the 29th state of the union of the United States of America. Your windshield views will be incredible as you drive across this Interstate Highway. Here are several things to see and do while traveling I-80 in Iowa, including the World's Largest I-80 truck stop.
The American Road Trip Is Back
Cruise The Mississippi River On A Riverboat
Once you cross over the Mississippi River from Illinois, your Iowa adventure will begin. If your time is limited, board the Riverboat Twilight for a 1 1/2 hour sightseeing cruise. If you have time to spare, board for a one or two day cruise, and experience all that the Mississippi River has to offer.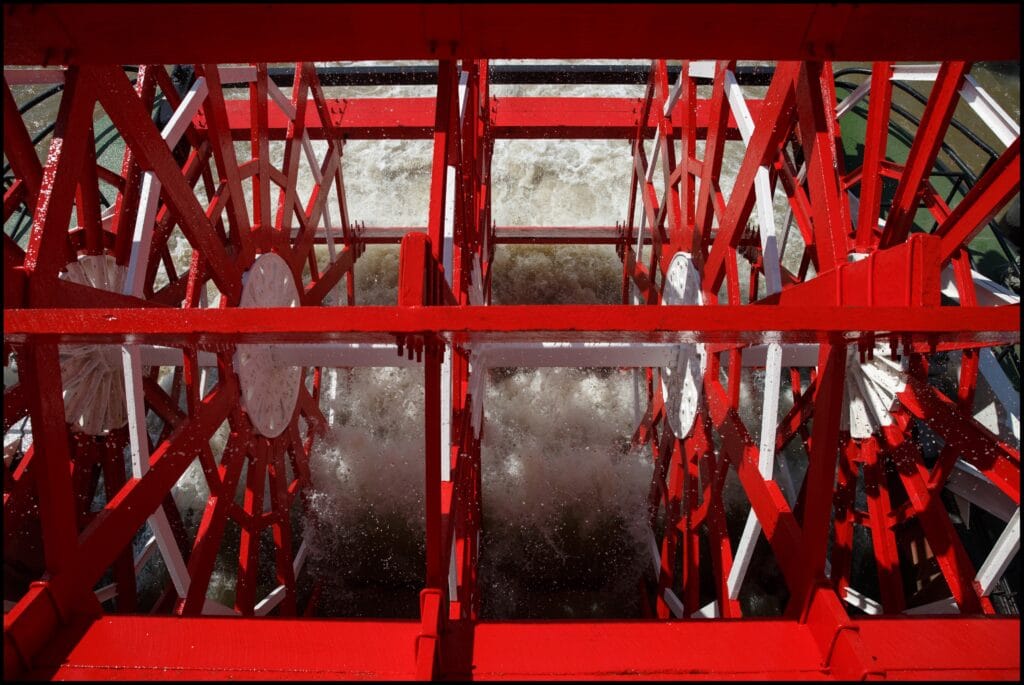 Stroll the streets of LeClaire and relax before you hop back on I-80 to continue your cross country trek. A riverboat ride is the beginning of several incredible things to do while traveling I-80 in Iowa. LeClaire is at exit 306 and offers a close-up experience of the Mississippi River.
World's Largest Truck Stop
The World's Largest Truck Stop is near the small town of Walcott off Interstate 80 exit 284. This I-80 truck stop is a destination all of its own. Several restaurants are on-site, 24 hours a day. You can get your haircut, visit a chiropractor, shop until your drop, visit the dentist, bathe your dog, and even do your laundry. There is much more to see and do in the World's Largest Truck Stop in Iowa.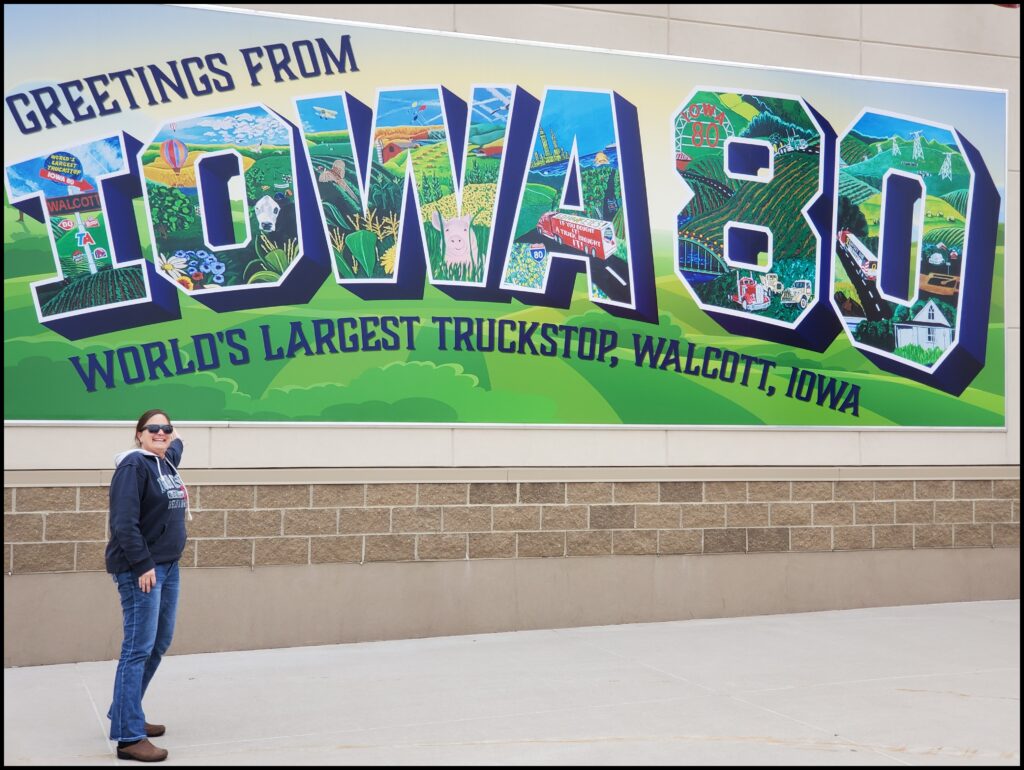 This exit is also an excellent stop to fuel your vehicle before you hop back on I-80. Your visit would not be complete without taking the time to explore the Iowa 80 Trucking Museum. Plan to spend a minimum of two hours to shop, eat, and relax.
Herbert Hoover Presidential Library & Museum
The Herbert Hoover Presidential Library & Museum is in West Branch and at exit 254 on I-80. The museum galleries' exhibits tell the life and stories of Herbert Hoover from his birth through his post-presidential work. After you explore the indoor area, step outdoors and experience the Hoover National Historic Site. Here is where you can see Hoover's birthplace cottage, grave-site, and period building. You will want to allow a minimum of two hours to visit. There is free, ample parking near the museum entrance, which will accommodate RVs and larger rigs.
More Presidential Libaries: Dwight D Eisenhower Library & Museum
Stay In A Groovy Hotel
The Highlander Hotel is off of exit 246 and offers a groovy night's stay. Step back into time while spinning a Beatles tune on a turntable and relaxing in a hot tub. Book a night's stay in a unit that includes a patio area next to the pool area.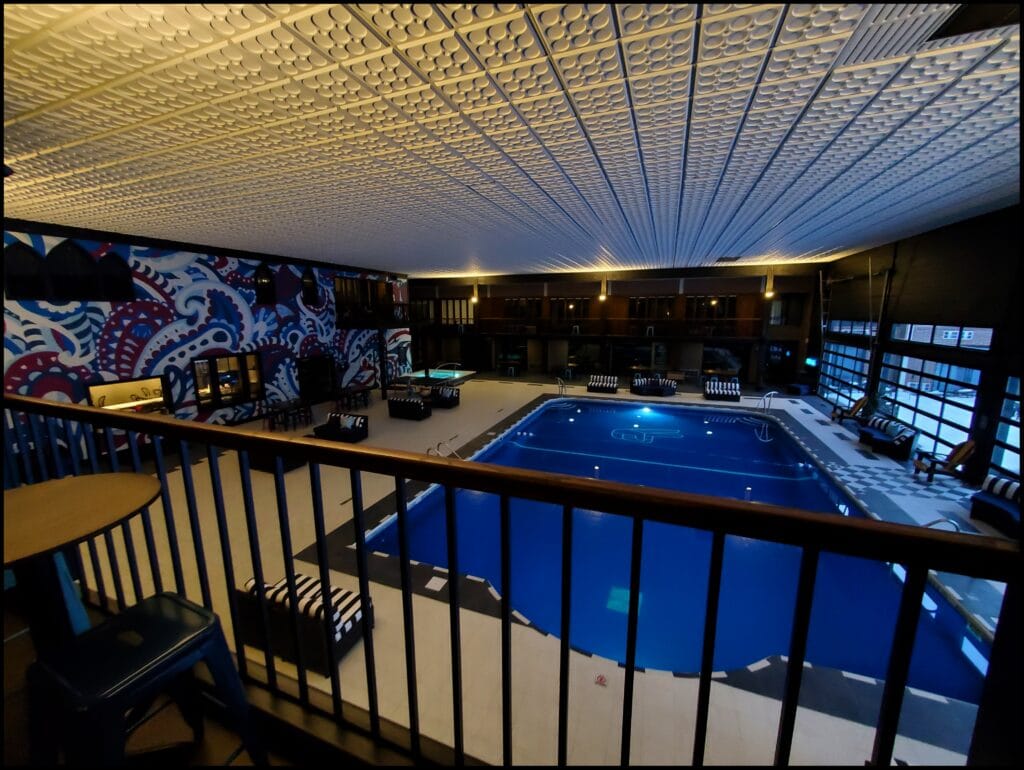 Your stay at the Highlander hotel will be a nice break from your road trip across America's Heartland along I-80.
Related articles:
Hotel in Mason City, Iowa
Camping in Mason City, Iowa
World's Largest Wooden Nickel
Iowa's I-80 at exit 244, you can visit the World's Largest Wooden Nickel. It is a short drive off of the Interstate Highway in a farm field. If you enjoy quirky roadside attractions and an Instagram moment, you will not want to miss this.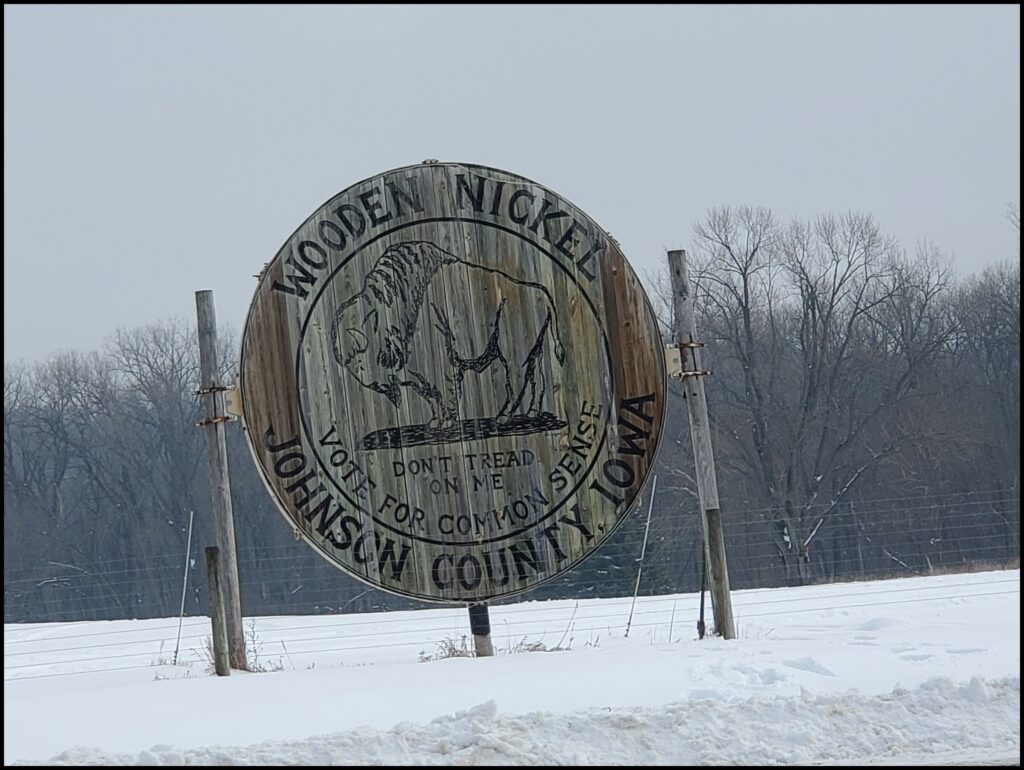 This stop is a good place to stop after you had fun at the I-80 truck stop in Iowa.
Amana Colonies
The Amana Colonies are off of I-80 at exit 225. These seven villages are home to a National Historic Landmark and one of America's longest-lived communal societies, which dates back to 1714 in Germany's villages. You can experience this way of life in the Amana Colonies when you meet the people in the communities. You will notice that family and religion are a large part of their way of life. In my opinion, a visit to the Amana Colonies would not be complete without a meal at the Ox Yoke Inn. Enjoy a "family style" meal and learn about the culture of the area. From steaks to wiener schnitzel cutlets, you can get an idea of what you can order here- almost anything but the kitchen sink!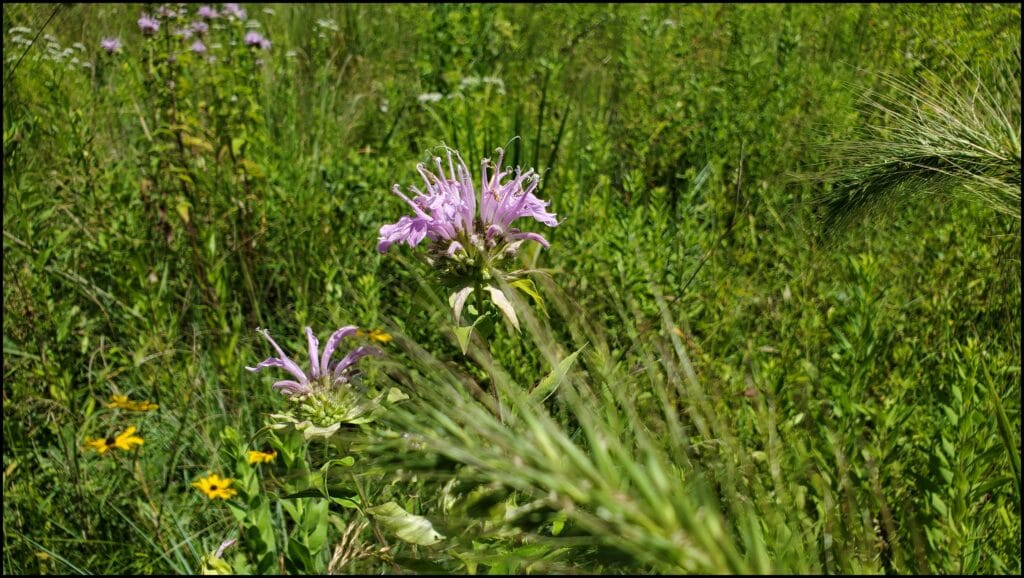 Outdoor enthusiasts will enjoy birding, kayaking, biking, and hiking. With 26,000 acres to play in, this stop while traveling I-80 in Iowa will be refreshing. It's a great stop to get outdoors, stretch your legs, and enjoy a good, hearty meal. Don't forget to grab a homemade pie to go. Everyone needs to travel with pie as they crisscross the country on one of America's busiest Interstate highways. If you need fuel, you can always find an I-80 truck stop, including the world's largest one on your route.
Looking for more road trips across the United States? Midwest Road Trip Adventures is now available.
Explore Madison County
The world-famous Bridges of Madison County is off of exit 110 while traveling I-80 in Iowa. Travel south along the rolling hills, and you will come to several beautiful covered bridges in Madison County.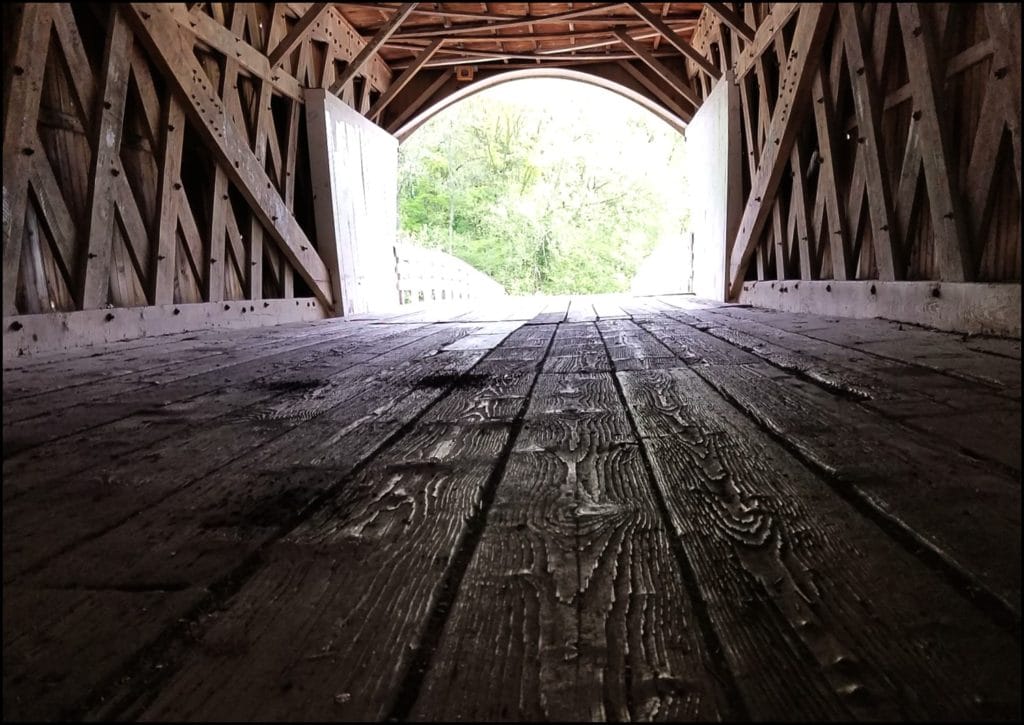 Downtown Winterset is home to a lovely square and is close to the John Wayne Museum & Birthplace and the Iowa Quilt Museum. If you are towing a large trailer, inquire at the Madison County Convention & Visitors Bureau near the square in Winterset as to where you can drop your trailer before you head out exploring. Many of the bridges are on windy, gravel roads, so plan accordingly when towing a trailer or driving a larger vehicle. You can easily spend an entire day in Winterset, as the area is beautiful and has plenty to keep you busy. Pammell State Park offers campsites and an opportunity to kayak and canoe, along with other outdoor activities.
Drive The White Pole Road Scenic Byway
As you travel across Iowa, you will see many scenic byways and other routes. When you come to exit 100, hop off for a 26-mile route that travels along I-80. If you need fuel, you will come across an I-80 truck stop near your exits.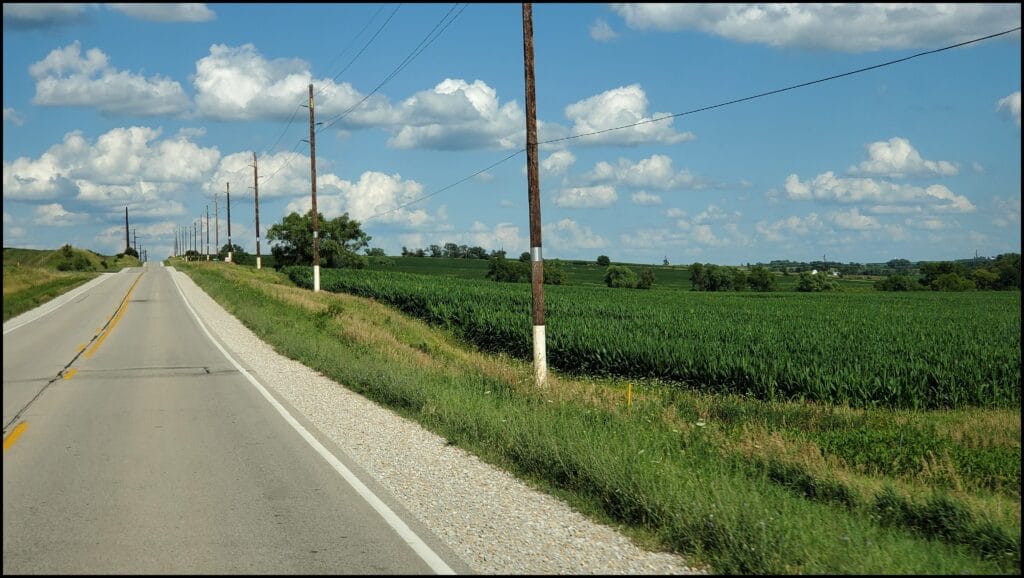 Drive the White Pole Road Scenic Byway, and take yourself back into time, when this was "the main route" across the country. The white poles represent the main route, referred to as the "Great White Way." This highway is a small portion of Iowa's transportation history. This two-lane highway is friendly to all vehicles, and it breaks up a traditional Interstate Highway drive.
Explore Elk Horn
Elk Horn, Iowa, is home to the 1848 Danish Windmill. Take exit 54 off of I-80 and travel five minutes north for an incredible Danish experience in America. Stop at the Danish Windmill and explore the grounds. The people of Elk Horn will show you why they love their Danish community.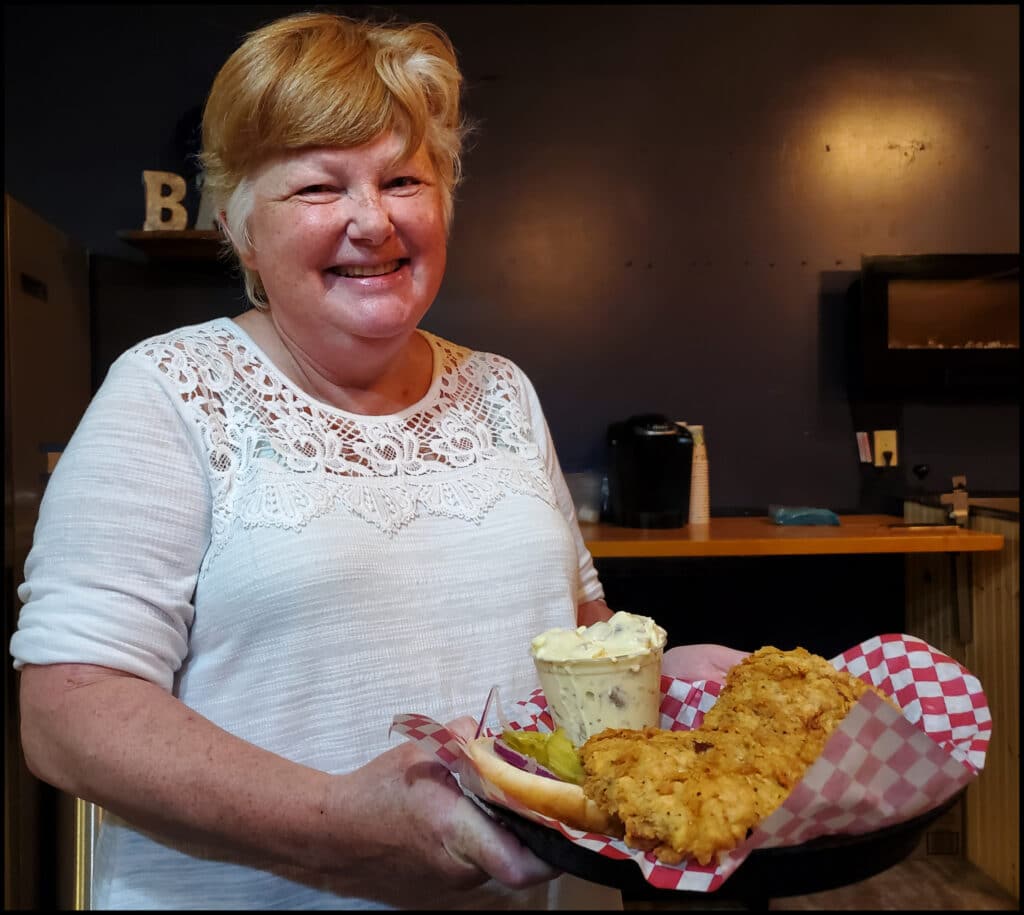 Eat an award-winning tenderloin, visit a vineyard, and explore the Danish Windmill Museum. Your time in Elk Horn can be a couple of hours or a full day. It's up to you and your travel schedule. There is parking at the Danish Windmill Visitor Center and Museum for RV's and larger vehicles.
Related Articles In Other Midwest States:
Explore Morgan County, Indiana
Explore Kansas
Bob Kerrey Pedestrian Bridge
You can set foot in Iowa and Nebraska at the same time on the Bob Kerrey Pedestrian Bridge. This bridge is one of those fun stops while traveling I-80 in Iowa. It's an Instagrammable moment and an experience you will talk about for a long time. The bridge connects Council Bluffs, Iowa, to Omaha's Riverfront.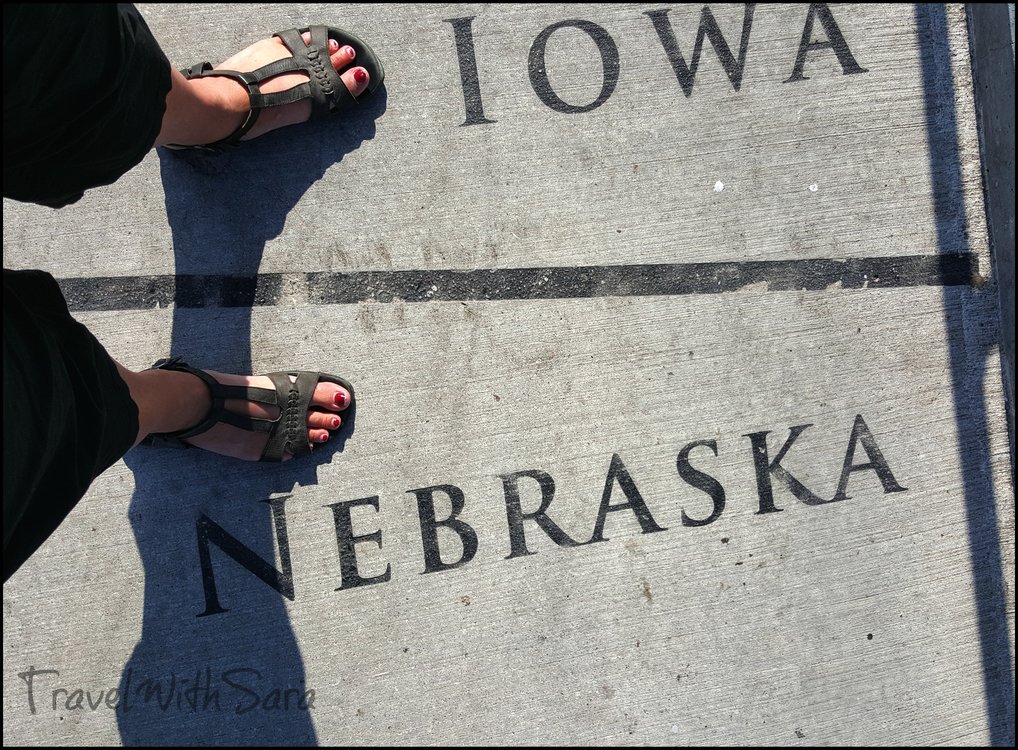 You can find parking in River's Edge Park near the foot of the bridge. Take exit one and end your epic I-80 road trip across Iowa's section of one of America's cross-country highways.
These are ten things that you can experience while traveling I-80 in Iowa. As you explore, you will find more things to see and do. Each time you step outdoors and experience Iowa, have a pair of binoculars with you and have your camera ready. Iowa is a scenic state that often goes unnoticed until folks hop off of the Interstate Highways. The topography will most likely surprise you, as Iowa is flat in places, rolling hills in others, and topography that lies within the borders. Most importantly, enjoy your time traveling I-80 in Iowa. Your road trip will be fun and filled with new experiences when you allow yourself to embrace Iowa.
The following two tabs change content below.
SaraB
Sara is a travel enthusiast that resides in North Iowa. You can find her traveling where the plane, train, ship, or car will go. Are you looking to take a road trip? Sara has solutions for you!