11 Unique Places To Visit In Kansas
Is Kansas on your radar? Here are eleven places to visit in Kansas. I have grown to love this state as I have traveled through it extensively. It all started when I fell in love with The Big Kansas Road Trip. The history, art, and nature experiences are some of the best that you will find in the heart of America. Many people often ask me about what there is to see and do when they visit Kansas. So, I have put together a list of places that you should place at the top of your radar when you visit. One thing you will quickly realize is the fact that Kansas is not all flat.
Discover Abilene
Abilene is home to America's 34th president, Dwight D. Eisenhower. You can learn all about the Eisenhower family at the Dwight D. Eisenhower Library and Museum in Abilene, Kansas. It was reopened in July of 2019 after a year-long, extensive renovation project. The Seelye Mansion, which is located at 1105 N. Buckeye Avenue is something that you must also experience when you are in Abilene. The best tip that I can offer you, is to visit at different times of the year.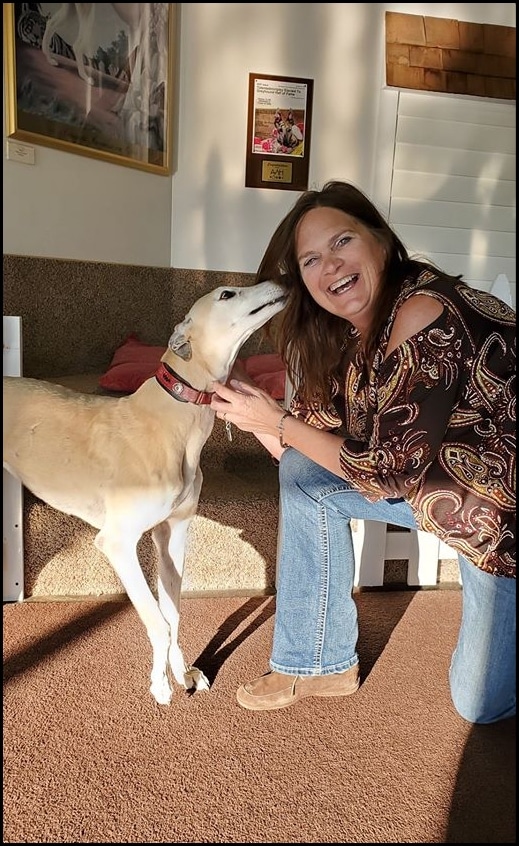 Each season brings new magical things to the Seelye Mansion and Christmas is exceptional. Each time I find myself traveling Kansas I-70, I make it a point to stop into the Greyhound Hall of Fame and visit with Ginger, the resident greyhound. Abilene is a small, family-friendly town that will welcome you when you roll into town. Extend your stay and book a night of lodging at Abilene's Victorian Inn. With so many places to visit in Kansas, Abilene is sure to be at the top of your list.
Discover Lindsborg
The colorful Dala Horses in Lindsborg, Kansas, will make you smile. As you travel around town, glance at the front porches. You will see the pride of Lindsborg, hanging from the ceilings of them. Fun fact- Each Dala horse is unique.
5 Unique Things To Do In Lindsborg, Kansas
Coronado Heights is a short drive north of Lindsborg and worth every mile. You can visit a castle and experience Kansas through the eyes of Francisco Vasques de Coronado.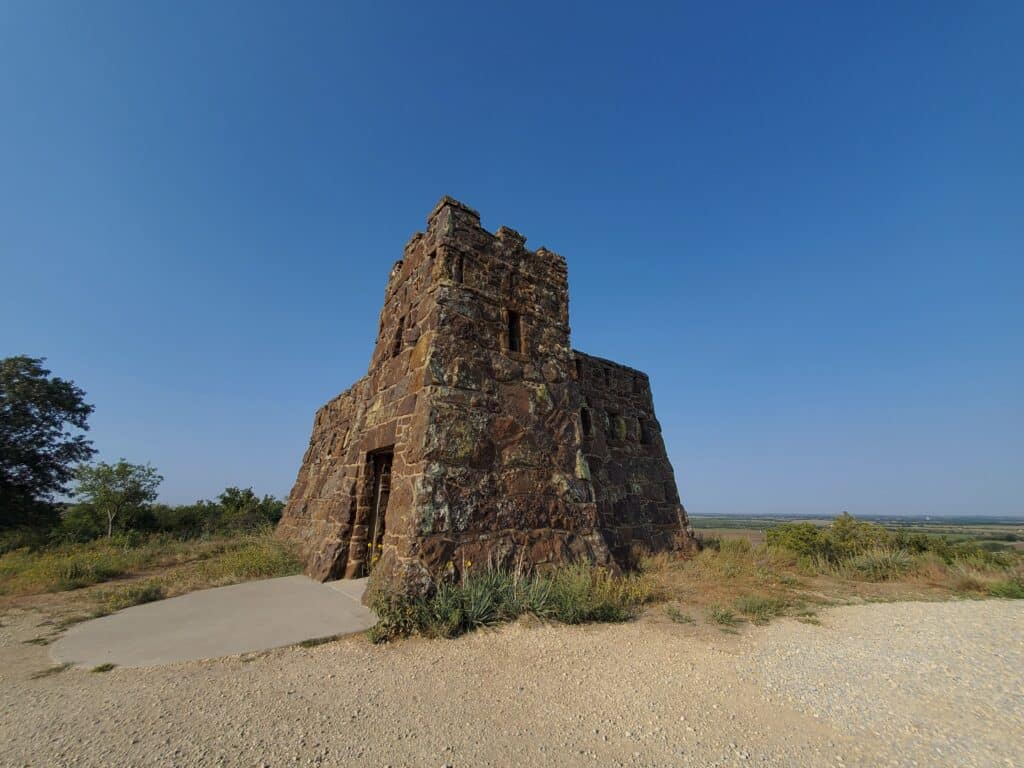 It was in 1541 that he gave up his quest for finding gold in this area of Kansas. Lace up a good pair of walking shoes and take in all that the view has to offer.
Explore Hays
Hays, Kansas, is a small town that plays big. It's located along I-70 in Northwest Kansas. Main Street is home to foodie experiences and shopping that you will talk about for days after you leave town. History comes to life in Hays through Fort Hays and the Sternberg Museum.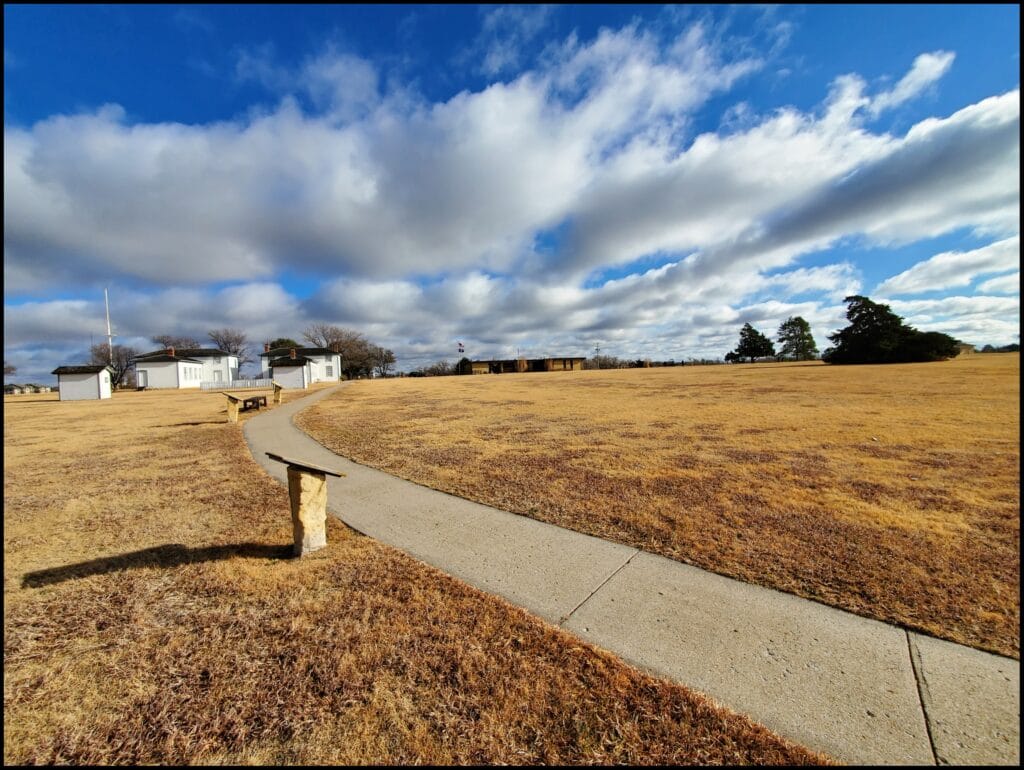 These are two attractions that should be at the top of your to-do list when it comes to exploring Hays. Fort Hays offers an opportunity to walk the grounds and relive history. The Sternberg Museum offers one of the best displays of fossils that I have ever seen in a museum. Grab a burger at Tiger Burgers and reminisce in the memorabilia that is in this fun restaurant. The Hilton Garden Inn offers a cozy night stay with an onsite restaurant that offers some of the tastiest food you will find in a hotel.
Outdoor Adventure in McPherson
Outdoor adventure awaits you at the Maxwell Wildlife Refuge in near McPherson, Kansas. Enjoy your ride on a tram through the Kansas Smoky Hills. The bison roam freely, offering you an opportunity to view them up close.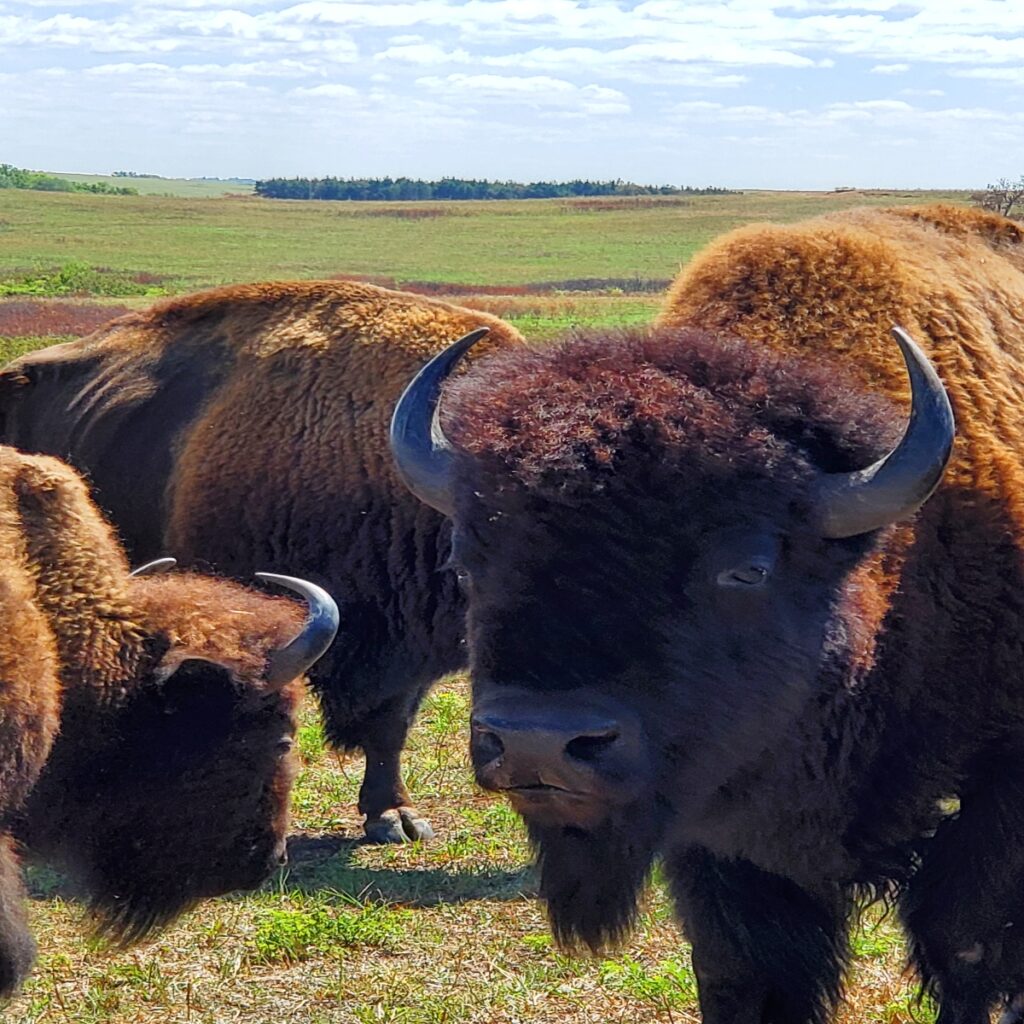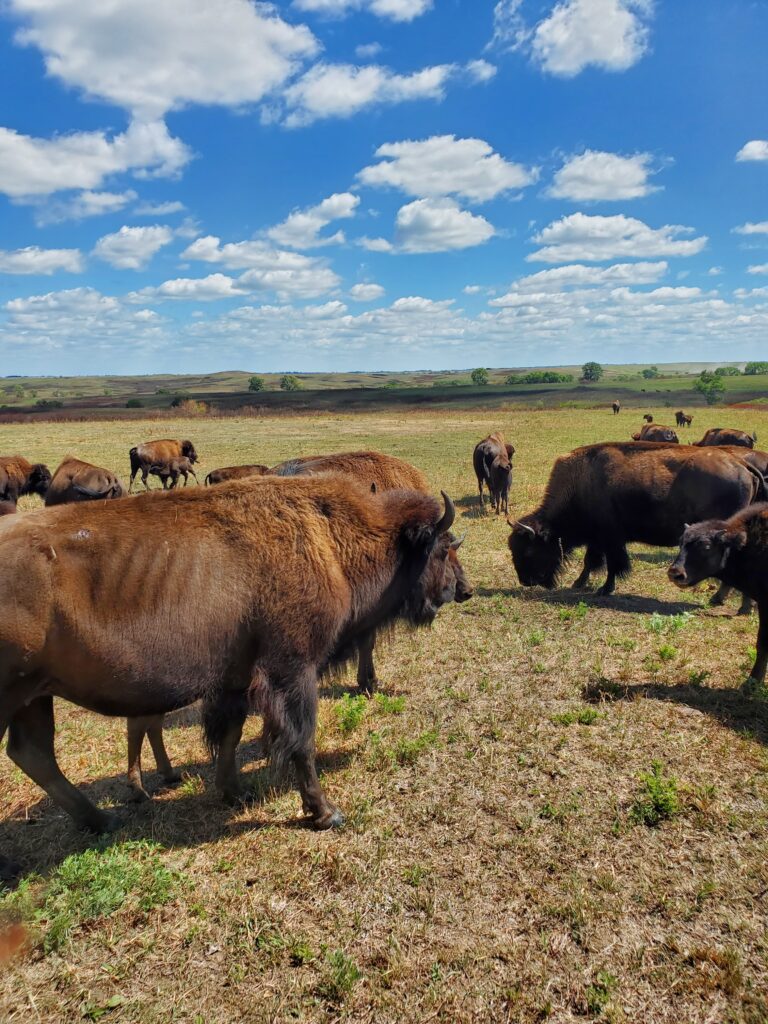 Your experience is one you will carry with you for a lifetime. The beauty of the Kansas prairie combined with the bison = FANTASTIC!
Visit Wamego
Wamego, Kansas, is home to everything Wizard of Oz. You can follow the Yellow Brick Road, explore the OZ Museum, and grab a glass of wine at the Oz Winery.
See how many Toto's you can find around town and take a selfie or two with one of them. It's a charming town located approximately 14 miles east of Manhattan. You can easily spend a full day exploring this town and fall in love with it. The chances are fairly high that you will be planning your return visit before you leave town.
The Return Of The American Road Trip
Explore Wichita
Wichita is home to an art scene that is top-notch in the Midwest. The Wichita Art Museum is one of the largest museums in Kansas and it is home to some beautiful art by well-known artist Dale Chihuly. A fun fact: Visit on Saturdays, admission is free. The Keeper of the Plains is not to be missed when visiting Wichita. It stands 444 feet tall where the Big and Little Arkansas Rivers meet in downtown Wichita. The Ring of Fire typically burns at sunset all year round.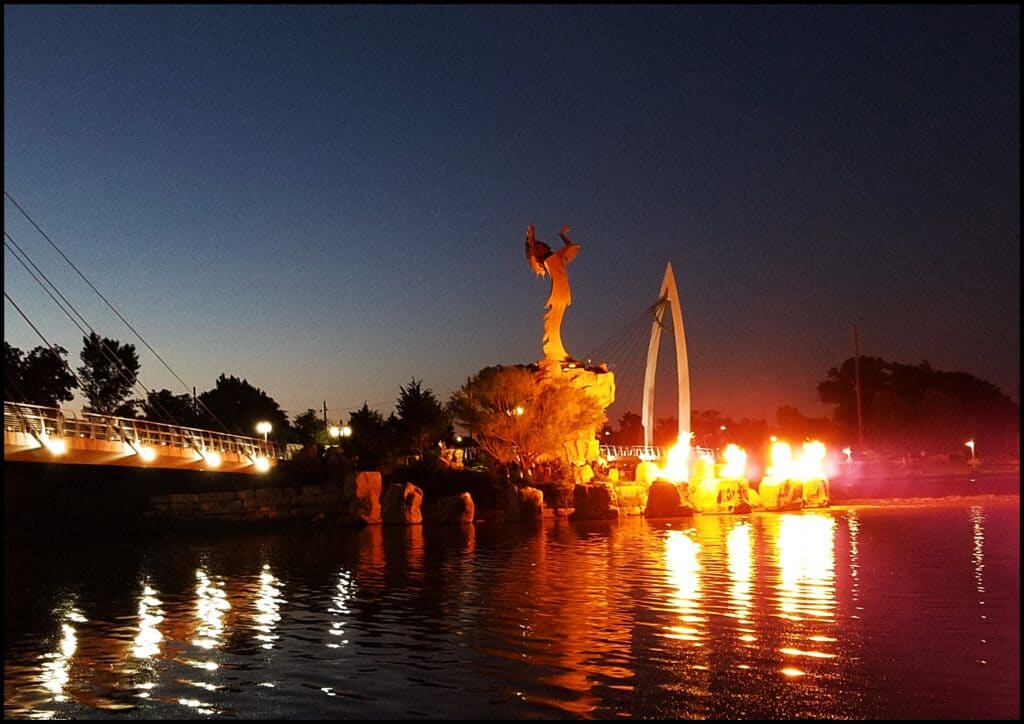 Enjoy a meal at any of Wichita's locally-owned restaurants and you will realize that Wichita is home to an award-winning meal around every corner. If outdoor nature activities are what you are looking for, Wichita will not disappoint you. Steve and Ann Teget of the popular blog Postcard Jar recently shared their list of outdoor activities that will help you get in all of your steps. Wichita is one of several places to visit in Kansas that will win you over.
Discover Wakeeney
Who doesn't love the idea of celebrating Christmas all year long? Since 1950, Wakeeney has been home to "the Christmas City of the High Plains." The people of Wakeeney love to celebrate all year long, but they sure know how to throw a celebration when the Christmas season comes along. The Cedar Bluff Reservoir, State Park & Wildlife Area is excellent for birding, fishing, hiking, camping, and anything outdoor-related.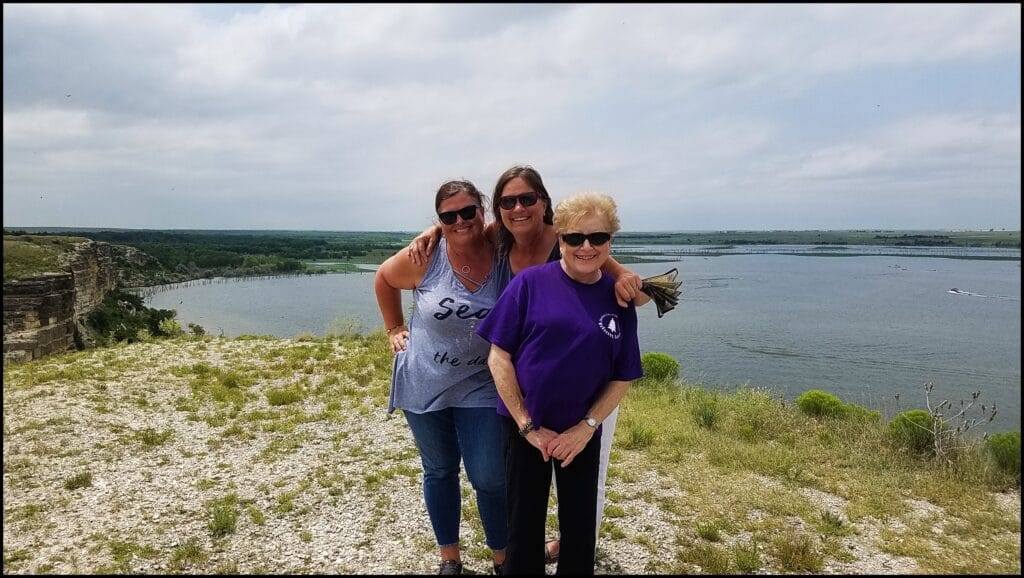 Enjoy an evening meal with a mouth-watering steak at the Western Kansas Saloon & Grill before you call it a day at one of the lodging properties in town.
Visit Goodland
Goodland sits on the far western edge of Kansas along I-70. If you enjoy a good road trip, this is a good base for exploring the Land & Sky Scenic Byway that traverses north and south. A highlight of this scenic byway is Mount Sunflower, the highest point in Kansas. Goodland is home to Crazy R's, a restaurant where you can kick back and enjoy a tasty steak while being surrounded by fun decor.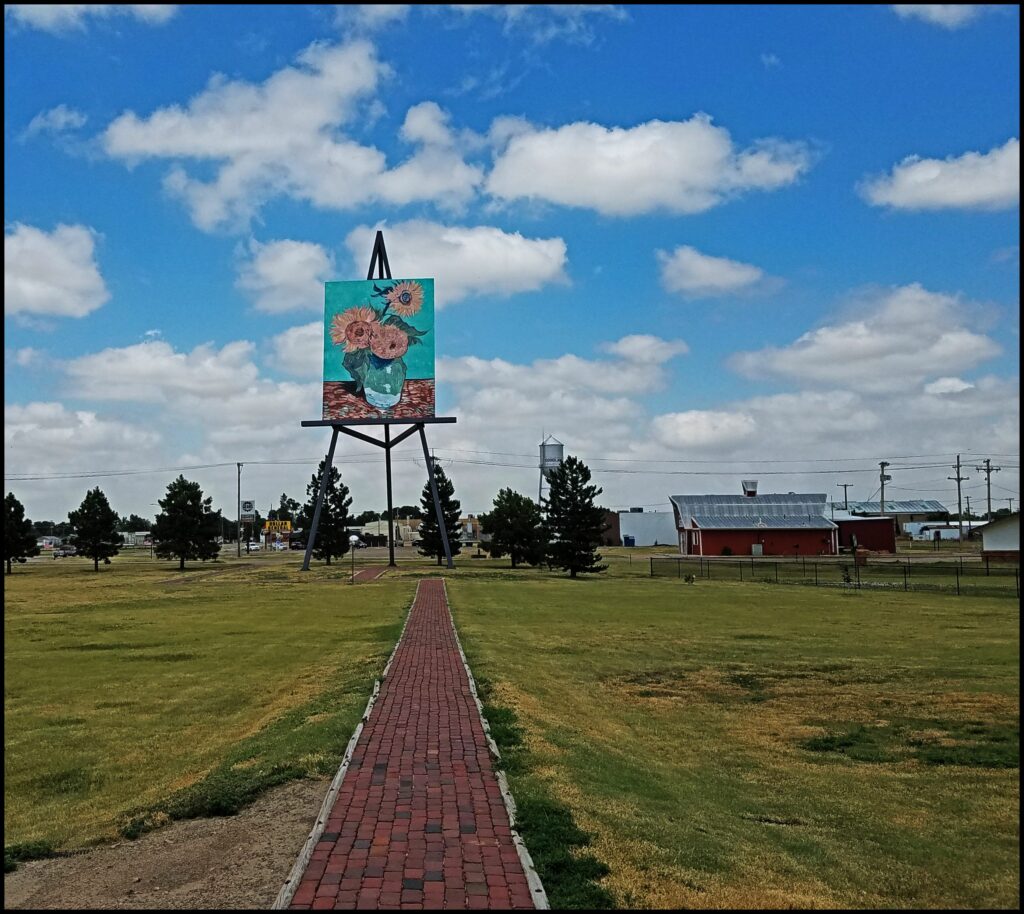 The High Plains Museum is home to the first patented helicopter, which is unique in itself. A visit to Goodland would not be complete without a visit to the Giant Van Gogh Painting. Take a stroll down Main Street and enjoy Rural America. Goodland, Kansas, is a good place to visit, and many love to call it home. Book a night stay at the Goodland KOA, a family-friendly campground.
Fun Places To Stay on Kansas US Highway 36
Explore Shawnee
Shawnee is a suburb in the Kansas City metro area. If you enjoy history, you need to spend some time at Shawnee Town 1929. History comes alive with chickens, cars, trucks, and farmhouse. It's an easy place to take a step back in time and slow down.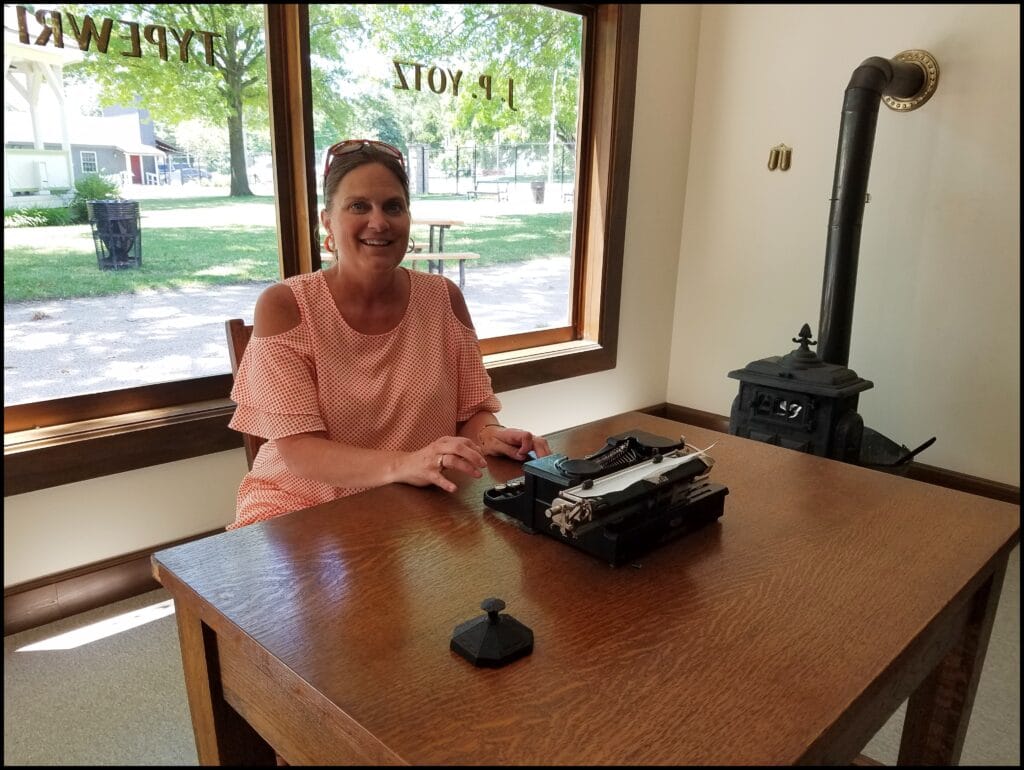 The museum is designed to take visitors back to life in and around Shawnee, in 1929. This museum is well done and it's an incredible way to spend part of a summer day. Grab a cup of coffee at Cafe Equinox and unwind while surrounded by the gardens of Family Tree Nursery.
Discover Oakley
Oakley is where you can begin your journey to Monument Rocks. These rock formations were the first landmark chosen by the US Department of the Interior as a National Natural Landmark. Part of the drive to Monument Rocks is paved and the other part is on gravel.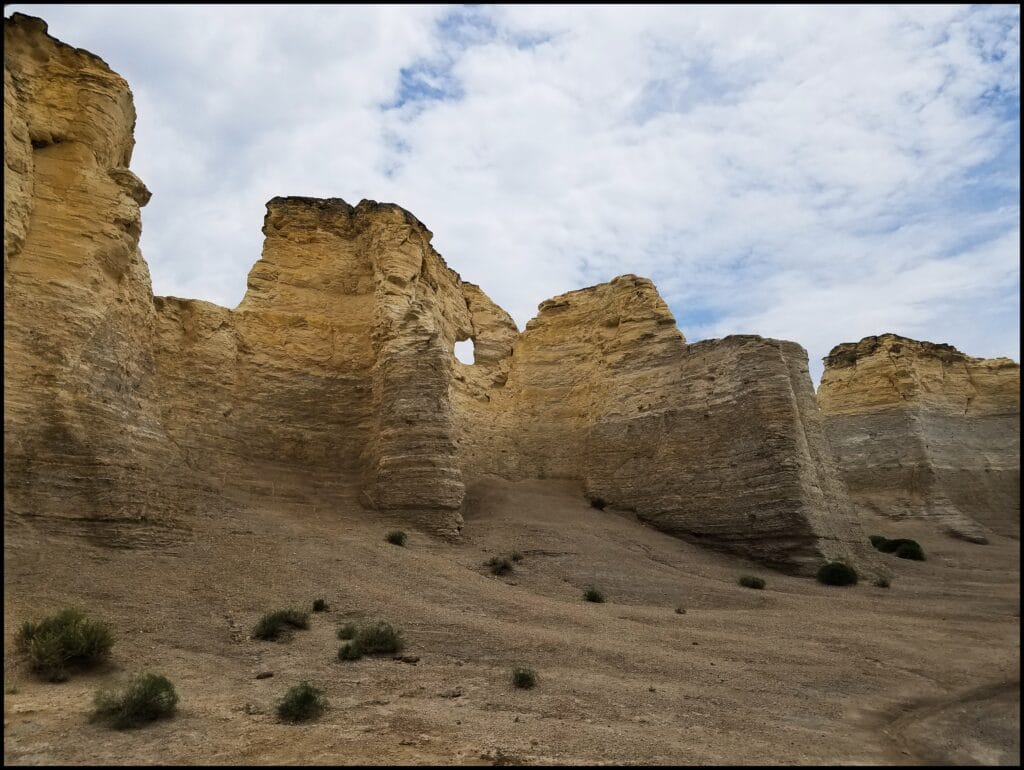 A visit to the Buffalo Bill Cultural Center will introduce you to the history of the area. A must-see at the center is a sculpture that commemorates the "Birthplace of the Legend" of Buffalo Bill. Enjoy a picnic lunch on the grounds and then drive out to Monument Rocks. Your time in Oakley, Kansas, will be well spent. You will not regret your time spent in Oakley, one of nine places to visit in Kansas.
Visit Codell
Codell is a Kansas town that is home to where a tornado struck three straight years on May 20th. 1916, 1917, and 1918. Can you imagine living in this town during this time? The third tornado killed 10 people and injured dozens, in a town of fewer than 100 people. It's rumored that when May 20, 1919, rolled around there were few people in town on that day. Today you can visit Codell to see the Cyclone Sculpture that sits in town to commemorate the day.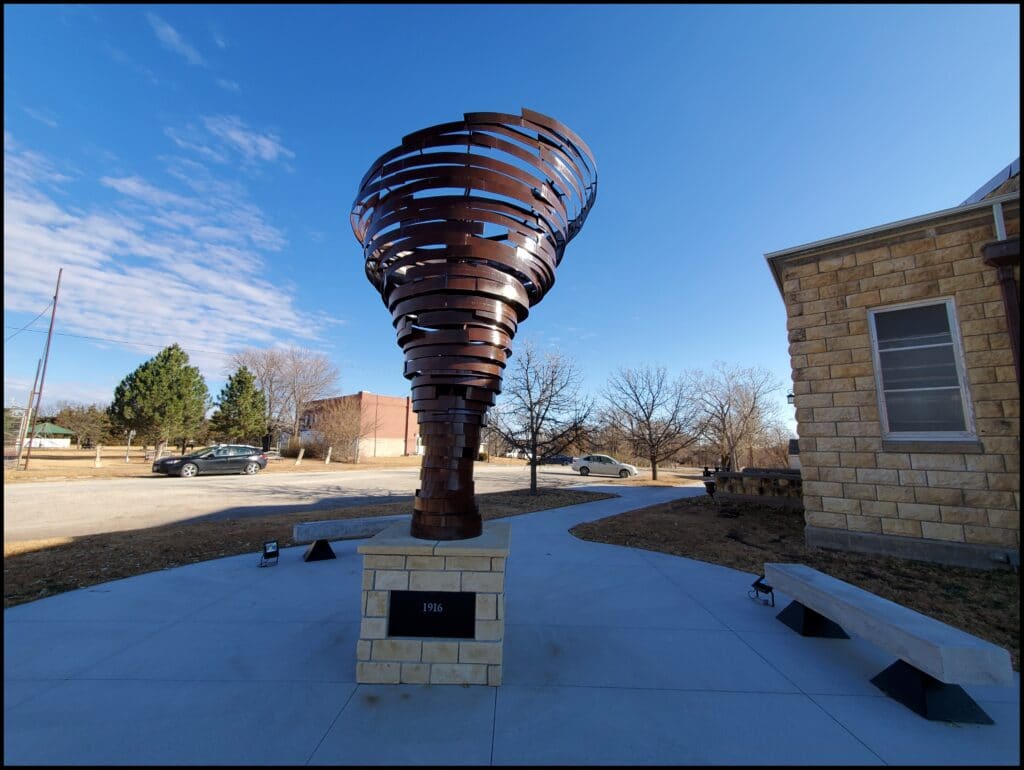 Stay and play in Rooks County. Stockton offers comfortable lodging at The Rose Cottage, 421 N. 1st St. (785) 650 – 1881. The Goose & Frog Tavern at 323 Main in Stockton offers delicious home-cooked meals in a fun atmosphere. Rural Kansas is a hopping place, yet a nice place to kick back and slow down.
These eleven places to visit in Kansas are a good place to start exploring Kansas. This is a glimpse of what Kansas has to offer. The numerous unique land formations, scenic byways, fun shops, museums, and historical sites are sure to win you over. Most of all, the people of Kansas will welcome you. The people of Kansas have welcomed me into every corner of their state and for that, I am grateful.
The following two tabs change content below.
SaraB
Sara is a travel enthusiast that resides in North Iowa. You can find her traveling where the plane, train, ship, or car will go. Are you looking to take a road trip? Sara has solutions for you!